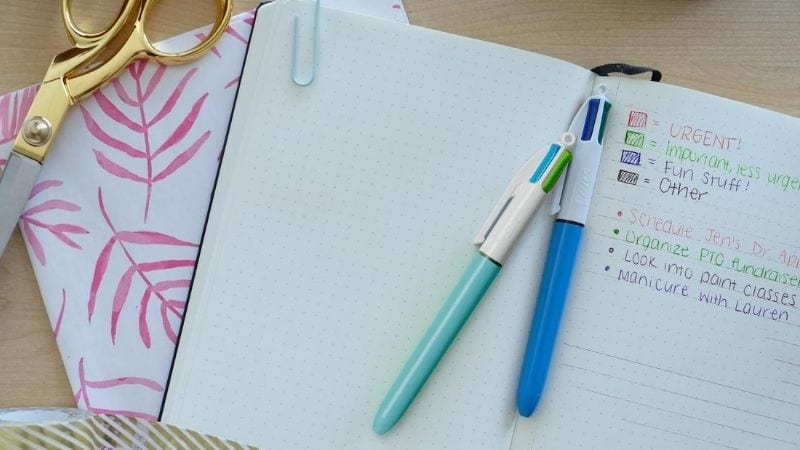 Many schools are starting the year with online learning. No matter how big (or small) your home is—or how many kids you have—it's time to create functional virtual workspaces. Because let's face it, we might be doing this for a while. Below, we look at some of the most common roadblocks in creating virtual workspaces, plus share other favorite ideas from around the Internet.
Plus … as you're putting together your space, save $2.00 when you purchase $5.00 or more of BIC® Stationery Products. Click here for more details.
Roadblock #1: So much noise!
It turns out that working and learning at the same time is loud. If you have a family of five like me, and two of your kids are on video conferencing for their classes, your partner is in an online meeting, and you are desperately seeking some quiet so you can think and write, good luck!
Solved! Investing in noise-canceling headphones isn't a must have, but it's a very nice to have. We like this pair from Walmart.
Roadblock #2: So many broken and dull pencils!
I don't know about you, but prior to COVID-19 we didn't have a lot of pencils in our house. And what we had was broken or dull. Our personal pencils sharpeners just didn't cut it and often went missing or get jumbled in with wooden blocks.
Solved! Consider buying mechanical pencils with lead so you don't hear, "I can't do my reading journal because I don't have a sharp pencil" from down the hall.
Roadblock #3: So many interruptions!
If I got a nickel for every time one of my kids interrupted me while I was working, I would have enough money to buy a bigger house.

Solved! I am a big fan of using different colored sticky notes so my kids can silently communicate with me when I am working. A red note means: I need you to stop what you are doing now because the house might be on fire. A yellow note means: I need your help, but it can wait a bit. A green note means: I need help, but there is no rush. Your kid doesn't even need to know how to write yet, and they can still communicate with you.

Roadblock #4: So much paper!
During the spring version of distance learning, it felt like our family was personally going through a forest of trees every day.
Solved! Invest in a whiteboard and dry erase markers . Chart out the daily schedule and post it on the whiteboard so your kids know exactly what's on their agenda and yours. You can also scribble messages to your kids while on calls (please, stop interrupting me!).
Roadblock #5: You can't find the right supplies when you need them!
While our house seems to have an abundance of broken pencils, we were missing lots of the things that make classroom instruction easy: whiteboard markers, writing utensils, tape, and staplers among them.
Solved! Make a list of the things you use in your classroom most often, and then stock up for your home office at the beginning of the year when savings are plentiful. (Don't forget you can save $2.00 when you purchase $5.00 or more of BIC® Stationery Products.)
Roadblock #6: So many crowded spaces!
Two adults plus two kids working in a small house equals cramped quarters!
Solved! If you are in a small space, a portable work station or lap desk is a must have. We love this inexpensive lap desk, which is a steal at $5.97. Did we mention that it even has a cup holder? If you are looking for a portable desk, we are big fans of laptop tables on wheels. You can adjust the table height depending on where you sit or stand. Less expensive than a traditional desk, this portable work station is ideal for small spaces.
Roadblock #7: So many downloads and glitchy internet!
Your home router might not have the capability to handle the demands of uploads, video conferences, downloading, and computing. If you don't have high-speed broadband internet, you might be experiencing a lot of slow buffering.
Solved! Check with your internet service provider to make sure that your house has enough bandwidth. You can invest in a Wi-Fi mesh system that smartly manages your WiFi so that each device's access is optimized and never interrupted.
Roadblock #8: So much school stuff!
My kids have a hard time putting their dirty clothes in their laundry hampers, so it was no surprise when I started to find chapter books, pencils, markers, glue sticks and notebooks all over my house last Spring.
Solved! If you're in the same situation, it's time to set up your "school on wheels." We love how these traveling carts can be wheeled out of a closet each morning and put away. Another great idea is to use stacking containers so your kids have a place for supplies, ongoing work, and even, snacks.
Plus, even more tips for creating functional virtual workspaces
1. Evaluate how you can best use your space.
Before you plan virtual workspaces, consider how your family uses your home. If your kids already do their homework at the dining room table, do you want them to also use that space for online learning during the day? Or do you want to keep the kitchen and dining area separate from the learning and work area? Look at what other families are doing. There are so many fun and inspiring examples on Instagram (check out #homeschoolspace for ideas).
2. Talk to your kids.
When it comes to learning and working, we all have different preferences. Get input from your kids before you set up their workspaces. Here are some questions to ask:
Where in our home do you learn best?

Where in our home do you get schoolwork done?

Is there a place in our home where you like to read?

What do you think the best space for projects and art is?
3. Decide how you want to work and facilitate learning.
Your teaching requirements, the age of your children, and the number of kids you have, as well as other factors, affect how you will set up your space. You might need a separate workspace from your children to facilitate those online classes. Or you might need to be close-by for younger kids who need extra help.
4. Work with what you've got.
Setting up your workspace doesn't have to be costly. Before you buy anything, see what you already have at home. It turns out that shower caddies for summer camp work really well for storing supplies. Empty jam jars are great for organizing pencils and markers. Travel cosmetics cases can store laptop chargers and electronics cords.
5. Budget for what you need.
Whatever your budget is, there are a wide-range of options for everything from supplies organizers to desks. Create a "Must Have" and "Nice to Have" list. You don't have to get everything right away. For our family the top priorities were quick and reliable internet, traveling supply carts and lap desks for kids, and wireless headphones for the whole family. I would love to create a beautiful reading library for my kids complete with bean bag chairs, but that's not a necessity right now.
6. Set up learning zones.
In classrooms, you strategically place furniture so that there are places for different learning activities. Class meeting or circle time happens on the rug. Tables and desks are arranged together for collaborative work. Consider mimicking these spaces in your own home. My boys set up a "reading fort" in our basement using every pillow and blanket in our house. It's a quiet haven (most of the time) where if I am lucky, I catch them reading quietly and I drink my first hot cup of coffee alone upstairs (no matter that it's 3:00!).

We'd love to hear your tips for creating functional virtual workspaces! Please share in the comments.
Plus, don't forget that you can save $2.00 when you purchase $5.00 or more of BIC® Stationery Products.