Every Friday, the WeAreTeachers editors share our favorite finds and news from the week, from the top teacher stories to must-use discounts and the latest and greatest memes. It gets better: if you sign up for our newsletter, you'll get these picks before everyone else.
1. Should parents eat in the school cafeteria?
More moms and dads are joining their kids for a lunch at school, causing chaos in some cafeterias, @taylorlorenz reports https://t.co/cPl4sa0pA0

— The Atlantic (@TheAtlantic) December 1, 2018
Certainly not a problem at all schools, but is it one in yours?
2. Put away those classroom Christmas trees
OPINION: Holiday Decorations Don't Belong in Classrooms—Period
They don't belong to schools, according to our blogger Captain Awesome.
3. The thing we can't forget about winter break
Some of our students would rather stay in school.
4. When inclusion gets challenging
"I'm All for Inclusion, but What About John?" Teacher Questions About Inclusive Classrooms, Answered
Great advice from an expert on inclusive classrooms.
5. We're asking kids to do too much, too soon
And the research backs it up.
6. Best idea ever
Can we get one at my school?
7. The surprising affects of teaching
Can I get that surgically corrected, or…?
Teacher tee of the week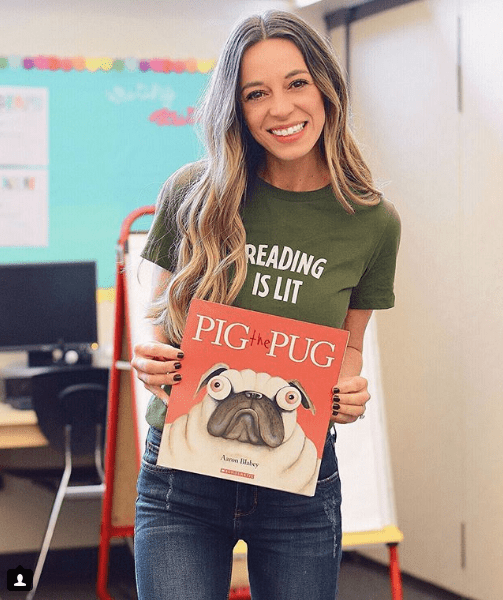 Love @teacherdresscode's spin on our Reading Is Lit shirt! Buy it here!
Plus, other stories you may have missed on WeAreTeachers:
Don't forget to subscribe to our newsletter to get our top stories every week! Plus, check out top stories from prior weeks below.
Top Teacher Stories: Week of November 30, 2018
1. Rhode Island students sue for the right to learn civics.
2. Why do teachers leave the profession?
3. Kids born in August are the most likely to receive an ADHD diagnosis
4. We're giving away thousands in prizes during December
5. New research shows teachers turn to DonorsChoose when faced with budget shortfalls
6. There's no tired like teacher tired
7. Don't say it, don't say it…
Top Teacher Stories: Week of November 16, 2018
1. Teacher heroes sleep overnight at school
2. D.C. teachers leaving in droves
3. What reading 20 minutes a day does to your brain
4. We're giving away boatloads of Amazon.com Gift Cards
5. Put this in your lesson plans for next week
6. We can't stop laughing at the answers to this question.
7. From victimhood to agency?
Top Teacher Stories: Week of November 9, 2018
1. Make way; teachers are headed for office
3. What happens when you stop shushing a chatty class?
4. An inspiring way to give back to your community
5. Because we could all use a little more kindness
6. A peer editing anchor chart we love
7. File this one under "unexpected but totally earned teacher skills"
Top Teacher Stories: Week of November 2, 2018
1. Kids in poverty get more screen time, wealthier kids get less
2. South Carolina teachers are poorer now than in 2008
3. Should teachers take mental health days?
4. Need a whiteboard upgrade?
5. The importance of meaningful, focused conversation in the classroom
6. Do charter schools offer better retirement plans?
Top Teacher Stories: Week of October 26, 2018
1. Districts turning to creative housing for teachers
2. In related news, teacher salaries in some states are shockingly close to the poverty line
3. Maybe more teachers in office will shift the balance?
4. How these schools are getting their kids up and running—literally
5. What it means to have dyscalculia
6. National Cat Day is on October 29—are you ready?
7. Not a bill, and not junk mail
Top Teacher Stories: Week of October 19, 2018
1. These actual rules for teachers will blow your mind
2. Newsflash: American teachers are not respected
3. Speaking of which…your Aunt Linda should probably read this list
4. What are your dreams for your students?
5. Celebrating the National Day on Writing
6. Is flexible seating overrated?
Top Teacher Stories: Week of October 12, 2018
1. The struggle to manage teacher stress
2. The ultimate teacher hack
3. Are fine motor skills on the decline?
4. Last chance to register for the Mindful Education Summit
5. Definitely the way I will be handling all future graffiti
6. Please don't take away our planning time
7. What people don't realize about teaching
Top Teacher Stories: Week of October 5, 2018
1. Crowded classrooms making it harder than ever to teach
2. What happens when kids lock up their phones
3. It's hygge season, y'all
4. Last chance to win $1,000 for your classroom
5. To friend or not to friend?
6. Where have all the (working) markers gone?
7. Already feeling tired and drained? Here's one way to reset.
Top Teacher Stories: Week of September 28, 2018
1. Teacher allegedly fired for refusing to follow "no zero" policy
2. Schools reckon with Kavanaugh nomination
3. Give us all of the banned books
4. A math program that gives kids the extra practice they need
5. At last! We have something in common with Kristen Bell
6. How one teacher found a way through tragedy
7. Finally, a moment of levity we could all use
Top Teacher Stories: Week of September 21, 2018
Top Teacher Stories: Week of September 14, 2018
Top Teacher Stories: Week of September 7, 2018