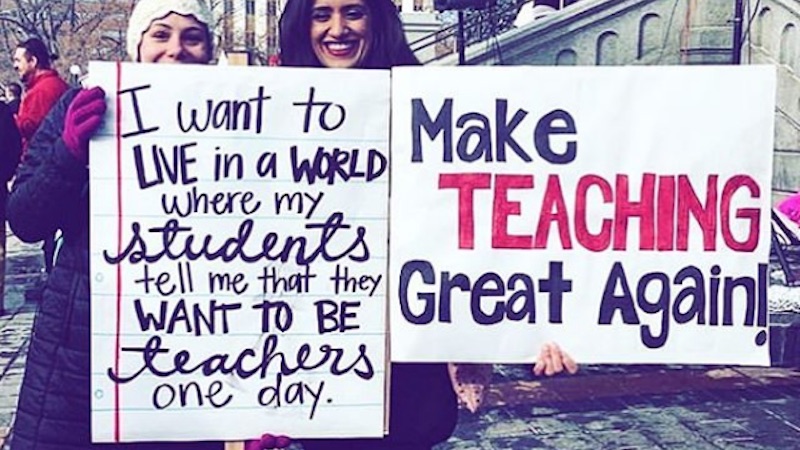 Every Friday, the WeAreTeachers editors share our favorite finds and news from the week, from the top teacher stories to must-use discounts and the latest and greatest memes. It gets better: if you sign up for our newsletter, you'll get these picks before everyone else.
1. Denver teachers reach agreement
When we fight, we win. Top image credit: @stumblerise on Instagram
2. The missing piece in literacy instruction
21 Ways to Build Background Knowledge—and Make Reading Skills Soar
Elementary educators know—background knowledge is everything.
3. Who has the best job in education?
Special ed teachers! Here's why.
4. The most popular kids' books by grade
Three cheers for Dog Man!
5. Eye-popping, inspiring, AND empowering?
13 Black History Month Classroom Doors That Stopped Our Scroll
Must be a teacher at work.
6. Yeah, this rings true for my school
We act like our worst-behaving students during PD days. But we have our reasons.
7. The importance of showing you care
Even on the hardest days on the job.
Plus, other stories you may have missed on WeAreTeachers:
Don't forget to subscribe to our newsletter to get our top stories every week! Plus, check out top stories from prior weeks below.
Top Teacher Stories: Week of February 8, 2019
1. The glorification of cute
2. Speaking of simpler classrooms…
4. A chance to turn students into published authors
6. We didn't make an easy choice
7. The importance of early intervention
Top Teacher Stories: Week of February 1, 2019
1. The Internet agrees: Best bus driver ever
2. Esports are headed to a school near you
3. Why we need to let kids fail
4. How schools are teaching the most underrated social emotional skill
5. The job-hunting article you need to read
6. The four-color was pretty good, but six? Amazing.
7. Teamwork makes the dream work
Top Teacher Stories: Week of January 25, 2019
1. Kids learn from who they love
2. Doing screen time the right way
3. Bringing coopetition from the boardroom to the classroom
4. How to make a beloved series come to life
5. An open letter to school leaders
6. The funniest kid answer of the week
7. Why teacher BFFs are so important.
Top Teacher Stories: Week of January 18, 2019
1. Los Angeles teachers strike
2. Where have all the valedictorians gone?
3. There goes middle school, giving us 80s vibes
4. A teacher who defaulted on her loans makes a comeback
5. Reading, writing, and…building houses?
6. When you support teachers, you support kids.
Top Teacher Stories: Week of January 11, 2019
1. Teachers ready to strike in Los Angeles, Denver
2. The things we do behind closed doors
3. What are some alternatives to being in the classroom?
4. Did you hear?
5. When resignation letters go viral
7. The hardest part about teaching
Top Teacher Stories: Week of December 14, 2018
1. Los Angeles headed toward teacher strike
2. Why teachers don't use pricy educational software
3. The symbols of teaching past…
4. The free printable that could save indoor recess
5. Kids need to be outside, even in the snow
6. When we want independence, but demand compliance
7. What does a teacher do all day?
Top Teacher Stories: Week of December 7, 2018
1. Should parents eat in the school cafeteria?
2. Put away those classroom Christmas trees
3. The thing we can't forget about winter break
4. When inclusion gets challenging
5. We're asking kids to do too much, too soon
7. The surprising affects of teaching
Top Teacher Stories: Week of November 30, 2018
1. Rhode Island students sue for the right to learn civics.
2. Why do teachers leave the profession?
3. Kids born in August are the most likely to receive an ADHD diagnosis
4. We're giving away thousands in prizes during December
5. New research shows teachers turn to DonorsChoose when faced with budget shortfalls
6. There's no tired like teacher tired
7. Don't say it, don't say it…
Top Teacher Stories: Week of November 16, 2018
1. Teacher heroes sleep overnight at school
2. D.C. teachers leaving in droves
3. What reading 20 minutes a day does to your brain
4. We're giving away boatloads of Amazon.com Gift Cards
5. Put this in your lesson plans for next week
6. We can't stop laughing at the answers to this question.
7. From victimhood to agency?
Top Teacher Stories: Week of November 9, 2018
1. Make way; teachers are headed for office
3. What happens when you stop shushing a chatty class?
4. An inspiring way to give back to your community
5. Because we could all use a little more kindness
6. A peer editing anchor chart we love
7. File this one under "unexpected but totally earned teacher skills"
Top Teacher Stories: Week of November 2, 2018
1. Kids in poverty get more screen time, wealthier kids get less
2. South Carolina teachers are poorer now than in 2008
3. Should teachers take mental health days?
4. Need a whiteboard upgrade?
5. The importance of meaningful, focused conversation in the classroom
6. Do charter schools offer better retirement plans?
Top Teacher Stories: Week of October 26, 2018
1. Districts turning to creative housing for teachers
2. In related news, teacher salaries in some states are shockingly close to the poverty line
3. Maybe more teachers in office will shift the balance?
4. How these schools are getting their kids up and running—literally
5. What it means to have dyscalculia
6. National Cat Day is on October 29—are you ready?
7. Not a bill, and not junk mail
Top Teacher Stories: Week of October 19, 2018
1. These actual rules for teachers will blow your mind
2. Newsflash: American teachers are not respected
3. Speaking of which…your Aunt Linda should probably read this list
4. What are your dreams for your students?
5. Celebrating the National Day on Writing
6. Is flexible seating overrated?
Top Teacher Stories: Week of October 12, 2018
1. The struggle to manage teacher stress
2. The ultimate teacher hack
3. Are fine motor skills on the decline?
4. Last chance to register for the Mindful Education Summit
5. Definitely the way I will be handling all future graffiti
6. Please don't take away our planning time
7. What people don't realize about teaching
Top Teacher Stories: Week of October 5, 2018
1. Crowded classrooms making it harder than ever to teach
2. What happens when kids lock up their phones
3. It's hygge season, y'all
4. Last chance to win $1,000 for your classroom
5. To friend or not to friend?
6. Where have all the (working) markers gone?
7. Already feeling tired and drained? Here's one way to reset.
Top Teacher Stories: Week of September 28, 2018
1. Teacher allegedly fired for refusing to follow "no zero" policy
2. Schools reckon with Kavanaugh nomination
3. Give us all of the banned books
4. A math program that gives kids the extra practice they need
5. At last! We have something in common with Kristen Bell
6. How one teacher found a way through tragedy
7. Finally, a moment of levity we could all use
Top Teacher Stories: Week of September 21, 2018
Top Teacher Stories: Week of September 14, 2018
Top Teacher Stories: Week of September 7, 2018