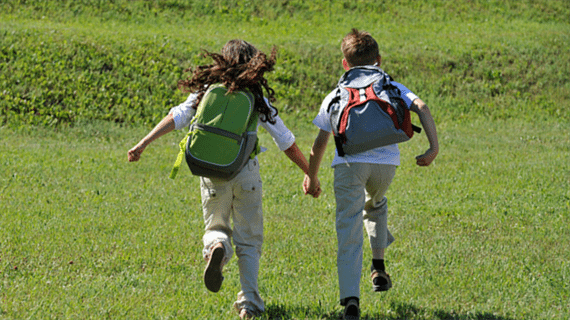 Brought to you by Hazelden Publishing For Educators
More
If your school has made a commitment to reducing bullying and improving social-emotional skills across grades, congratulations! It takes real dedication to make such an investment to school culture and to get buy-in from teachers, students, and families.
Indeed, implementing an anti-bullying program or social-emotional curriculum can involve shaking up schedules, rethinking the ways you handle discipline, and long hours of PD. Still, with all the time and resources invested, many schools find themselves falling into back-patting syndrome. They think, "Well, we've checked off our anti-bulling efforts," and point to certificates of achievement rather than actual student or teacher behavior.
Of course, for anti-bullying programs to be successful in the long term, it's crucial for schools to think more critically about their cultures. They must continually assess where things are and use all of the measurement tools available. Here are five questions to guide you.
1. How do teachers talk to kids?
In the instances that Jim Dillon, author of Reframing Bullying Prevention to Build Stronger School Communities, has seen schools mistreat or exclude kids on a regular basis, it's subtle. No one is yelling or berating students. Teachers may respond differently when two kids forget their homework—one may escape with a tsk-tsk while another gets a lecture or a sarcastic comment. But when that happens, it tells kids that it's OK to treat people differently, and that sets the stage for bullying.
To find out if your anti-bullying measures are paying off, listen to how teachers are talking to kids and, in particular, how teachers are addressing kids who struggle. "When kids who don't struggle see kids who struggle get treated in a kind way, it's reassuring to them," says Dillon.
Ask: How do we treat students when they make mistakes? What language are we using to communicate with kids who frustrate us?
2. What are rewards reinforcing?
Rewarding students should be purposeful and shouldn't favor any one child over another. At principal and bullying prevention expert Karen Siris' school, students and teachers fill out a form that recognizes inclusive behavior. Then, those students are celebrated with certificates at a morning meeting. At Clear Springs Elementary in Minnetonka, Minnesota, when students stand up for one another, they get a golden ticket they put in the treasure chest in the school office. Every Friday, principal Curt Carpenter pulls out three names, and once a month he has lunch with all the winners.
Ask: What are we rewarding? Are the rewards we're giving out encouraging the behaviors we want to see from students?
3. What are students saying?
When Siris walks the halls of her school, if she stops and asks students what's important at their school, they'll say they're kind to one another. It's powerful when students stand up for one another, and when peers are speaking up, you know your anti-bullying efforts are paying off. "Research has shown that it's helpful to involve peers," says Julie Hertzog, director of PACER's National Bullying Prevention Center, "to have peers be supportive of one another." If you're not hearing that, then it's time to reevaluate.
Ask: Listen to students. What do you hear—how do they talk to one another? What are they communicating to adults about one another?
4. What are school transitions like?
After completing Olweus bullying prevention training, the Clear Springs Elementary team took the opportunity to change their procedures. For example, during arrival, they started standing in hallways and outside classrooms to greet students. This made arrival a time for high-fives and hugs, says Carpenter. That positive interaction (and supervision) first thing in the morning impacts school culture.
Ask: Are teachers engaging with kids in a positive way at every opportunity? How do we want students to feel in school, and is that happening?
5. How are students invested?
Think about the experience that you want kids to have and how we treat one another. When students are asked how they want to feel at school, they'll say welcomed, cared for, appreciated and respected. Use their sentiments to create a class charter that you can refer back to if an incident happens. Then, throughout the year, refer back to the charter if the kids aren't living up to it.
Ask: What norms already exist in your classroom? How did you establish those norms and expectations?
Building positive school culture is a process, not a one-time event. But eventually, positive interactions and behavior are ingrained. "We've created a place where kids earnestly want to do the right thing," says Carpenter. "Bullying is a thing that they can't fathom."
This blog post is the third in a series about bullying brought to you by the Hazelden Publishing for Educators. Read the previous post here.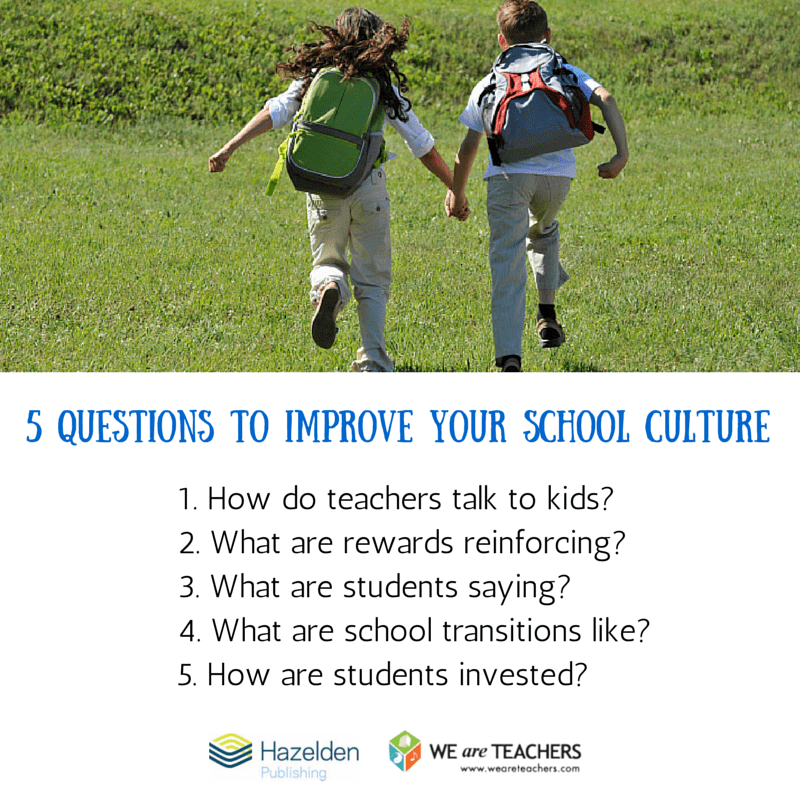 School Culture Need Tweaking? Five Quick Fixes
In evaluating school culture, a few common issues come up again and again, even in schools that have implemented anti-bullying or social-emotional curriculums. Here are some ways to address them.
1. Teach I-statements.
Kids need to be able to look out for themselves and communicate. Use I-statements such as "I feel bad when you say that. …" Teaching language like this explicitly gives kids the confidence to communicate effectively.
2. Love the bully.
"One really powerful realization we've had is that we need to love the bully just as much as we love the bullied," says principal Curt Carpenter. Carpenter has noticed that kids who bully don't know how to deal with something that's happening in their lives. "Especially when kids are little," says Carpenter, "things come out in funny ways." If a child does bully others, Carpenter makes sure he or she knows his or her choices are bad but also addresses it with love and teaching.
3. Implement restorative justice.
If there is an incident, rather than using discipline, which can push bullying behaviors further under the surface, focus on restorative justice. It's not about consequences, it's about making amends, says Karen Siris, principal and bullying prevention specialist. So, rather than keeping a child who has bullied separated from the class during lunch, they may be charged to find a way to make amends during the lunch period.
4. Teach kids to advocate.
Once a class charter is in place, teach kids how to stick up for one another. "The biggest thing we've done is teach kids to stand up," says Carpenter. When kids know how, and feel comfortable, standing up and stepping in to stop bullying, situations dissolve quickly.
5. Identify the kids who need you the most.
Once you've identified students who are struggling, who spend most of their time alone or who are "different," pay particular attention to how you interact with them. "Find the child who needs you the most and make sure you're particularly kind to him or her," says Siris. If your voice and attitude about your most needy students is kind and encouraging, their peers will mimic this.
Is bullying a problem at your school? Get help with the resources available from Hazelden Publishing for Educators. You can also get ideas from other educators by following Bullying Prevention on Twitter.