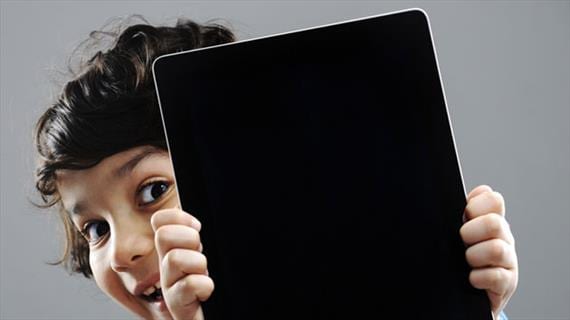 Are you curious about bringing BYOD to your classroom but have concerns about how to make it work? From classroom management to network security to the divide between the haves and the have-nots, there are a lot of issues that come up when asking kids to bring their own devices to school.
With those issues top of mind, last week WeAreTeachers hosted a panel at TCEA in which three veteran educators—and the audience members in attendance—shared their practical advice and wisdom for implementing BYOD.
Here are five of the key takeaways from our presenters Chris Brendel (@Chris_the_Hun), Maria Harrington (@Mmmariaharr) and Stephanie Cerda (@ms_cerda):
Good classroom management is good classroom management; you can and will help kids stay on task.


While it's easy to imagine a BYOD classroom of 30 kids all on Facebook while you are trying to teach about fractions, teachers who've actually implemented BYOD programs say that it's no more difficult to keep kids on task than when they're doing pencil-and-paper lessons or any other activity.

Which isn't to say it's easy. Classroom management never is. You have to set clear expectations and keep kids engaged so they aren't even tempted to go off task. For teacher Maria Harrington, that means having kids log in to the school network (where social sites are blocked), using software programs that incorporate teacher monitoring, and finally, when appropriate, incorporating the digital tools that kids know and love.

Harrington further points out that in a non-BYOD classroom, kids are just as likely to wander off task by texting their friends or checking Instagram under their desks. "I'd rather have their phones on top of their desks so I can see what they are doing," she says.

There are many ways to bridge the digital divide.

Another common concern for those considering BYOD is that not all kids have the ability to bring an expensive phone or tablet from home. It's a legitimate worry, but our panelists all agreed that in their experience with BYOD it's not as big an issue as one might think.

First, studies show that low-income families are making an investment in smartphones at an increasing rate. Second, the availability of low-cost options has made it easier for schools to bridge the gap—all of our panelists said that their BYOD classrooms have a handful of devices for kids to borrow or check out.

Finally, a few teachers noted that it might be preferable when not every kid has his or her own device. It helps to foster group work, communication and collaboration, and students often come up with their own creative rules and workarounds when sharing a phone, laptop or tablet.

Win over your principal with data.


Sold on BYOD but your administrator, not so much? One of our audience members joked that you can convince a principal to do anything if you show him or her the numbers—and our panelists agreed.

Fortunately, there are a growing number of case studies that show BYOD is good for kids—and for test scores. And as more schools implement BYOD programs, that research is sure to grow.

And don't forget to include the cost savings, says panelist Maria Harrington. Not just on technology and devices, but on printing and paper too.

Be flexible about hardware and uniform about software.


Our panelists agreed that asking kids to bring a certain kind of device isn't the way to go—it rubs parents the wrong way and can actually inhibit some of the advantages of BYOD. When kids are working on different devices, for example, they also learn about the different operating systems from one another and are able to select a device that best matches their individual needs.

That said, our panelists also emphasized that using the same software applications or suite of tools is equally important in guaranteeing the success of BYOD. Maria Harrington's and Stephanie Cerda's schools both use Google Apps for Education for everything from student document creation and storage to communication from administrators and teachers. The consistency ensures that students stay on task and become experts at a particular suite of tools, and that software tech support is kept to a minimum.

One caveat is that our panelists recommended some flexibility when it comes to presentation, moviemaking and other creative tools. Allowing students to choose between Prezi, Glogster and Slideshare, for example, sends the message that it really isn't the tool that's important but the content, process and end result.

Let kids lead tech support.
If the thought of 200+ different kids bringing in different devices gives your IT department the shivers, you're not alone. But the beauty of BYOD, according to our panelists, is that kids become the experts at their own devices and can help one another troubleshoot issues.

Maria Harrington says that all of the teachers in her school have some basic tricks they teach kids when encountering tech problems (such as powering down, closing the app, etc.), but that as much as possible, they encourage kids to lead the way.

At one of the schools where Stephanie Cerda works, there's even an IT help desk manned by fellow students. Talk about an authentic learning experience—kids learning not only about technology but about communication, teamwork and problem solving too. That's BYOD at its best!
Has your school tried BYOD or are you thinking about it? We'd love to hear about your experiences and challenges in the comments.