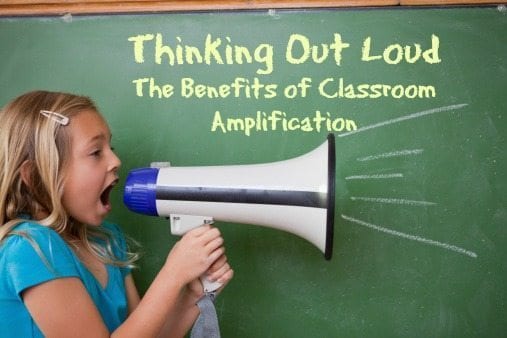 In every classroom, there is a hub-bub of background noise, and whether its chatty students or that radiator that has seen better days, background noise can be a big distraction from learning. Classroom amplification systems are becoming an effective answer to making sure your lessons get heard in a way that's meaningful and effective. Here are the whys and hows of classroom amplification to help make sure you are heard loud and clear.
What Is Classroom Amplification?
Classroom amplification is the idea of using technology to make sure your instruction is heard clearly throughout the classroom. It sounds simple, but when the teacher's voice is heard, the students learn. And when students can hear clearly, they are more likely to participate in classroom discussion, to think critically about a topic and to gain comprehension.
As a general rule, classroom amplification systems (like this Front Row System that one of our teacher partners raves about) work by connecting a wireless microphone, worn by the teacher, to the amplification system speakers, which are located throughout the room or in the ceiling. The system then distributes the teachers' voice evenly throughout the classroom so that every student can hear what the teacher is saying.
The Benefits Of Classroom Amplification
1. Enhanced Student Performance
Research has shown that many students have an auditory learning style—which explains why your students can remember every word to the latest Justin Beiber song but can't seem to remember the math facts you've had posted on the board for a week. Interestingly, in spite of their auditory learning styles, many students don't have the listening skills to listen in an effective manner. When using a classroom amplification system, your students will be able to hear clearly so that they can learn to grow essential listening skills in an environment that meets their unique needs.

2. Help For Struggling Kids
Amplification systems are particularly effective for children with special learning needs. One of the main roadblocks for kids with dyslexia and other auditory processing disorders is their inability to sound out words. Part of the reason they have trouble sounding out words is because they've never heard them clearly enough to know what sound each letter makes. Classroom amplification systems help these children hear better and improve their understanding.
Improved sound clarity also helps children develop phonemic awareness, which is the ability to identify and manipulate the unique sounds of language. This auditory skill is needed for successful reading, comprehension and vocabulary. Because classroom amplification systems enhance the room's acoustics, children are better able to hear and comprehend the words they are learning, thus improving their phonemic awareness.
3. Improved Student Behavior
As a teacher, you don't need research to show you that students who are interested and engaged in the material are less disruptive during class. (You can figure that out by yourself, thank you very much.) Amplification systems help students hear the lessons more clearly, keeping them engaged in what they are hearing and interested in learning.
4. Improved Teacher Health
Long stretches of repetitive, loud talking (sound familiar?) can wreck havoc on the vocal cords, jaw and throat. Using a classroom amplification system can decrease the strain your voice, which means you'll feel better and have plenty of vocal prowess yet to discuss Downton Abbey in the staff room after work.
How To Get Classroom Amplification Systems in Your School
We had you sold on getting a classroom amplification system at "improved student behavior", didn't we? But while there's little doubt as to the benefits of having a classroom amplification system, many teachers work in schools that simply can't afford them. But there is more than one way to equip a classroom. Many schools have technology funds that help supply new educational technology to teachers who request it. Additionally, there are lots of places to apply for educational technology grants online. Last, some companies like FrontRow offer free trial periods where you can test the product in your classroom. We suggest that you do some research on the best systems—if you need help, our favorite resource is eTroxell.com because they supply products from a variety of technology companies so they can tell you what product is best for your needs—and then talk to your principal about the best way to get funding so you can get the system that you need.