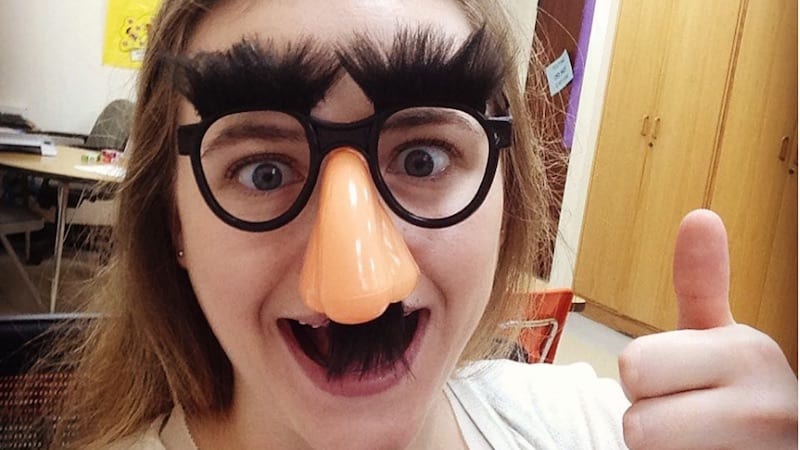 What do teachers do when their students aren't around? It's one of the greatest kid mysteries, and yet the answers are pretty simple. We scoured Instagram to uncover the things teachers do in empty classrooms and abandoned hallways or on teacher PD days and school breaks. Check it out.
1. They put their feet up on their desks.
You have to take it easy when you can. (And admire everything in its place.)
2. They take a turn on the bouncy castle.
Because the start of summer break only happens once a year. (Also, margaritas.)
3. They break into the prize box.
You thought that toy looked a little well-worn.
4. They bend the rules on dress code.
No shirt, no math problems.
5. They act crazy in the hallways.
The rules are different for teachers, #amiright?
6. They pull epic pranks.
Didn't you want a class pet? #coworkergoals
7. They play games without you.
And wait, are those donuts back there?
8. They celebrate school breaks.
Oh don't worry kids, they'll still miss you.
9. They wear sassy t-shirts.
Where can we get one?
10. They bring friends to help with their grading.
Wouldn't you?
11. They catch up on YouTube.
So many vids, so little time.
12. They make *important* discoveries.
Who knew?
13. They eat teachers-only cupcakes.
Which they very much deserve.
14. They hoard the best office supplies.
Because let's face it, kids ruin stuff.
15. They watch March Madness in the teachers' lounge.
I would like to do this, please.
16. They get creative in the science lab.
Afterall, good teaching is a marriage of learning and fun.
17. They have fun with the craft supplies.
We told you a teacher's eyes are everywhere.
What's the best thing you and your teacher friends have ever done when there were no students around? Please share in the comments.