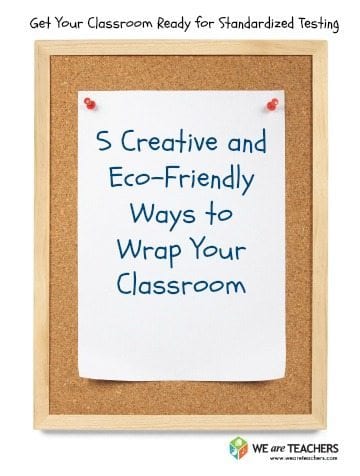 As if proctoring standardized testing isn't enough to drive you to a stress-induced vending machine binge, most states also require teachers to cover all words and pictures on their classroom walls. Goodbye gorgeous bulletin boards that you spent an entire Saturday putting together, hello huge strips of butcher paper.
Exhale. We know that the idea of covering your walls with tree-wasting butcher paper is enough to horrify you. But there are alternatives to spending your next Saturday battling a roll of duct tape and a step ladder. Here are our creative, eco-friendly (and fun!) ways to wrap your classroom this year:
Use curtains. No, we don't want you to go spend your entire month's salary at Pottery Barn, but maybe you can borrow the drapes from your guest room for the day? Best part is, if the curtain is already hanging up in your house, you can just pop the entire rod off of the hooks, slide the rod to a smaller setting for transport and then use string to hang the already-hung curtain from your ceiling in front of your bulletin boards.
Try tablecloths. That pretty tablecloth that only sees the light at Thanksgiving now has a secondary purpose. Tablecloths are big enough to cover large areas and pretty enough to make your classroom look like you're throwing a tea party instead of proctoring a test. If only you could serve up scones and Earl Grey alongside each kid's #2 pencil.
Bedsheets would work, too. So, maybe not your red satin sheets, but that old white cotton set that has been collecting dust in the linen closet would make a great alternative to butcher paper.
Enlist your student's help. One middle school (yes, middle school) teacher we know had each of her students bring their favorite "blankie"—sounds very little kiddish, we know, but our teacher reports that the kids loved having a favorite comfort object from their childhood adoring the walls come test time.
5. Or, make it a contest. Encite a little pre-test stress relief and challenge your students to come up with their own creative classroom wrapping solutions. Have each student or group be in charge of one wall or bulletin board with the caveat that they are in charge of implementing whatever solution they come up with. And hey, if they want to spend the next two days gluing together recyclables from the recycling bin to make a "wrapping quilt," tell them to go for it. As long as they quiz each other with math facts while they work.
Question for you: Do you have to wrap your classroom for testing? How do you do it?