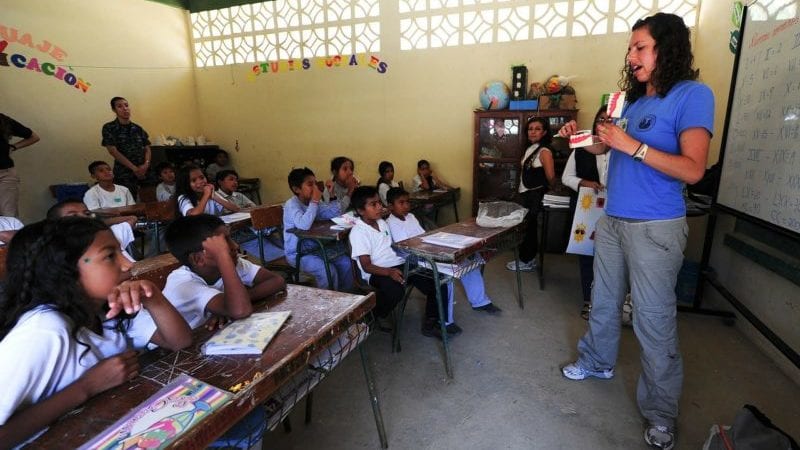 Last spring, we asked veteran teachers to give us their best advice for new teachers … and hundreds of you responded with tips, tricks, and ideas. Now as the school year ramps up, we'd like to highlight a few of our favorite ideas. Read, learn, and then go put them into practice in your classroom.
Have patience
One of the best lessons I have learned is to be patient! Kids will learn and shine, maybe not at MY pace, but theirs! – Bellaelly
Trust yourself
During your first year of teaching, you hear all sorts of advice! You read every new article you can find about teaching! You watch every video on the internet about education, strategies, trends, and philosophies. You try to be the best teacher in and out of the classroom as possible! You've got endless workshops, higher education classes and committees to fill your agendas. You realize you have just signed up for a lifetime of learning. You've got parents, children, colleagues, Principals and higher ups to answer to, but there is one most important person: You. "Trust Yourself" and "Believe in Yourself."—love art
Don't panic
My advice is to not panic when lessons do not go exactly as planned. Let "Monitor and Adjust" be your motto. If something is not working, adjust or just throw it out and start with a different idea. – maryjane
Make a connection
The biggest thing I learned my first year was that I can teach their ears off and that is all good and dandy. However, if they don't feel a connection with me on a level other than just being their teacher I am not going to get very far. I am the only parent some of them see during the day so I have learned that my relationship with them comes first and the education just falls right into place. It is much easier to teach math or science to someone that wants to listen to me over someone that could care less what I say! Get to KNOW your kids! – peters
Get a mentor
Find an "old" teacher! Make them your friend, mentor, shoulder to cry on, therapist, Dear Abbey, and mostly just be there to be your back up plan! When you have someone to talk you down from the ledge (sometimes on a daily basis) it makes it easier to see the brighter side of it all. — Kristiwitt
Start with classroom management
I learned very quickly that classroom management is EVERYTHING!!! My biggest piece of advice I can give new teachers is to start your year stricter than you would normally be. You can always back off once students have gotten into the routine of following rules and procedures. You cannot, however, make up lost ground in the area of classroom management. If you start out too "nice" then, it is nearly impossible to establish a stricter classroom climate throughout the year! – sarcasm44
File everything
Create files at the beginning of the year for all your lessons so you don't have to recreate them next year.– Mshyoo
Looking for more support? Check out our Facebook page, exclusively for new teachers!
Join our Facebook group WeAreTeachers—First Years! to connect with other new teachers, and learn more about how you can navigate your classroom and life.