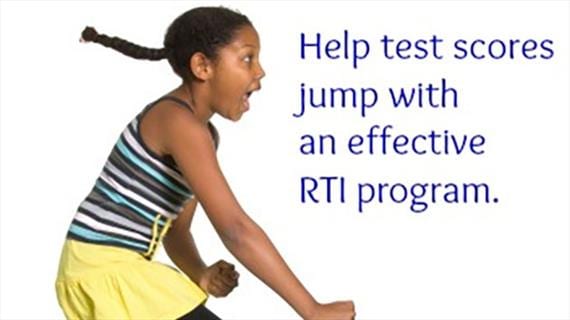 RTI (Response to Intervention) dictates that schools take a proactive approach, rather than a reactive one, to students in need of additional academic support. Targeted assessment at critical stages of a student's development can illuminate gaps in learning, so that teachers can address them right away rather than waiting for the student to fail. The goal of RTI should be to ensure that all students are meeting benchmarks and getting the services they require and, to do this, the schools must ask the fundamental question: "How can we better meet each child's needs?"
This goal does not always align with the quest to raise standardized test scores; however, RTI can be a great asset in identifying students who have the ability to do better on the tests if just given the proper interventions at the right times. Here are some effective ways to get the most of your RTI program in an effort to raise scores.

Utilize

data mapping software

to assess and track student progress. In gaining knowledge about specific areas of weakness, the teacher is able to focus on those trouble areas to bring students up to mastery. Data collected through an RTI program can be an indicator of how students will fare on standardized tests and what areas of weakness need to be addressed.

RTI can help identify students who may be struggling to learn English and distinguish them from students who have reading disabilities; some students might be ELL and

also have disabilities. All can benefit from sessions with a specialist in reading comprehension, fluency and vocabulary that are targeted to their precise needs, ultimately preparing them to do better on standardized tests. Here is a success story from a southern New Mexico district.

At the Tier 1 level, RTI screens every child universally to see how they can handle the standard curriculum. RTI screenings are designed to predict an outcome months or years in advance. For example, a reading screening conducted in kindergarten could present strong indicators of how a child will do on his or her first standardized test—with plenty of time to change the trajectory of that student's academic progress.

RTI addresses not only academics but behavioral issues that may be related to the students' challenges and progress. As part of a comprehensive and integrated framework, support for problem behaviors can help students whose test scores may be suffering due to a variety of influences.

RTI identifies students who are struggling no matter why they are struggling—it could due to a learning disability, a simple misunderstanding of the material or emotional issues. Therefore, RTI is not for special education but for

all

education. RTI can lead to fewer referrals for special education by identifying children who are struggling for a variety of reasons—and getting them back on track.
Have you seen evidence that your school's RTI program has increased test scores? What else would you like to share about the effectiveness of RTI?