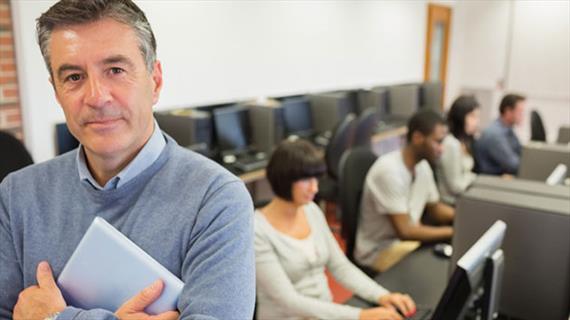 While the implementation of the Common Core State Standards means a lot of work and transition ahead, the good thing about shared benchmarks across 45 states is that you can now share resources, ideas and lessons with a colleague across the hall—or across the country. With that in mind, we asked our Facebook fans for their favorite online tools that are making the transition a little easier.
1. Pinterest. Teacher Vicki Lynn recommends the resource-sharing site as a one-stop shop for finding Common Core-related lessons, charts and rubrics. We've pinned lots of Common Core ideas on the WeAreTeachers page.
2. Individual State Resources. "The Utah Education Network really helped me to understand the transition," says teacher Debi Barnett. Cindy Norris similarly finds the Kansas Association of Teachers of Mathematics helpful, and Michelle Freeland says ReadTennessee.org is an invaluable tool. Check your state DOE for similar links.
3. The Organized Classroom. "I love this blog," says teacher Susan Maxwell Wenar. "It's awesome for Common Core resources!" We think it's pretty great, too—don't miss the grade-by-grade packs of information.
4. K–5 Math Teaching Resources. Teacher Jennifer Lubin casts her vote for this comprehensive site listing free Common Core resources, games and activities for the elementary math classroom.
5. The Common Core iPhone and iPad apps. Several teachers recommended these free downloads—"excellent for a quick and ready reference," says teacher Judy York.
6. Socrative. Cindi Parisi Thompson calls this free student response system "great for formative assessment," which is a major focus of the Common Core.
7. MasteryConnect.Teacher Tina Cooper Wyre says she will be using this site to find common formative assessments and Common Core grading tools.
8. Quizlet.Finally, Alexandra Swann Woody recommends this free flashcard-making site for creating and finding Common Core study tools.
Question for you: Where have you found the best resources for the Common Core? What tools are you recommending to your teaching colleagues?