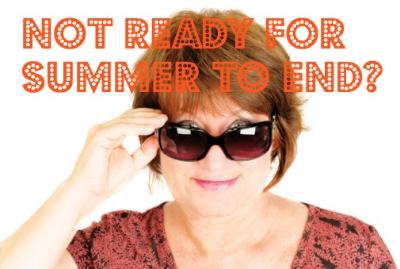 Whether you're headed back to school in the next couple of weeks or you're one of those lucky teachers who doesn't have to return after Labor Day, chances are your teaching muscles are feeling a little creaky after your break from the classroom. Never fear! We asked veteran educators for their recommendations and here are some of their best tips for beating that summer hangover.
1. Head to your nearest school supply aisle. Inhale deeply. Repeat again as necessary. The smell of freshly sharpened pencils is guaranteed to make you excited for all of the new beginnings this year.
2. Wear flip-flops to teacher planning days. Add some flowery Bermuda shorts too. Then convince your principal and coworkers to do the same—and throw a spontaneous luau to break up those endless meetings. Why not, right? Aloha, teaching colleagues!
3. Set a summer hit as your ringtone. Trust us. Even when you're knee-deep in grading this fall, when the first bars of Katy Perry's "Firework" start playing, you'll be transported back to July—or at least distracted from Johnny's essay for a few minutes.
4. Approach your lesson book carefully. You don't want to overdo it after all. On the first day of planning, open it. That's it. Just flip it to a blank page. Whew. Got it? Good. On the second day, you can fill in your schedule. They're called baby steps, friends.
5. Whatever you do, don't chat with the colleague who wants to "give you all the dirt" on the "troublemakers" in your class this year. That information can wait—there's no need to start shaking in your boots now. Plus, there's something to be said for forming your own first impressions.
6. Start setting your alarm clock five minutes earlier every day, and by the time school starts…umm, who are we kidding? There's no easy way to transition to a five a.m. wakeup call. Except for coffee. Lots and lots of coffee.
7. Give yourself a little reward after a long day of planning. Like a pedicure or a "Real Housewives of New Jersey" marathon. We're just saying…it's best to ease back into the busy life of a teacher.
Question for you: What are your tricks for beating the summer hangover?