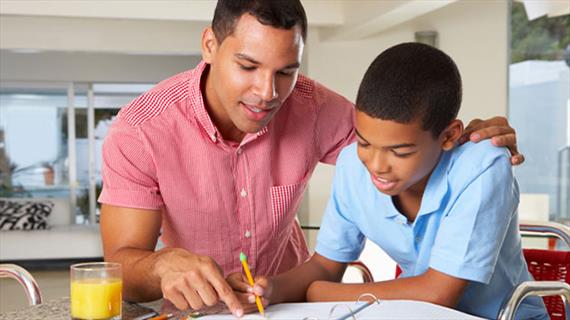 As your school plans its transition to the Common Core, it's important to communicate key changes to students' families. But parents are sometimes wary of major shifts in the curriculum, and the new standards can be difficult even for someone with a master's in education to understand! Here are six ideas for getting Common Core buy-in from your entire school community.
1. Host a community meeting in which you review the major elements of the Common Core, your school's plan for transitioning to the new standards, and how the new benchmarks will impact classroom instruction. This can be a part of your regular back-to-school night or a separate event led by your reading and math specialists or your school librarian.
2. Avoid educational buzzwords and talk about the standards in easy-to-understand terms. For example, you might explain that students are expected to write fictional, opinion and factual pieces rather than detailing the components of narrative, persuasive and expository writing. Teacher Amy Jo Farkas Rudd says that her school is translating the standards into simple "I can" statements from the student's perspective (for example, "I can write the alphabet," "I can add within 10.")
3. Get help from the PTA. The national Parent Teacher Association has created parental guides to student success for every grade level, in both English and Spanish. These would make great handouts for your Common Core information sessions!
4. Talk about how the standards will benefit children, now and in the long run. One of the reasons that educational reforms are often met with resistance from parents is their concern that bureaucratic changes will mean a negative impact on their child's education. That's why it's important to explain the pros of the Common Core: The new standards are designed to create "college ready" thinkers, writers and mathematicians, challenge students on a deeper level and make it easier for teachers to share top resources.
5. Suggest at-home activities that align with Common Core benchmarks. For example, you might send home a counting game with kindergarteners that includes an instruction sheet for parents listing the correlation to the standards. Or you might ask the parents of older students to talk with their kids about their family histories to practice listening, speaking and interview skills.
6. Stress that there's room for creativity and fun. Some parents worry that the word "standards" automatically means lots of bubble tests and skill-and-drill reviews. Try providing a chart that show how different kinds of activities (hands-on, kinesthetic, visual) will be incorporated into your lessons in order to meet the Common Core benchmarks.
Question for you: How is your school handling communication with parents about the Common Core?