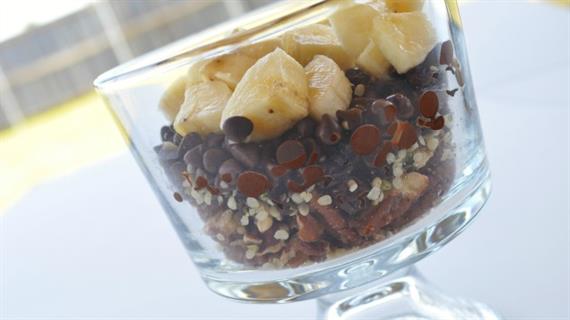 According to several surveys, teaching consistently ranks as one of the top 10 to 20 most stressful occupations. And the beginning of a new school year can really put the stress in stressful. When work gets overwhelming, it can be tempting to turn to greasy or sugary comfort foods to take the edge off, but the comforting affects tend to be short-lived in reducing stress (and long-lived in expanding waistlines). Even though stress eating gets a bad rap, food can be an effective way to find your calm, but only if you're eating the right kinds of foods.
Calcium, folate, B bitamins, protein, magnesium, zinc, omega-3 fatty acids and vitamin C can all work to help your body and brain feel calmer. Nuts, seeds, chocolate, berries, bananas and yogurt are chock-full of some of these nutrients … and they just happen to make up the ingredients in one of my favorite snacks, Trail Mix Parfaits.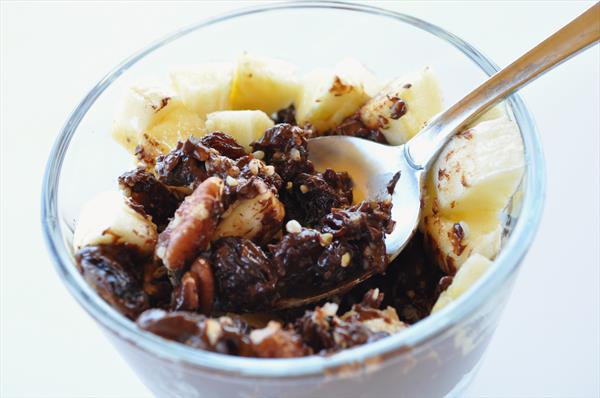 Stress-Relief Trail Mix Parfaits
Serves 1
½ cup pecans or walnuts
2 tablespoons raisins, dried cranberries or dried blueberries
1 tablespoon seeds (like hemp, sunflower, chia or sesame)
2 tablespoons chocolate chips
2 tablespoons diced bananas and/or yogurt
Directions
In a microwave-safe bowl or glass, layer nuts, dried fruit, seeds and chocolate chips. Warm in microwave for 30 seconds or until the chocolate just starts to melt. Don't let the chocolate burn. Top with bananas and/or yogurt. Stir as you eat to coat everything with the melty chocolate.
Packing tip: Pack nuts, dried fruit, seeds and chocolate together in baggies (go ahead and do a few of them at once to save time). Pack yogurt in a container with a lid. At school, dump the baggie contents into a paper bowl or cup and microwave. Top with yogurt and/or banana. Snack is ready in less than two minutes and no cleanup is required.
​
Healthy "Stress Eating" Drawer
Because over the next nine months you'll be spending almost as much of your awake time in your classroom as you will at home, consider making yourself a healthy snack drawer or basket with some of these snacks known to help relieve stress.
Almonds, pistachios, walnuts
Raisins, dried blueberries
Oatmeal
Smoked salmon or small cans of tuna with whole-wheat crackers
Chamomile and green tea
Beef jerky (If you can get grass-fed beef, it contains more of the calm-inducing nutrients and antioxidants than grain-fed beef.)
Dark chocolate (look for at least 60 percent cocoa)
Mood-Boosting Fruit and Veggie Basket
Consider keeping a fruit-and-veggie basket in your room, refreshing it every week with colorful stress-reducing produce like bananas, clementines, blueberries, red bell peppers, snap peas and/or avocados. Not only will it brighten up your desk, but you'll have something fresh and easy to grab anytime you need a quick pick-me-up or have the urge to make a run for the vending machine on a stressful day. Plus, having different fruits and veggies in the classroom gives you the opportunity to teach your students about produce they may not be familiar with and your example will teach them how to make healthier snacking choices.

What are some ways that you beat back-to-school stress?
____________________________________________________________ Rachel Randolph is a mom to a busy toddler boy and a wife to an even busier high school football and baseball coach. She is co-author of "We Laugh, We Cry, We Cook," a food memoir written with her mom, and their upcoming book "Nourished: A Search for Health, Happiness, and a Full Night's Sleep" (Zondervan, January 2015). She also blogs at www.TheNourishedMama.com and www.laughcrycook.com.