His name is John.
A 15-year-old sophomore at a public high school in Texas, John not only maintains a 3.45 GPA, but he also plays varsity soccer and sings in the choir. His dad and his uncle own a small mechanic shop where John works alongside his father. By the time John was 10 years old, he not only had the skills to fix a cracked carburetor or a broken fuel line, but he could also completely rebuild an engine from scratch.
John clearly has a lot of potential. And, he clearly has a love for fixing cars. He even has a ready-made job at his family's business, which his dad and uncle hope he will take over one day. Yet, when he started high school, his guidance counselor insisted that he move into the college track and take advanced placement courses. John asked about auto-shop classes or even taking some basic business administration courses dual-credit at the local community college, but his guidance counselor refused. She said he was college material, and thus, should be on the college track.
John and his parents are frustrated. They have no doubt that John could do well in college—he's thriving in his classes and could certainly gain acceptance into a great school. But John isn't interested in college. He wants to work as a mechanic, and thus, would like the opportunity to enhance his skills so he can work in his family's business as soon as he graduates high school. And why shouldn't he? He shows a ton of potential in a much-needed field.
Unfortunately, there simply aren't vocational programs for students like John available anymore. On the heels of No Child Left Behind as well as the induction of various state standards that mandate college-readiness for all students, many schools did away with vocational programs like auto shop, metal shop, and culinary arts. Aside from budget shortfalls, many schools simply couldn't afford to enroll students in vocational courses when their schedules were already so full with mandated math, science, and English courses.
So, is there a way that schools can offer vocational technology without breaking the system that they are required to be part of? Here are a few ideas.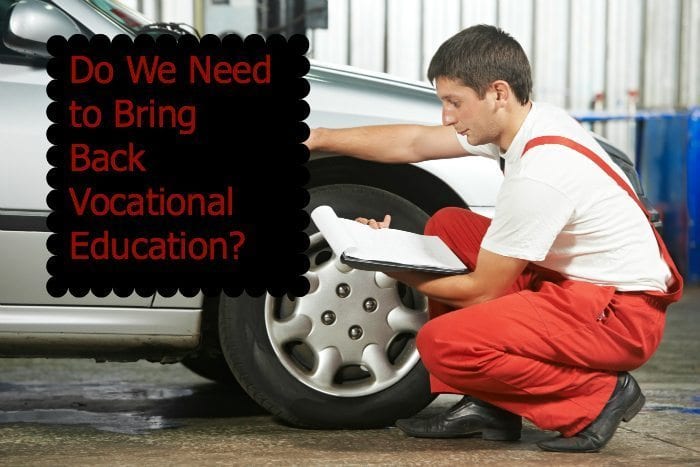 Team Up with Technical Colleges.The Early College High School model is thriving and thousands of students across the country have been given the opportunity to take dual-credit coursework in high school. What if schools were to create a similar program in conjunction with local AC Repair or Auto Shop or Health Care Tech programs?It could work.
Start a Charter School.The beauty of charter schools is that they inherently have some flexibility when it comes to structure. So, for example, a passionate educator who loves the culinary arts could really put together something special that would inspire a gaggle of future chefs, sous-chefs, and culinary professionals.
Be Flexible with Course Content. In many states, schools feel handcuffed as they have to have each student take certain classes.But there is always some flexibility. For example, in Texas where John lives, each student is required to take a full year of business tech classes. Why not group kids like John in the same class and focus their business coursework on small business administration to teach them essential skills for when they run their own businesses? Likewise, basic business accounting can substitute for a math class or promotional graphic design could take the place of art.
Question for you: Do you think vocational education is important? How could you bring it back at your school?