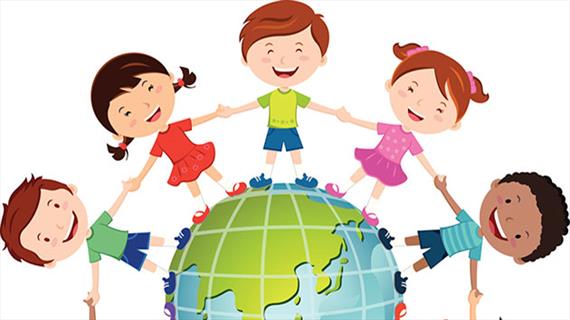 Will you be talking about our planet and the challenges it faces with your students? With Earth Month starting on Monday, we thought we'd gather some of the latest books for kids and teens that celebrate nature, environmentalism and the outdoor world. They're perfect for jumpstarting discussion, research and potentially even activism on the part of your readers.
1. The World Is Waiting for You
Text and photographs by Barbara Kerley. $17.95.
This gorgeous picture book illustrates how children's curiosity and playfulness in the natural world can lead to future careers, hobbies and adventures. The beautiful photographs show, for example, kids digging in the mud, tying this exploration to archaeology in a way that doesn't feel heavy-handed but inspirational. Best for grades K-3.
Activity to try: Create a bulletin board titled "The World Is Waiting for Us," with kids' writing and illustrations about the adventures they dream of having when they're older.
2. Look Up!: Bird-Watching in Your Own Backyard
Written and illustrated by Annette LeBlanc Cate. $15.99.
Bird-watching is a great way to get kids interested in and observing the natural world, and this cheeky, irreverent guide is the perfect introduction, explaining the ins and outs of the hobby as well as the many types of birds even city children are likely to see in the world around them. Best for grades 3-5.
Activity to try: Go on a bird-watching expedition around your schoolyard, with the mission of identifying as many of the species from the book as possible.
3. Friends of the Earth: A History of American Environmentalism
Written by Pat McCarthy. $16.95.
Introduce students to the work of environmentalists such as John Muir, John James Audubon and Rachel Carson through hands-on activities such as building a birdfeeder and learning to compost. These introductory activities will no doubt serve as a springboard for further reading and research.Best for grades 3-7.
Activity to try: Have each student choose one of the activities in the book and then have an "Environmentalist Fair" where students share their projects and what they learned.
4. Here Where the Sunbeams Are Green
Written by Helen Phillips. $17.99.
This upper middle-grade novel about a brother and sister whose father disappears in Central America turns into an eco-adventure when they discover he is being held against his will by a company that needs his bird-tracking skills to find an ingredient for its youth serum. Fast-paced and full of plot twists, this story is sure to spark discussions about the environmental threats of manufacturing. Best for grades 6-8.
Activity to try: Invite students to choose a beauty or food product from their homes and research where each of the individual ingredients are harvested.
5. Toms River
Written by Dan Fagin. $28.
In this fascinating portrayal of epidemiology, students will learn how air and water pollution in a small New Jersey town led to a mysterious cluster of childhood cancers, and finally, to a settlement between the victims and chemical companies in 2001. Best for grades 9-12.
Activity to try: Ask students to research and write about another cluster of medical problems linked to an environmental cause.
Tell us: What will you and your students be reading for Earth Day?