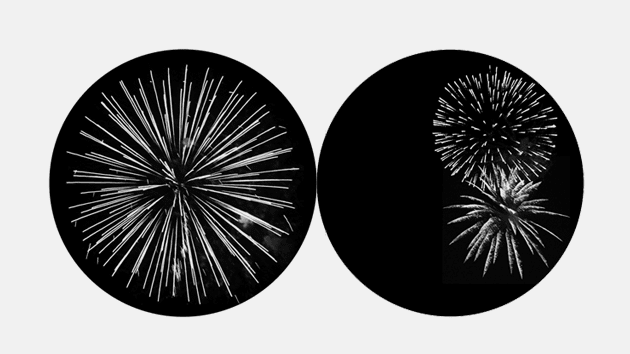 Celebrate the Fourth of July by creating your own optical illusion of fireworks blasting in the night sky! A thaumatrope is a toy that was popular in the 19th century. It is a disc that has two images on each side. When the images are rapidly switched back and forth, a mini animation is created! Popular thaumatrope designs include a bird and a cage, a tree and leaves, and a fish and a bowl.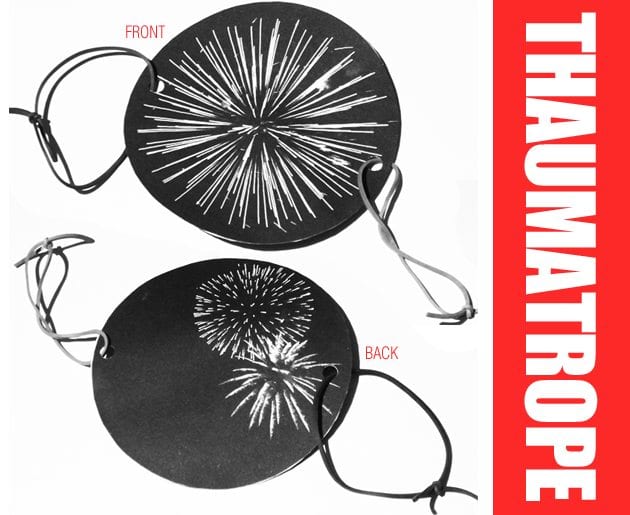 You can make your own fireworks/Fourth of July–themed thaumatrope or create the one featured above.
What you need:
Firework disc printable
Scissors
Glue
2 rubber bands
Hole puncher
Instructions:
Print out the firework printable, cut out the discs and glue them together back to back. Next, hole-punch the sides of the disc. Then cut your rubber bands to create two long "strings." Attach your rubber band strings to each side (one through each hole on the disc). Now spin your disc as fast as you can by twirling the rubber band strings with your fingers!
How to incorporate thaumatropes in your classroom:
Geometry – The "disc" of a thaumatrope can be any shape. Have kids figure out the area of their circle, square, rectangle, etc., as well as the circumference and perimeter.
Science – Create thaumatropes that go along with your unit. For example, for weather: lightning and dark skies on one side and clear skies with puffy white clouds on the other. States of matter: ice cube melting. They could also do a volcano erupting or a butterfly emerging from a chrysalis. Kids can get super-creative with the project!
History
 – Check it out 
here
!
Erin Bittman is a designer turned teacher. Check out her blog E Is for Explore!