Exhilarated. Nervous. Proud. Terrified. Ready.
I felt all that and then some when I received my first "you're hired" call. I would be teaching Freshman English at a nearby district, one that was known for its underprivileged students and poor community. From the outside, it was a bit reminiscent of an inner-city school, rife with troubled kids and insufficient resources, with a side of violence. But I could do this. I would be their Michelle Pfeiffer and they would be myDangerous Minds.

So new, so naive.
The first weeks as a new teacher were difficult. I recall one day in particular, walking to my car as quickly as I could, head down to avert eye contact so I could throw myself inside and burst into tears without witnesses. There had been a fight in the hallway that sent a student crashing through my classroom door, shards of glass nearly missing my face, exploding at my feet like rain drops. A reading nook for which I had purchased a throw rug, pillows, and a bookcase filled with interesting and thought-provoking titles was all but destroyed. And the fear. The fear was so real.
Game over, I thought as I drove home that day. These kids don't want to learn, and I don't want to teach them.
I made myself two promises that day: 1. I would never let my students see me cry and 2. I would start looking for another job immediately.
I was on auto-pilot for the next few months, trying like crazy to make reading fun and encourage my students to pour their hearts into their writing. A few of them came around, but for the most part, it was an uphill battle. The administration was supportive, as were my colleagues, and although I never let on how much I was struggling, there were still many days where I would cry as I drove home.
Fast-forward to the end of the school year and I had sent applications to every district within a 30-mile radius; I was constantly online searching for a way out. Had I not been engaged to a fellow teacher whose local job was secure and thriving, I would have hopped the state border and sought employment elsewhere.
Then something strange happened: A couple of students who had spent the last nine months sitting in my classroom saying nary a word came to wish me well for the summer. They told me that they had enjoyed my class.
Say what?!
We then had a conversation about Walter Dean Myers' novel Monster, a book we had read earlier in the year. One of the students, who had barely lifted his head, shared his favorite part of the story (when the protagonist's teacher defends him in court), and thanked me for being "that kind" of teacher.
That kind of teacher …
And then I understood. The kind of teacher who didn't give up on her students, even when they were having a staring contest with their shoes rather than participating in class discussion. The kind of teacher who sincerely cared about the literature and the people who were reading it.
There, inside that building from which I ran more times than I care to admit, was untapped magic. It was just waiting for the kind of teacher who would appreciate it.
I broke the promises I made to myself: I never did go on an interview that summer, and I didn't fight the tears that fell when I hugged those students goodbye.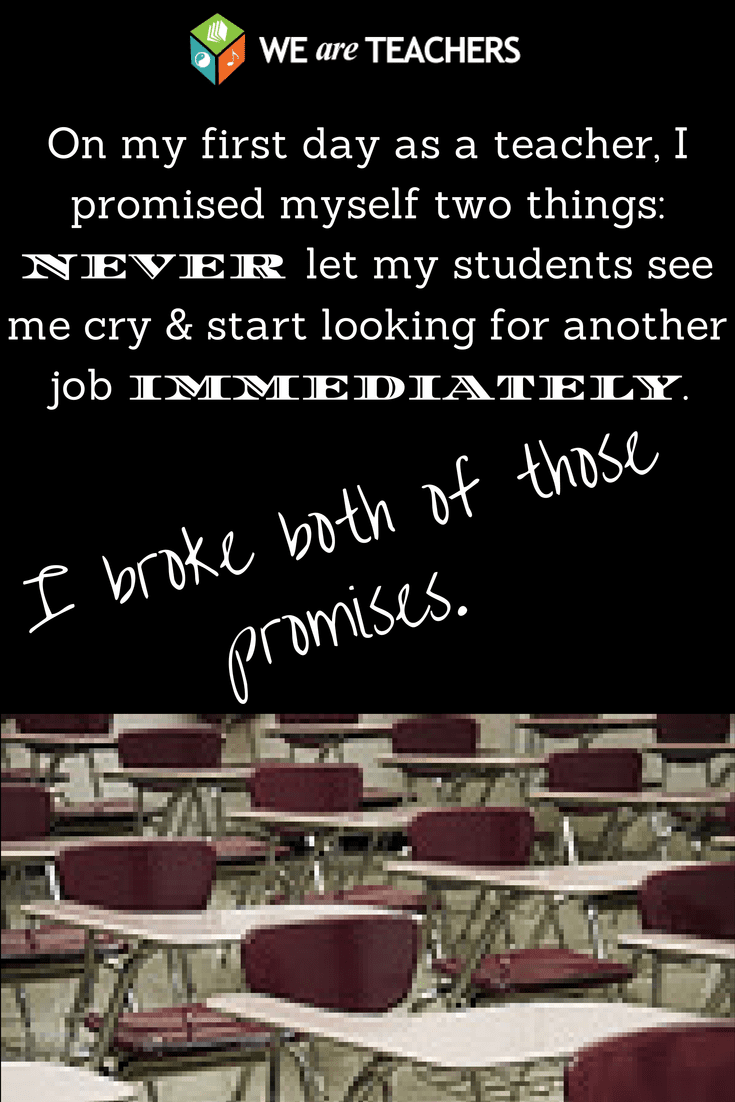 Photo Credit: dcJohn via photopin cc
Stephanie Jankowski loves words, hates math and has a penchant for making people uncomfortable with her honesty. An English teacher by trade and smack-talker by nature, you can find more of Stephanie on her blog WhenCrazyMeetsExhaustion.com.