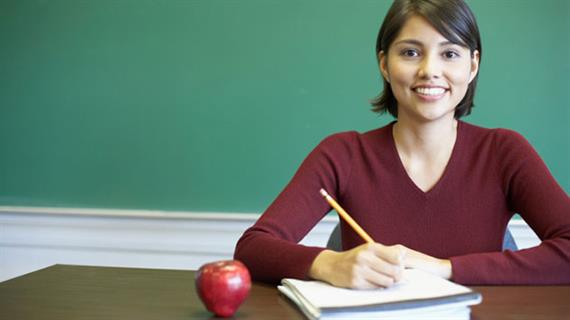 What's the Best Way to Educate Teachers?
Best practices from teacher education programs around the country
By Jennifer L.W. Fink
Thanks to widely available technology, near-nationwide adoption of the Common Core State Standards and a push for more critical thinking and less rote learning in the classroom, the roles of teachers and students are changing. Teacher-as-imparter-of-knowledge and student-as-sponge is out. Teacher-as-learning-facilitator in a classroom full of students-as-active-learners is in.
But while educators around the country applaud these changes, teachers and colleges of education are scrambling to keep up. The education and experience required to function in a classroom of involved learners is very different than the preparation needed to function in a typical teacher-led classroom. So how are teacher colleges preparing teachers and teaching students to adapt to the demands of 21st century education? Here's a peek at what's going on at some of the most innovative teacher education programs in the country:
Emphasis on Understanding
The Common Core standards emphasize deep understanding of the subject material. It's no longer enough for students to have a surface understanding of a concept or idea; they need to understand how that piece of information fits into the larger picture. The same holds true for teachers, says Ann Denlinger, PhD, vice president of academic affairs at William Peace University in North Carolina.
"We frame our new approach to education in context, so teachers can see that instruction is no longer going to be a fragmented set of objectives that will have an A, B, C or D answer, but more of an application approach – you take a set of information, you have a problem and you figure out how to use that information to address the issue," Dr. Denlinger says.
Professors of education discuss the new approach with students, Dr. Denlinger says, and create learning opportunities that mimic what teachers will be expected to create for their students.
Schools of teacher education are also helping education students understand the differences between older state standards and the Common Core. "In our methods classes, our teaching students look at the actual Common Core standards in literacy and in math," says Emily Kang, PhD, assistant professor of science education in the Ruth S. Ammon School of Education at Adelphi University in New York. "We help them understand the major shifts between the Common Core and the state standards."
Technology Integration
Gone are the days of tech classes in teacher education. Today, cutting-edge colleges are integrating tech throughout the curriculum.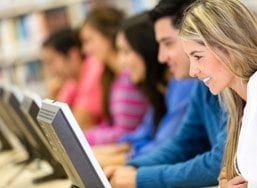 "Technology used to be an appendix to education," says Emily Lyman, a faculty member at Western Governors University (WGU), an online university. "So many of us were raised in the world where you took one class in technology. But today, technology infuses how we learn. It's not extra; it's essential."
That's why WGU students do all of their coursework online, using sophisticated conferencing software and tech tools that allow education to students to take proctored exams at home. Steeping teachers in an educational culture that makes ample use of tech better prepares teachers to use tech in their own classrooms, Lyman says.
At Adelphi University, "student teachers are required to integrate technology into their lesson plans." Kang says. A science lesson plan may include a video game or interactive animation to teach the different states of matter.
Matt Gehrett, executive director of continuing education at Fresno Pacific University, actively demonstrates the use of technology in the classroom. "When I talk about how to use cell phones in the classroom, I'll have my education students pull out their phones," Gehrett says. "I'll talk about how to do interactive polling, and ask them a question, and then say something like, 'You notice I didn't give you a scale of 1 to 4 for your response; I gave you four cars to compare yourself to. Why did I do that?'"
The point, Gehrett says, is to model the effective use of tech in the classroom.
Collaborative Learning
"In the future, when you walk into a classroom, you will see students in groups, working to solve a problem. They will have to research information, develop answers and defend their answer," Dr. Denlinger says. That's why it's rare to see students sitting in classrooms and listening to lectures at William Peace University, she says. "Our teacher education program is experience-based and student-centered, because that's how classroom will be in the future."
William Peace is breaking down the barriers between math, science, social studies and literacy, and encouraging students to prepare cross-curricular lessons because the Common Core encourages interdisciplinary education. "We've seen that information runs together, so we've started pairing some of our courses," Dr. Denlinger says. "The work our students are doing today is more project-based and more interactive in nature than it has been in the past."
Increased Focus on Literacy
Education professors note that the Common Core standards emphasize literacy; reading, writing and comprehension is no longer viewed as the sole responsibility of literacy teachers. Instead, all teachers are expected to encourage the development of literacy.
The problem is that, in the past, few teachers received instruction in how to teach reading. That's now beginning to change.
"When we eliminated our technology course, we added another literacy course," Dr. Denlinger says. "We believe that the single most important task for elementary teachers is to teach students to be excellent readers. But it's not until recently that elementary teacher training departments actually had courses in how to teach students to read.
"We want our students to know how to do that the minute they walk into a classroom. We want them to know the latest research and the most effective practices to teach reading."
Looking for a Master's Program?
If you're planning to go back to school to build your skills, make sure you choose a Master's Program that meets your needs. Here are some factors to consider:
Accreditation. Make sure the college is accredited. You can check at http://ope.ed.gov/accreditation/.
Educational philosophy. Think carefully about your education philosophy and interests, and look for a college with faculty members who share your philosophy and interests. Ideally, you want an adviser "who really gels with your philosophy so you can kind of bounce ideas off of each other," says Emily Kang, PhD, assistant professor of science education in the Ruth S. Ammon School of Education at Adelphi University in New York.
Practical experience. Most classroom teachers are going to be happiest at a college that allows for plenty of real-life experience. "Try to find a university that's very engaged with the local schools," Kang advises. "Look for one that has a lab school or a place to actually do research with kids."
Time and Money. Going back to school is expensive (and time-consuming.) But convenience and cost shouldn't be the first factors you consider when selecting a Master's program. Instead, make sure that the school fits your education objectives before looking at the bottom line. Line up a selection of suitable programs, and then start investigating the cost and convenience factor. Ask about scholarships and graduate assistant programs. Ask about the availability of online courses, and ask how much of your practical experience can be completed in your own classroom.
References.Talk to other teachers who have gone through the Master's program at the schools you like. They're the ones who can give you the low-down on the professors, the course work and the job market after graduation.