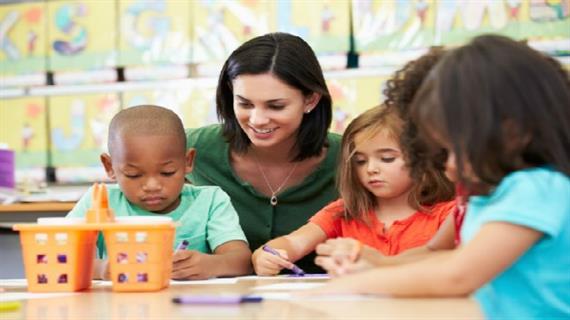 Teacher Tara writes:
"What are some interactive craft ideas that my second graders can do with their families when we have Family Days?"
Family Days are great opportunities for students and parents (or aunts, uncles, and grandparents!) to have fun learning and experimenting together. Here are some ideas to get the excitement started.
Glue seven popsicle sticks to a piece of cardstock, cross one stick over the others for a hat, color with markers, draw a face, and put magnetic tape over it. It could be a scarecrow, a snowman, Santa . . . whatever fits the season! They can add crinkle paper for scarecrow hair, cotton for a Santa beard, or black felt for snowman. – Joan A.
Make a "family tree" by drawing a tree trunk, and then have each family participant make the "leaves" by making green hand prints on top of the tree. It's a great chance to prompt discussion of their family lineage. – Brandy R.
Read Eleanor Coerr's Sadako and the Thousand Paper Cranes together, and then show the families how to make their own paper cranes. – Lawrence C.
Create "Thumb-body Loves You!" signs by making characters out of your thumbprints. – Brian R.
Make volcanoes! ScienceNetLinks.com has great lessons for this. – Casey U.
Make potholders. Get the kit at a craft store (many stores have teacher discounts), and the families can make matching potholders. – Jo Marie S.
Discuss the art of the thank you note, and then design family stationery at kidsartinc.com. – Erin F.
Use hands to fingerpaint a turkey on a tee shirt. – Jamie S.
Students make clouds out of white paper and cotton balls. Write the names of family members on the clouds. Then add in rainbow stripes, one for each letter of the child's name, and write a characteristic of that child that starts with each letter (like an acrostic). – Donna K.
Make a Christmas bulb ornament with a white paint handprint. Then turn the fingers into snowmen! – Jodie K.
Write a family story and illustrate it together using storybird.com. – Aaron J.
Join the ongoing conversation over at the We Are Teachers Helpline.