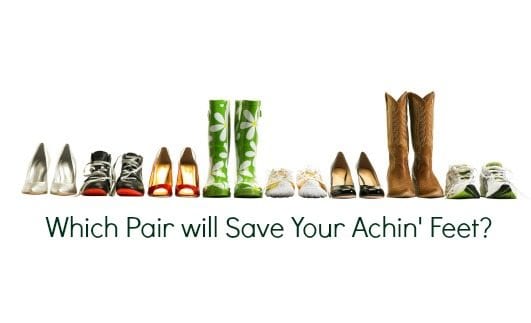 Teachers are on their feet more than just about anyone we know (except for maybe moms of toddlers.) And with all of the walking and moving and squatting and chasing that you do, the best thing you can do for yourself is be nice to your feet. Which means you can totally justify plopping down $349 on a killer pair of boots in the name of your health. Unfortunately, you probably can't justify it in the name of your teacher salary, so we've come up with five more affordable options that are both comfy and worthy of a day at school.
1. Born Shoes: Everyone knows that Born shoes are hip and fashionable—but what you may not know is that Born shoes are also known for being supercomfortable and good for your feet. (From $50 on Zappos)
2. Naturalizers: Like Born, Naturalizer shoes have a reputation for being comfortable, sturdy and stylish. The teacher-shoe trifecta. (From $70 at Naturalizer)
3. Standing Comfort Shoes: It just makes sense that if you're going to be standing all day, you should use shoes that are designed specifically for people who stand all day. (From $89 at Standing Comfort)
4. Steve Madden Flats: Nothing beats a pair of cute ballet flats—but sometimes they can be a bit flimsy. Try Steve Madden flats that have a bit more cushion under the sole and a bit more structure around the ankle. (From $50 at Steve Madden)
5. Alegria Shoes: One teacher we talked to said that she felt like she was walking on pillows in her Alegria shoes. The thick cushioning and soft leather will make you feel like you're wearing slippers to work. Only you won't get into trouble for breaking the dress code. (From $80 on Zappos)
Question for you: What are your favorite work shoes?