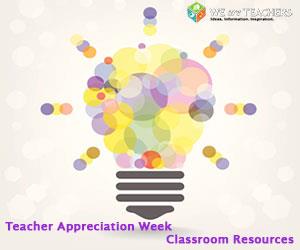 It's Teacher Appreciation Week! Throughout the year, we feature free education resources, lesson plans and curriculum ideas. Here's a roundup of some of our favorites from NASA, the National Park Service, The New York Times and more. Bookmark this page so you have the list ready all year!
:: ALL SUBJECTS


The New York Times – The Learning Network Education Resources blog provides teaching and learning materials based on New York Times content. They offer lessons across subject levels and have activities for all student levels.
Education.com – This is the leading Web resource for fun and educational printables for children. The free printable worksheets range from preschool through high school and cover subjects like math, science and reading. They also have simple coloring pages and printable board games. There are more than 15,000 different printables available. Sort by grade or subject to easily find what you need.
ABCmouse.com – This site offers a FREE subscription for teachers, helps kids learn to read through phonics, and teaches lessons in math, science, social studies, art and music. This software features 450 lessons with more than 3,000 learning activities and supports all learning styles.
:: LANGUAGE ARTS


Barnes & Noble Online Storytime – Checkout Barnes & Noble's FREE Online Storytime. They offer an online streaming-video program featuring popular children's books read aloud by their authors.
ReadWriteThink – If you are looking for some new ideas for reading and language arts instructions, check out ReadWriteThink. They offer a variety of free reading and language arts materials for both educators and parents including hundreds of lesson plans for grades K through 12.
Storyline Online – The Screen Actors Guild Foundation offers an online streaming-video program featuring famous actors reading children's books aloud. There are 24 different titles available with fabulous books like "Harry the Dirty Dog" read by actress and animal advocate Betty White.
Get Caught Reading – Get Caught Reading offers FREE posters featuring popular celebrities and characters reading. Teachers can choose posters with celebrities like Alicia Keys, Greg Oden, Dinosaur Train, Tim Duncan, Nick Goepper, Mercer Mayer and even Yoda. There are dozens of posters available—even a few in Spanish.
:: STEM


NASA Educator's DVD Collection – NASA teamed up with the American Museum of Natural History and Stereo to bring you the "Journey to the Stars" program. Currently they are offering three different videos: "3DSun," "Journey to the Stars" and "Cosmic Collisions." The videos are FREE and can be played on your TV or computer.
Fisher Science Education – Fisher Science Education produces a FREE digital magazine called "Headline Discoveries" a couple times a year. This publication brings real-world science into classrooms through informative articles on current events in science.
Thinglink – Thinglink is a FREE interactive image tool. Users can link "things" like audio, video and rich media links into images. Thinklink is a free Web-based tool, and they also have a free iPad app.
National Geographic Education – NationalGeographic.com has a special section on their site for educators. The site features teaching resources, activities and games as well as media, maps and more.
:: OTHER SUBJECTS
Crayola for Educators – Crayola has a wonderful section on their website dedicated to educators. They offer classroom resources, special offers and grant programs. These resources are completely free to use and download.
ArtsEdge – ArtsEdge features nearly 200 free arts-based lesson plans and projects for the classroom. While visual arts, music and theater are the primary focus, most of the lessons incorporate other subjects like geography, history, and even math and science. The lessons include interesting subjects like animal habitats, baseball and national parks.
The National Archives – The National Archives website has a special section dedicated to teachers called DocsTeach. This exclusive resource features an online tool with documents, lesson plans and options to create your own activities for students.

National Park Service – The National Park Service has an Educators section on their site dedicated to bringing America's national parks into the classroom. You will find curriculum-based lesson plans, distance learning, activities, maps and more. They also have a lending program through which they allow teachers to borrow national park resources, and a really cool traveling-trunk program.
Teaching Tolerance – Teaching Tolerance has an entire series of DVDs and teacher guides that are FREE to educators. These award-winning documentaries and resources help teach children about equality, cooperation and citizenship. Most of the available film kits are best for grades 6 and up, although there is one for early grades.