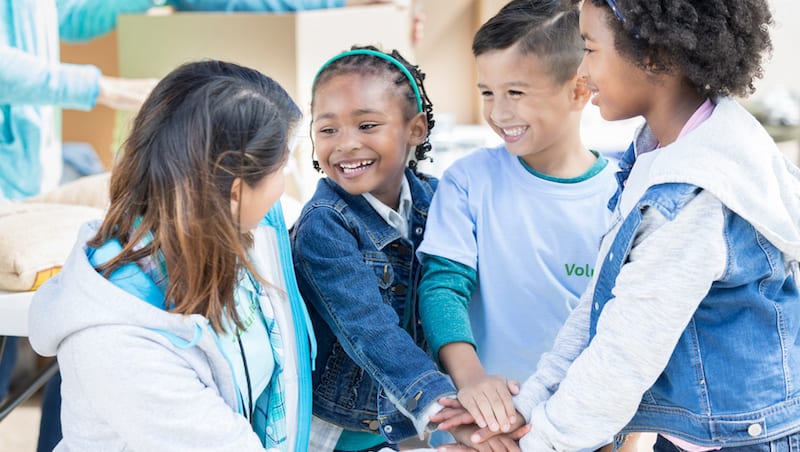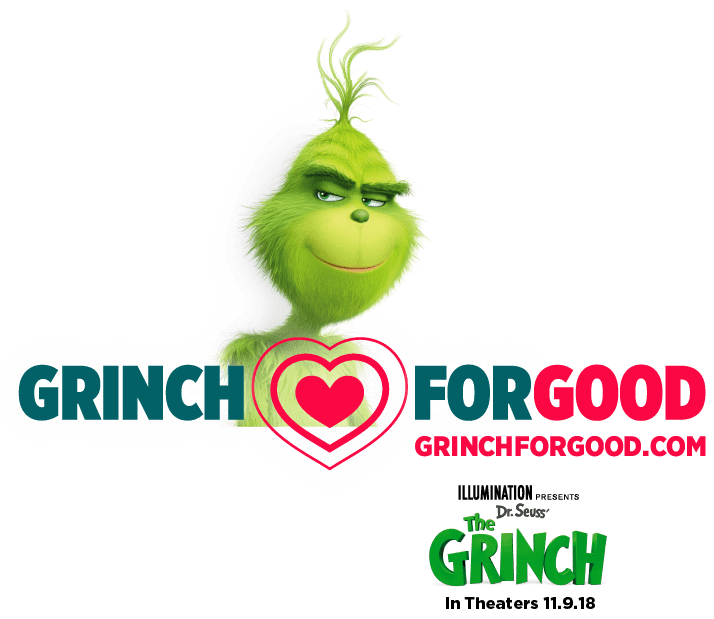 The classroom community is one of the best places to teach kids about making the world a better place. Big ideas like social justice, empathy, and community involvement take root and become habits when we are young. Teachers can help teach their students kindness and generosity by choosing meaningful activities that make a difference.
Here are 10 easy ideas, from simple, everyday practices to meaningful outreach projects, that will foster kindness and a spirit of giving in your students.
1. Set the stage within your classroom community.
Establish your classroom community as a place where little things matter. Challenge your students to be aware of opportunities to help others, just for the sake of spreading kindness: Help a classmate pick up their spilled crayons. Let someone take a turn before you. Help someone carry a heavy load. Encourage students to "tattle" on each other whenever they witness a random act of kindness and celebrate those moments during class meeting time.
2. Bombard your students with stories of kindness.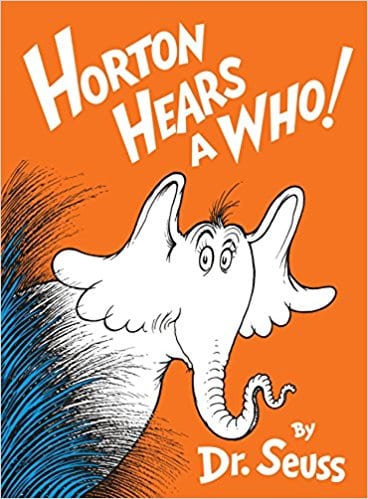 Books are arguably one of the most powerful tools for making an impact on students' perceptions of the world. Fortunately, there is a seemingly inexhaustible supply of wonderful books that explore themes of kindness, generosity, sacrifice, and community service. Immerse your students in these stories with picture books, read alouds, and book studies. Facilitate classroom discussions about the importance of these themes. Brainstorm ideas for ways to incorporate these themes into your students' everyday activities.
3. Nurture the power of the written word.
SOURCE: Forever Twenty Somethings
Empower your students to use their voices to make a difference. Explore the concept of gratitude in stories and have your students write thank-you notes to their families, important people in the school community, or members of the military.
In social studies, dive into the complexity of social issues and engage your students in a letter-writing campaign to local officials, encouraging your students to address topics about which they are passionate. Have them write stories for younger siblings or younger students at school along the themes of kindness and giving. Or produce a classroom kindness guide, having each student contribute an idea on their own page.
4. Grow your heart by organizing a #GrinchforGood food drive.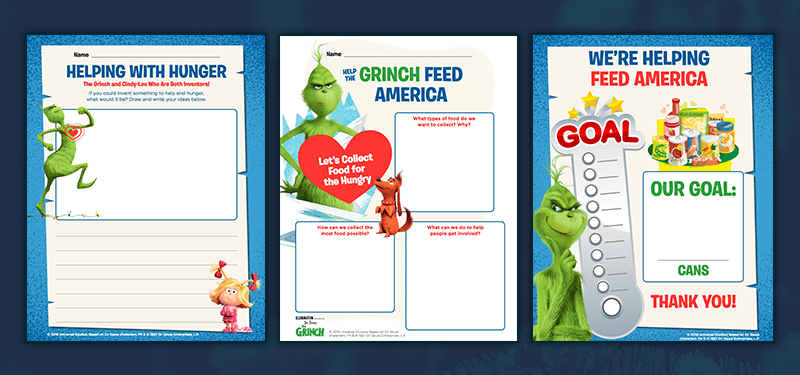 They say that good deeds benefit the giver just as much as the receiver. Organize a seasonal food drive and empower your students to make a very real impact on the more than 12 million children who are hungry every day.
The #GrinchforGood project makes it easy for you to organize your effort by providing lesson ideas, a parent information sheet, collection signs, goal-tracker sheets, and even thank-you notes. Get your free teacher kit here.
5. Show Mother Earth a little love.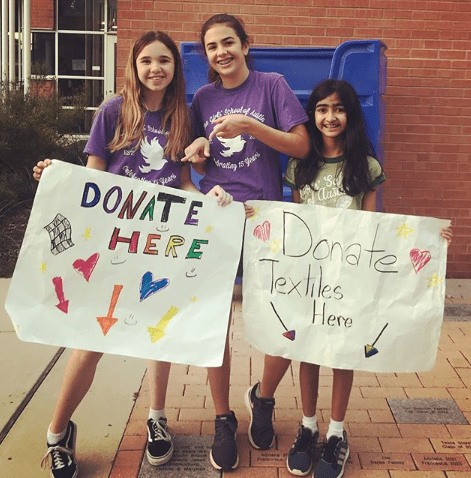 SOURCE: The Girls School of Austin
If your students are learning about pollution and the impact of recycling in science class, encourage them to come up with a project that puts their learning into action.
According to the Council for Textile Recycling, the average US citizen throws away 70 pounds of clothing and other textiles annually. Most of that waste, which ends up in landfills, is perfectly good clothing that someone else could use. Have your students organize a textile drive and redistribute unwanted clothing to people who need them.
6. Plant hidden treasures.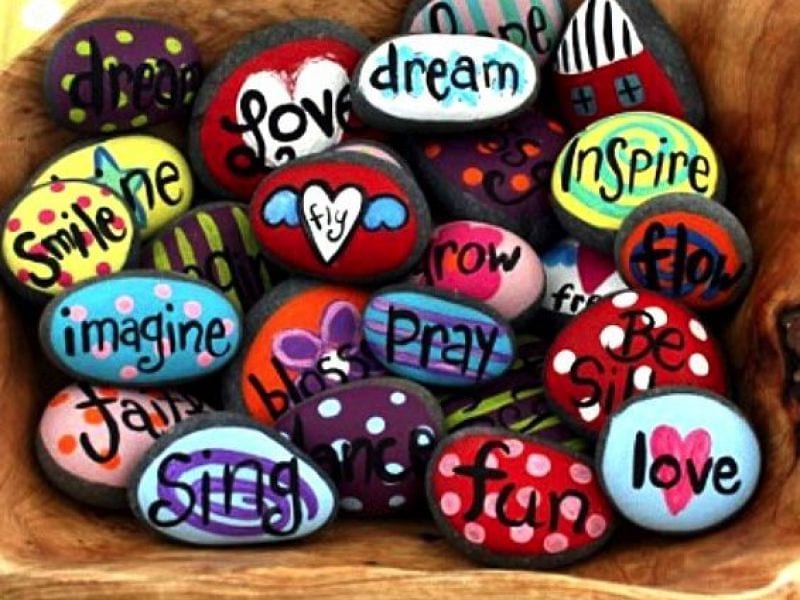 Make someone's day by hiding colorful painted rocks embellished with encouraging messages around campus. Or take a hike with your students and hide the rocks around town or in a local park. For step-by-step painting directions, check out this easy how-to video.
7. Give someone a warm fuzzy.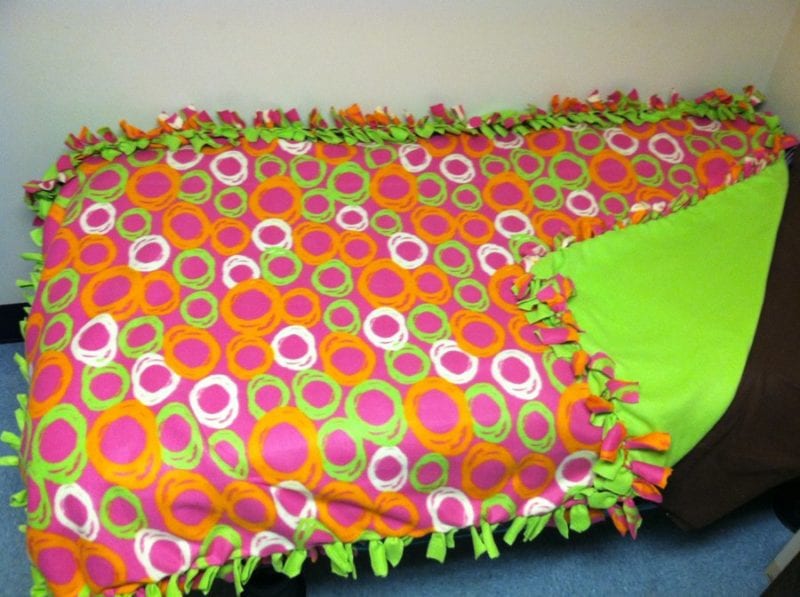 Winter is no time for anyone to be left out in the cold. Organize a blanket drive by making these easy DIY fleece blankets. Ask parents or stores to donate the materials. Then give the blankets to families in need, a children's hospital, or a homeless shelter.
8. Roll up your sleeves.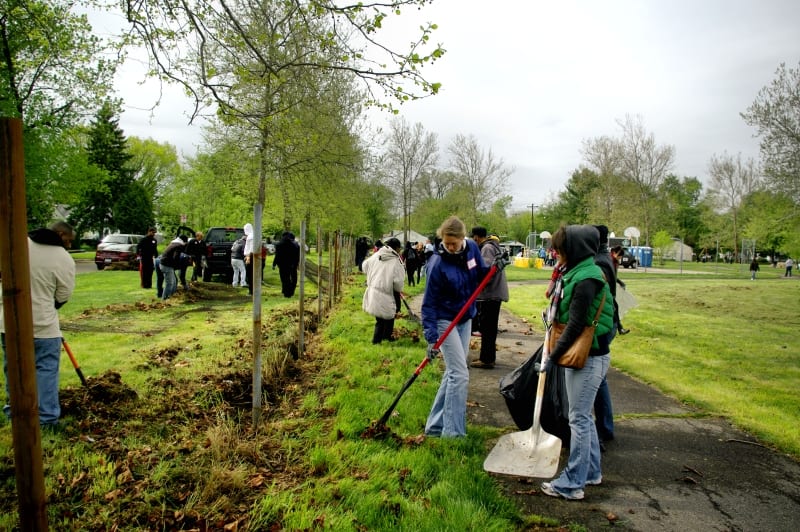 Teach your students about the importance of stewardship by reading (or revisiting) the classic story The Lorax by Dr. Seuss. Then ask your students to brainstorm ideas about places in the community that could use a little sprucing up.
Together, organize a community cleanup of a nearby park, pond, or public space. Discuss the logistics, such as obtaining permission from the city, gathering supplies, getting the word out, etc.
Schedule your cleanup for after school or on the weekend and invite family members to help out. Afterward, have a potluck to celebrate your good work.
9. Beautify your surroundings.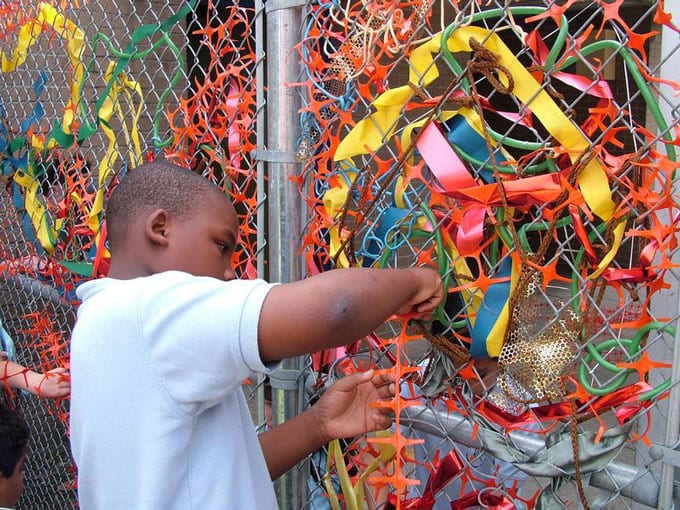 Sponsor a community-art project that turns a neighborhood eyesore into an inspiring work of art. Replace a graffiti-covered wall with a student-painted patchwork quilt. Weave ribbons, fabric scraps, even plastic strips onto an chain-link fence to create a rainbow of color. Or draw a chalk mural along a busy walkway to brighten people's day.
10. Get physical for a good cause.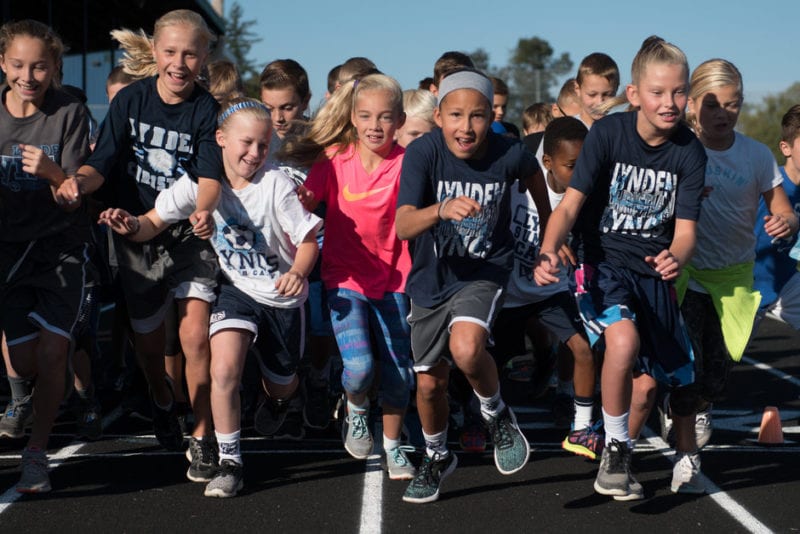 Host a skate-a-thon, fun run, or jump rope contest to collect money for a good cause. One suggestion? Send money to one of the many charities helping out victims of recent environmental disasters, such as floods, fires, and hurricanes.
There are so many ways to teach kindness and encourage the habit of giving back. Invest in talking about and working toward a kinder world with your students. It will pay dividends that last a lifetime for your students and for our world.
Illumination presents Dr. Seuss' The Grinch, in theaters November 9. Find out how you can get involved in #GrinchforGood by organizing a classroom food drive here.