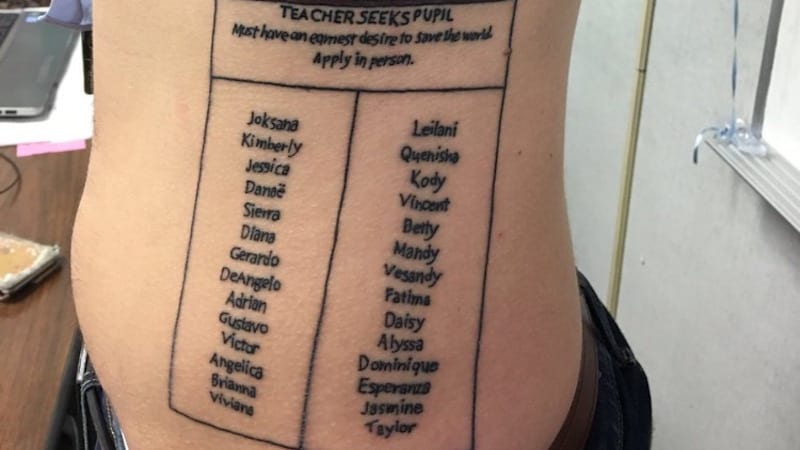 Three years ago, I made a promise to a group of 28 high school students that would change my life.
"If every single one of you can get at least $5,000 worth of scholarships for college, then I'll get a tattoo with all of your names."
It wasn't going to be easy. For 12 out of the 28, English was their second language. And if they were successful, every single one would be first-generation college students.
I'm happy to report that these kids are now in their senior year of high school. All 28 are accepted to a college or university for next year. And yes, every single one of them found at least $5,000 worth of scholarship money. Actually, our grand total for the entire group is more than $700,000!
I did keep my promise—my very large tattoo with all of their names is just a few weeks old. But this story isn't about me getting a tattoo. It's about these amazing, inspiring students that might have otherwise been forgotten. Let me explain.
The Challenges of College
I actually grew up in this community of Avondale, Arizona, and I went to the same high school—Agua Fria High School. This is a fantastic community, but it's not the most affluent. We are a Title 1 school, and for a lot of students, college doesn't seem like it's in the cards. This was definitely the case when I was growing up. A lot of my classmates would see the big price tag on college or trade schools, and they'd get overwhelmed.
Luckily, I had parents that pushed and encouraged college. And even though I have a lot of college debt left to pay off, it's one of the best things I ever did. So when I came back to teach in the same community that I grew up in, I wanted to change the perception of higher education. I wanted these students to see that they DO have options.
Closing the Achievement Gap
I started working with these 28 students during their sophomore year through a program called AVID—Advancement Via Individual Determination. To me, this program is for the middle tier of students that are often forgot. They're not the overachievers that are in AP courses and definitely going to college. And they're not the at-risk students who might not graduate. They're this middle bunch, which is a pretty big and powerful number.
Everyone talks about the achievement gap, but it's not about comparing the top and bottom. What about the middle layer? In my opinion, these are the students that are key to success. If we can really push this middle layer and tell them that they can do it, then we could create so many successful people. This middle layer is key to closing the achievement gap.
I'm proud to say that through this program, my students are definitely ready for college. They've overcome obstacles. They've learned how to persevere. And I know this has given them the grit they need to succeed in the future. Plus, these three years have completely transformed me as a person and educator. It's been one of the best experiences of my life.
Looking Ahead
A lot of people have asked me, "What's next?" They want to know if I have another challenge or tattoo promise for future classes. First of all, I'm not sure I can top this, so the short answer is no—there won't be another tattoo challenge. But hopefully I have even more challenges to conquer in my future as a teacher.
Next year, I'll be moving to a new school that specializes in working with diverse learners: The Jones-Gordon School. I think there's a stigma against kids with learning disorders. This is important to me as I am an individual that suffers from ADHD. The Jones-Gordon school assists students just like me, and it's something I want to be part of. My passion is to shift personal paradigms about students and stigmas in our country. I want to help them see that anyone can reach college, no matter how you learn.
I'm happy to know that I helped put out 28 great kids into the world and community. And now my next passion is to help kids who struggle in a different way.  Bring it on.