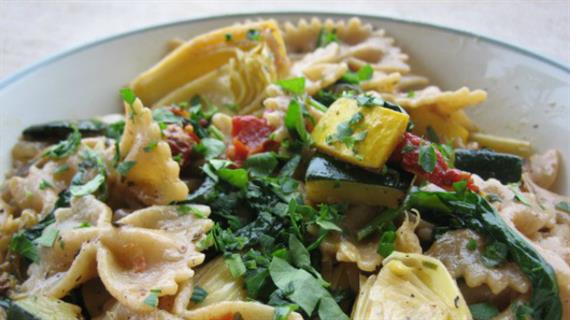 My husband doesn't like cold pasta dishes, but me? I like pasta cold, hot, room temperature, anyway I can get it. It's carbs covered in sauce, what's not to love? I also try very hard to make every meal I cook stretch into at least two dinners or dinner and lunch for a day or two. I mean I do love to cook…but not every.single.day. Since warm pasta dishes never taste quite the same re-heated, I especially love a pasta dish that is equally delicious served warm for dinner the night I make it as it is chilled for a cold pasta salad for lunch the next day.
Not only is this recipe for Sun-Dried Tomato and Artichoke Bowtie Pasta easy and versatile, it's incredibly delicious and makes use of that extra bit of flavorful olive oil that usually gets tossed out from a jar of sun-dried tomatoes. After a long day in the classroom, this dish comes together in under 30 minutes. Pack the leftovers for lunch and you won't have to waste anytime waiting for the microwave in the break room.
Sun-Dried Tomato and Artichoke Bowtie Pasta
16 ounces of bowtie pasta
1 can of quartered artichoke hearts
1 6-ounce jar of sun-dried tomatoes packed in olive oil and herbs
1 small onion, chopped
1 zucchini, chopped
1 yellow squash, chopped
2 cloves of garlic, minced
A couple handfuls of spinach
3 tablespoons of white cooking wine
Salt & Pepper
2 cups of shredded cooked chicken (optional)
Chopped parsley (optional)

Directions
While prepping the veggies, boil the water and cook the pasta as directed on the box, salting the water liberally.
Chop the veggies and mince the garlic. Julienne cut the sun dried tomatoes, reserving the oil in the jar.
In a large sauce pan, heat about a tablespoon of olive oil on medium-high heat, add onions and a sprinkle of salt. Saute until the onions are golden. Add zucchini, squash, and garlic and saute until soft. Add artichokes, sun dried tomatoes, spinach, optional chicken, and white cooking wine and saute until spinach is just wilted and chicken is warmed through. Gently toss the drained pasta in with the veggies. Pour in just enough of the oil and herbs from the sun dried tomatoes to lightly coat everything. Season with salt & pepper to taste and garnish with fresh chopped parsley.
Recipe originally printed on www.laughcrycook.com. Copyright Rachel Randolph.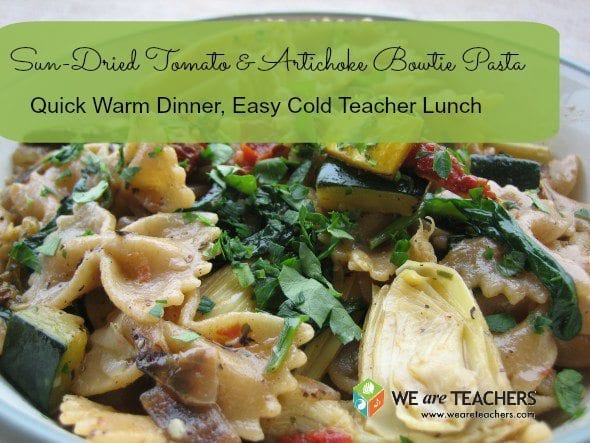 ~~~~~~~~~~~~~~~~~~~~~~~~~~~~~
Rachel Randolph is a mom to a busy three-year old boy with a baby girl on the way and is married to a high school football and baseball coach near Dallas, Texas. She is co-author ofWe Laugh, We Cry, We Cook, a food memoir written with her mom, and their new book Nourished: A Search for Health, Happiness, and a Full Night's Sleep(Zondervan, January 2015). She also blogs at www.TheNourishedMama.com and www.laughcrycook.com.