Our guest blogger, Peggy James, blogs weekly for http://thegateway.org.
After the first week of testing the summer slide buster activities with students, I was reminded that the success of any learning activity is directly related to the way it is presented to students. There is a reason that little kids love how Mrs. Frizzle from The Magic School Bus gets so into the things she is teaching. Presenting activities as fun, exciting adventures can help create a cooperative, curious environment: perfect for summer discovery learning.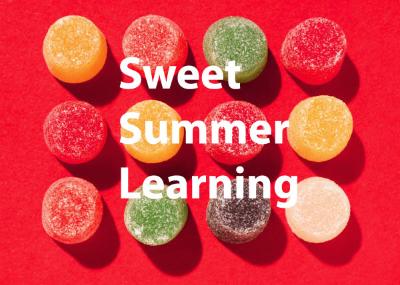 Whether you are a parent working one-on-one with your own child or a teacher working with multiple students, step back and look at the activity from a kid's point of view. If it doesn't seem interesting or fun, many students will quickly lose interest in the topic. This summer, get a little crazy and be like Mrs. Frizzle!
Often, kids' summer boredom leads to a lot of TV time. Instead of flipping on the TV, we hope to inspire parents to gently lead their kids into summer home learning activities. Teachers might save the activities for the next school year or share them with parents to be sure your students keep their skills sharp during the break. This week, I tried to pick activities that can be presented easily and with enthusiasm!
For Music and Math Monday this week, you can satisfy your kids' sweet tooth and creativity with one fun activity. Geodesic Gumdrops challenges students to construct towers with toothpicks and gumdrops. You can use any soft candy, although gummy bears were a little hard to poke! I liked how this activity was fun for the kids and included a good explanation of tension and compression and the strength of triangles compared to squares. You can add an element of competition to this one and see who can make the tallest or strongest structure.
If your kids had fun creating musical instruments last week, try the Build a Band Challenge from PBS Kids this week. In the challenge, kids work on creating string instruments. It was designed for middle school, but it would work great as a summer activity for elementary students as well. Let them create their own rock band and make a video for the grandparents.
Last week's Tasty Tuesday activity was all about the USDA's new My Plate guidelines for choosing healthy foods. Some students created plates with the graphic on them to help them remember the right proportions of the food groups in each meal. This Tuesday, try making a balanced food group trail mix to help students recognize the food groups and choose correct portion sizes. A Balanced Day will give you ingredients and instructions to make this delicious mix. The resource also included suggestions to have students put the foods in order of salt content, fat content, and sugar content. It was really interesting to see the students working together to try and put the foods in order. This activity makes a LOT of trail mix, so you may want to scale down the recipe if you don't have a big group of kids.
Last Wednesday we presented different ways to introduce the scientific method. If you are looking for more ways to work with science, there are some great stories and hands on activities in The Scientific Method from The Biology Corner. There are some nice activities in here that use household items. Hopefully you can find one for this weeks Wacky Wednesday! The experiment we chose for this Wednesday was based on this Gummy Bear Experiment. The kids designed experiments themselves and wrote them up using the steps of the scientific method that they learned last week. They put gummy bears in different liquids to see how much they would grow in each one. It was fun to how much the gummy bears could grow in the different solvents the kids chose.
Let your kids flex their writing muscles this Thursday with a unique activity called FutureMe. They can write themselves an email to be sent to them in the future. It's a neat exercise for them to think about their goals and what they will be doing months or even years in the future. Maybe they could even write themselves a letter to read when they are about to graduate from high school. How fun would it be to read a note to you from yourself in the past? If your kids don't have their own email address, you can probably use a parent's email address for the notes to be sent, especially if you are working with your own kids or a small group of kids over the summer. There is a warning that the notes posted on the site aren't monitored, so be sure to keep that in mind when kids are working.
For a fun Friday art project, try out Paper Mache Dinosaurs. This would be a nice follow up to Joann's dinosaur picks from last week. The lesson explains how to make an armature and the paste. I thought it sounded a little complicated, but it was perfectly fun and messy for the summer. If your kids are doing a summer project, search the Gateway for art activities relating to their theme. One of our testers is studying dinosaurs, so this project was ideal for us.
You might not try out all these ideas, but I hope you find at least a couple each week to help bust that summer slide. Please tell parents to follow this journey! If you missed our first post, you can read it here for more ideas. Happy learning!
Joann's companion column: