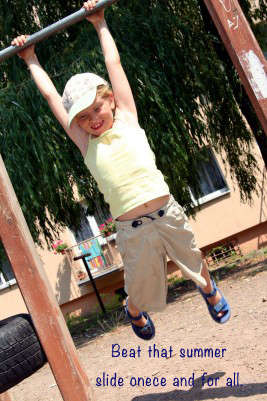 by guest blogger Peggy James from TheGateway.org
Summer is almost halfway over and kids who haven't had much enrichment are starting to get bored. Some students have been keeping busy with camps, travel, and activities like watching television and playing video games, but many are looking to be more engaged. Many parents and teachers are looking for easily implemented activities to keep kids' minds fresh for the remainder of the summer. It has been neat to see students trying out activities from our Summer Slide Buster Series here on the Gateway. If you haven't tried any, we would love to have you try some this week! For even more ideas, look back through our archives.
This Monday, we will be kicking off our summer learning with a collection of challenges from Math Central. It can be difficult to find topics that really click with each student, drawing them into the intriguing world of math. Summer is the perfect time to explore different types of activities to help students find this connection. Math Central is a good site to share with parents at the beginning of summer. It's also nice place for parents and teachers to find specific activities for topics where students need extra help. Be sure to sign into the Gateway and bookmark this site to use this summer or to pass out to parents next year.
For more Monday fun, delve back into music this week! The Tinkering Studio suggests MMTSSS, an online program that will help you create original sounds and songs. This is a fun, free program that will allow kids and adults to explore music in a non-threatening "play" environment. Kids and adults of all ages will enjoy this online tool.
This Tasty Tuesday is a chance for students to extend their math practice by Cooking up Fractions. The activity suggests rewriting online recipes to make them work for different groups of people. To make the activity even more enjoyable for summer, I suggest actually cooking the recipes to share. Yum! If you are doing this activity at home, maybe it will give you a night off from cooking. Wouldn't that be a treat?
I have a hard time picking Wacky Wednesday science activities from all the fun, educational, and hands-on science activities on the Gateway. There is just too much good stuff! A successful summer activity needs to grab students' attention and keep them engaged and curious. The best activities should mesh with students' summer interests. If you are familiar with their interests, search science activities on the Gateway for a particular interest that your kids have in common. One common summer interest is going to amusement parks and riding roller coasters, so the resource I chose this week is Amusement Park Physics, where students can look at the science of roller coasters.
The final Summer Slide Buster suggestion of the week aims to keep students' writing skills strong over the summer break. Poetic Memories of Summer allows kids to rite creatively about their summers and would also be a nice beginning of the school year activity.
I hope you are having a wonderful, educational summer! Join the Gateway discussions on Facebook and Twitter for more ideas all week long.
Joann's companion column: