By guest blogger Peggy James from TheGateway.org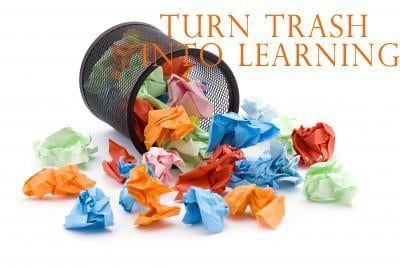 If you are like me, you have a giant collection of "stuff" saved just in case it will be useful someday for one project or another. Hot summer days are the perfect time to pull out this stuff and let kids go wild. How can you be sure they will do something productive with those old cell phones, paper towel tubes, and lovely containers of various shapes and sizes, though?
For this week's Summer Slide Busters suggestions, I have chosen resources that help teach students to recycle and re-purpose household junk into fun, educational toys and projects. These activities encourage problem solving and creativity along with reusing and recycling materials. Have fun trying out some of these ideas with your kids this summer so you can confidently share them with your students throughout the year.
I recently discovered my new go-to site for creative ideas and projects to share with kids. Toys From Trash is a huge collection of ideas from Indian toy inventor and science educator, Arvind Gupta. Ever since I started clicking through the ideas in this collection, I have been hooked! Toys from Trash activities were created to teach important lessons in science, geometry, and design using materials that are easily obtained around the home. Each activity is explained in detail, and many include instructional videos. What sets this site apart from many others is Mr. Gupta's emphasis on creating things simply for the joy of creating. This is the true importance of summer: creating and playing. Bringing this imaginative learning into the school year is even more exciting! To learn more about turning the joy of creating into learning, watch Arvind Gupta's TED Talk.
Another wonderful summer opportunity is the chance to spend time exploring science museums. The Tinkering Studio from San Francisco's Exploratorium provides free activity PDF files online so you can bring the excitement and learning to kids who might not get a chance to tinker with the actual exhibits in San Francisco. In Scribbling Machines, students use old cell phone vibrating motors to create a scribbling machine, which is a motorized contraption that moves in unusual ways and leaves a mark to trace its path.
An offset motor that is easily removed from an unwanted or broken cell phone or pager creates the motion for this fun machine.
Also try this neat use of discarded items from the Tinkering Studio: Science and Art: Cardboard Automata. This activity challenges students to learn more about simple machines as they create a moving sculpture. This blend of art and science should be a hit for kids who don't want you to sneak school into their summer vacations. Keep this resource in mind if you are trying to avoid the storm of posters, trifold displays, and dioramas when project time comes around.
As summer comes to an end for many, teachers and students are starting to gear up for the school year. I hope you are able to step back for just a little while and have a chance to create something for pure fun and enjoyment. Please join us on Facebook and Twitter and let us know if you find something in these resources that will resonate with you and your students. See you next week!
Joann's companion column: