Our guest blogger, Peggy James, blogs weekly for http://thegateway.org.
The summer slide gets a pretty bad rap this time of year. We do our best to teach kids all school year long, but it seems the lazy days of summer counteract that learning. During the past four weeks, we have been posting activities each day to help combat this brain drain in your kids. Some of you have tried the activities with your own kids and some have forwarded the information on to parents and students, helping to enrich their summers and keep their math and reading skills sharp.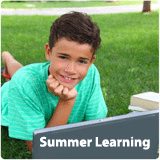 While testing out many of these activities, I realized that the success of summer learning activities is directly related to how well the activities mesh with students' interests, curiosities, and summer attention span. There are plenty of wonderful ideas: the hard part is "selling" the activity to the kids so they want to do it. Once they get into the learning, they should enjoy it and get a lot from it.
I will shift my writing focus a little for the rest of the summer to keep things simple and take full advantage of summer opportunities for discovery and learning through play. A fun part of being on summer vacation is the chance for long periods of uninterrupted play. This "playtime" is just as important for older kids, even if they think they are too old to play and they "hang out" instead. Parents and teachers can take advantage of the authentic learning moments this unstructured time has to offer. This week's suggestions will give you some ideas to guide playtime into fun learning experiences.
Math skills are easily lost during the summer, leaving teachers to play catch up at the beginning of the school year. Let's face it, most kids don't want to sit and do math worksheets or drills while there is the important work of play to be done. Making the math interesting and fun is quite a trick, but "Figure This!" does a good job of it in their challenges. Each challenge leads students to explore an authentic (but not always common) problem. Often these problems sound like the questions of curious kids. For example, Beating Heart challenges students to calculate the exact time a heart will beat for the millionth time. I can just picture that question coming out of the backseat during carpool along with others like, "How fast can a bird fly around the world?" or "Do dogs age faster than humans?" I am asked these strange kinds of questions all the time, and I would love to have kids be able to discover the answers on their own. (I was intrigued with millionth heartbeat one, so I had to try it myself. I'm not giving away my answer, though!)
Math explorations don't have to be limited to pencil and paper activities. In the spirit of the healthy eating posts we have been presenting each week, I want to feature Find the Fat, a hands-on healthy eating activity that will challenge kids' math skills. In this activity, kids cook ground beef to see how much fat is actually in it, compared to the percentage on the label. This would be really fun to combine with a cooking activity that uses the ground beef they already browned.
The first two resources do a nice job of working math into summer activities. Flexing writing "muscles" is equally as important, and probably equally as challenging for many teachers and parents. Can You Convince Me? from ReadWriteThink is a good starting point for parents and teachers who want to introduce persuasive writing. A logical way to work persuasive writing into the summer is when kids are begging to get something they want or to go somewhere. (Hey, it happens…) Instead of a "heated" discussion, have them write out their arguments!
One of my earlier columns this summer suggested an activity where kids design and produce their own trailers to promote books. This week, Reading Rockets posted The Digital Shift's Seven Top Trailers to Get Kids Hooked On Books that would be good examples for this activity. They would also be nice to watch to get kids excited about reading some new books.
Good luck this week. I hope you have fun and discover new things. Learning is everywhere!
Joann's companion column: