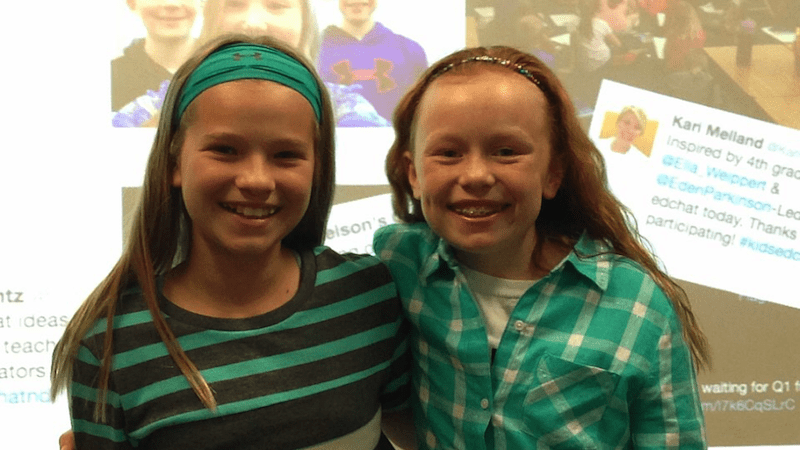 Last year, 10-year-old Eden waited for her mother to stop typing on her laptop before saying, "What are you doing?" Her mom explained how a Twitter chat works, and the online immediate engagement was fascinating to Eden.
She quickly jumped to how it would be "so cool" to do a Twitter chat where kids are the participants. She called her best friend, Ella, and together they brainstormed their first Twitter chat. They called it #kidsedchatnd because it would be for kids talking about education in North Dakota. Eden's mother, Ali Parkinson, is also the principal of her school, the Discovery School in Grand Forks. Mrs. Parkinson helped the girls develop a plan and introduced them to Kari Melland, the school's Curriculum Technology Partner, who helped them bring the concept to life.
According to Mrs. Parkinson, "The first #kidsedchatnd was geared specifically to Discovery students and staff. All Discovery teachers have Twitter accounts and recognize the value of using Twitter as a tool for sharing information with their colleagues, with parents and as a way to learn from others. Having an innovative staff who quickly bought into the idea of using Twitter with students was a large part of the success of the first #kidsedchatnd."
How Does It Work?
Once a month, Mrs.Melland meets with the girls to hash out a plan for the chat. Together they review a list of chat ideas, choose one for the month and create questions that will guide the chat. About a week before the chat, they tweet out the questions and invite people to join in. They prefer to have kids do the tweeting, but they nonetheless offer a warm welcome to inquisitive adults who might want to join in the fun.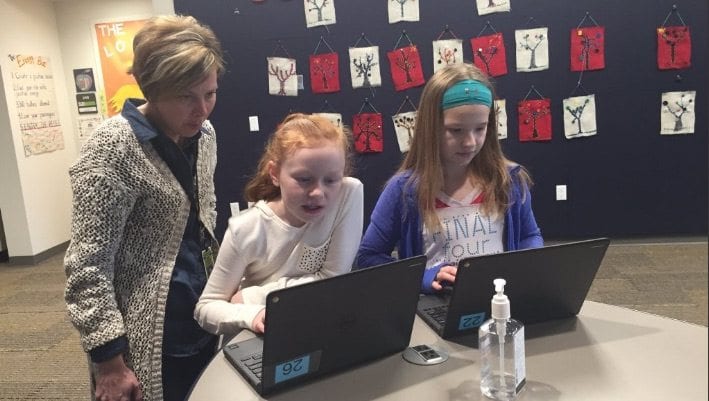 During the first chat, Ella and Eden focused on their school community. The school was analyzing alternative seating and wanted to use the chat to uncover needs and wants.
Discovery is having their 1st student led Twitter chat @ 9 am. Topic:flexible seating options #trailblazer #kidsedchatnd #ilovedisocovery

— Ali Parkinson (@_aliparkinson) March 22, 2016
After this first chat, the girls branched out beyond their school and opened their chat up to kids all over the globe. Their most recent chat was about toys and games that kids enjoy playing. Eden explained, "We want the chats to investigate our thinking so we can learn from each other, but we also want them to be fun." Their most recent Twitter chat shows a more professional, polished, but still kid-driven approach:
Intro: class, grade, school & did your class participate in Global Day of Play?

Use A for answer & #kidsedchatnd in all of your answers. pic.twitter.com/9VN9qRjkwp

— Kidsedchatnd (@kidsedchatnd) February 16, 2017
The leaders, Ella and Eden, make sure to highlight important learnings throughout the chat session. Each chat lasts for 30 minutes and is held during the day so that other classrooms can participate.
The two girls show every characteristic of quality leaders. They are authentic, keep an open mind, listen, delegate tasks, learn from mistakes and seek knowledge. Throughout their interview and in their chats, they defer to each other or others in the chat when they know they aren't the best person to answer the question at hand. Giving them the Twitter platform to develop their leadership skills was a great example for how teachers, parents and students must choose the right tools for learning.
In closing the interview, I asked the girls if they planned to mentor a third or fourth grader to carry on their chat when they move to middle school next year. Their reply: "We're not sure someone else will have the passion, but we'll try!"