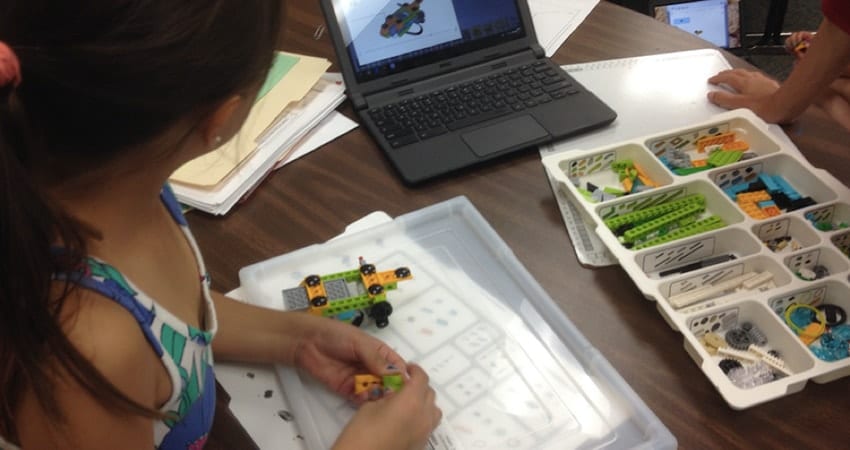 More
When we heard that LEGO® Education makes kits just for educators, we had to put them to the test. So we talked with five teachers, from kindergarten to middle school, who have experience teaching with LEGO Education's classroom kits. Here's what they had to say.
Ian Chow-Miller

Frontier Middle School, Graham, WA
LEGO Education Ambassador 
Ian was first introduced to the world of LEGO® MINDSTORMS® Education EV3 at a PD training and was "blown away" by it.  After his training, he dove into coaching a FIRST LEGO League team. "I truly had no idea what I was doing," he said, "But I loved it."
Two years later, Ian's school added a sixth grade and his principal needed one more class to fill out their schedule. Ian immediately offered LEGO Education Robotics as an option. "Back then I had no idea what curriculum I would use or how I would start," he said. Today, the LEGO Education website is filled with lesson plans to help teachers like Ian get started.
LEGO Education Products I Use:
LEGO MINDSTORMS Education EV3 for Seventh graders
Teaching with LEGO Education:
I teach an Introduction to Robotics course to every seventh grader in my school. When teaching gear ratios, my students build drag racers or robots to climb uphill dragging cargo behind. To learn about mechanical linkages, we make robots that move without wheels (and they are hysterical to watch)!
My Students' Reactions:
My students revel in building robots and are ecstatic when they work the way they're supposed to. I've actually had students jump up and down with excitement in class when they win a race or figure out a problem. With all due respect to my colleagues, I don't think this happens in other subjects too often. You can see their pride and joy on our YouTube channel.
My Review:
When I'm teaching with LEGO MINDSTORMS Education EV3, my students are learning more than robotics. They're learning hard skills like gear ratios and linkages, but more importantly, thanks to the free curriculum available on the website, you're teaching students to think critically, follow the design process, work cooperatively, and see themselves as future scientists, engineers, programmers, etc. 
There is an instant and immediate connection that kids have to LEGO, which makes them a wonderful teaching tool. The learning experience is tactical–you can't teach and learn with them if you don't touch them. By putting two pieces together you have either built something that works or you haven't. Either way, you've learned something. From simple bricks to complex robots this holds true—you are always learning as you build with LEGO Education.

Stephen Meehan, Tech Integration Specialist, Grades K-5

Highlands Elementary School, Naperville, IL
LEGO Education Ambassador and LEGO Education Acadamy Trainer
Stephen has a long history of teaching with LEGO bricks. Initially, he discovered them while looking for hands-on tech resources to extend the Gifted and Talented program at his school. "LEGO Education was a perfect fit for the GT program," he said. "But early on, it became obvious that it was also a perfect fit for ALL kids. My peers and I began advocating for adopting the kits into the curriculum for the whole school." Now, he teaches with a variety of LEGO Education products to students of all ages and trains other teachers to use LEGO Education products as a LEGO Education Academy Trainer.
LEGO Education Products I Use:
WeDo 2.0® for K-2
LEGO MINDSTORMS Education EV3 for Grades 4-5
Teaching with LEGO Education:
In second grade we use WeDo® 2.0 to address science standards. My students build models of the frog life cycle to better understand that the changes from egg to tadpole to frog are not random, but relate to the environment in which the frog lives.
We also study the concept of pollination by building plant models and insect robots that are programmed to travel around plants. Using models allows the kids to put into their own words a process that is familiar, but perhaps not fully understood. LEGO Education WeDo 2.0 kits provide a concrete environment for them to study and make connections.
Our fourth and fifth graders explore engineering principles and standards recommended by NGSS using LEGO MINDSTORMS Education EV3 robots. In one unit of study, we build a model of an autonomous car to explore how they navigate streets and process the variables of safe driving. Students learn to program the car to navigate a path in a maze. By participating in this hands-on activity, the kids get a better sense of the complications of writing a program that is efficient, yet flexible for different situations.
My Students' Reactions:
My students, regardless of grade level, are so comfortable working in a LEGO brick environment, even those that don't have them at home. They catch on quickly, work cooperatively, and stay focused. You get students with a wide range of abilities working together at their optimal learning level—which is really something to celebrate.
My Review:
One of the most common mistakes that teachers make when teaching concepts in a hands-on environment is not focusing on the potential for social-emotional learning. It's so easy to leverage the interest kids have in LEGO Education and robotics to develop collaborative skills. Kids have to learn complex skills of sharing, supporting, and dealing with adversity when things don't work out as they expect it to.

Mary Meadows, Kindergarten Faculty and Early Childhood Chair

Villa Duchesne and Oak Hill School, St. Louis, MO
LEGO Education Ambassador 
While watching her son and his high school robotics team at a LEGO Education competition, Mary Meadows was impressed by the level of engagement and cooperation displayed by the students. She was inspired to write a proposal to coach her own FIRST LEGO League and ended up coaching a squad of fifth and sixth graders for four years.
As a kindergarten teacher, Mary is an enthusiastic advocate for early learning and supporting children in their own investigations. She wanted to incorporate all the important skills she witnessed her team learning with LEGO bricks into her work with young students.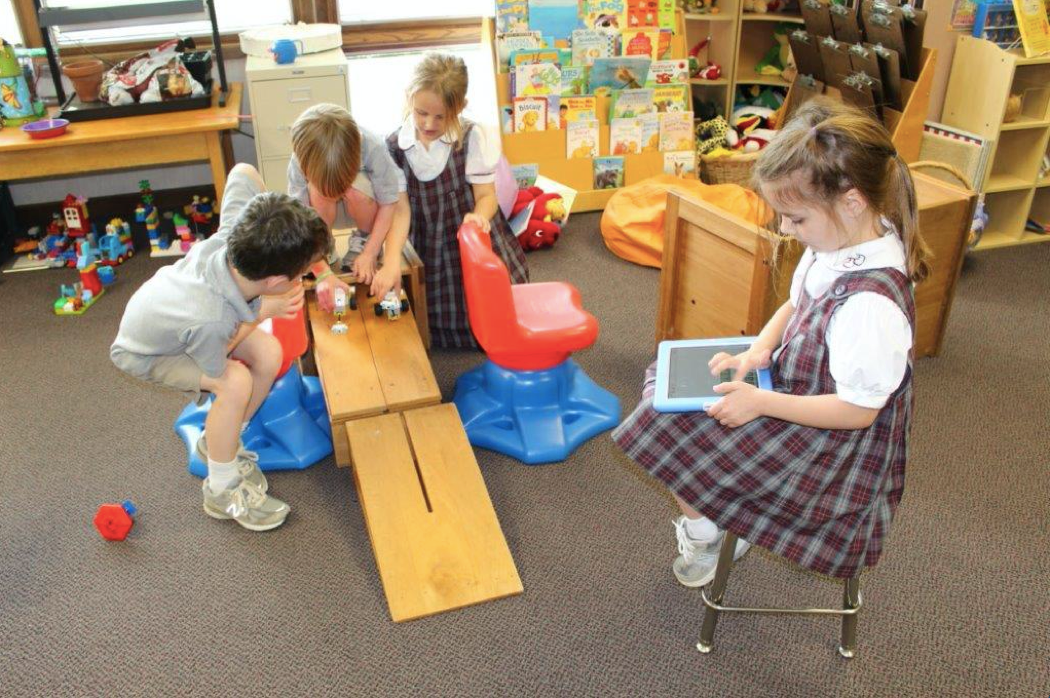 LEGO Education Products I Use:
WeDo 2.0 for Kindergarteners
Teaching with LEGO Education:
Because of my comfort level working with LEGO Education, I incorporated WeDo 2.0 into my classroom even though it is recommended for older kids. At first, I put the kids into centers, and the work that came out of that in just half a year was remarkable. Now all of my kids are working on robotics with a partner three to four times week. One of my students' favorite projects has been building Milo—a robot modeled on the Mars Rover. We began by programming Milo to go forward and backward. Soon my students were coming up with their own ideas and investigations. They got out our wooden ramps and started programming Milo to go up and down. They followed the instructions to program him to stop when he comes to a flower built of LEGO bricks.
My Students' Reactions:
Working with LEGO Education has been a transformative experience for my students. Almost immediately, the children started working together, asking questions, and solving problems on a whole new level. They don't get frustrated with the work; they stick with it for a long time. Their conversations are full of discovery and they share ideas and help each other. They make scientific observation based on their own exploration and are amazed by the power they have through coding.
My Review:
Having LEGO Education WeDo 2.0 in my classroom has changed my students' whole perspective on learning and my role as teacher. I don't have to be the one who has all the answers. I can guide them through a process that helps them think, with questions like "What do you think is going to happen? What is your hypothesis?"
Allowing our students to explore and discover on their own gives them big-time confidence as learners. I think it is just an amazing opportunity for young children.

Cindy Johnson, Pre-K Teacher

Wichita Collegiate School in Wichita, KS
LEGO Education Ambassador 
Cindy's little learners love playing with LEGO bricks. So she began searching for a way to introduce them as a learning tool in her classroom. She found her opportunity in her school's eighth grade classroom, where students were learning about robotics with LEGO Education. She asked the eighth grade teacher if the pre-K students could buddy up with the older students, learning from them as they modeled and mentored. The results were impressive. "Within a week," she said, "my kids were helping the big kids find pieces. They began to recognize and identify distinctive pieces, such as axles and rods, and understand how they were used together."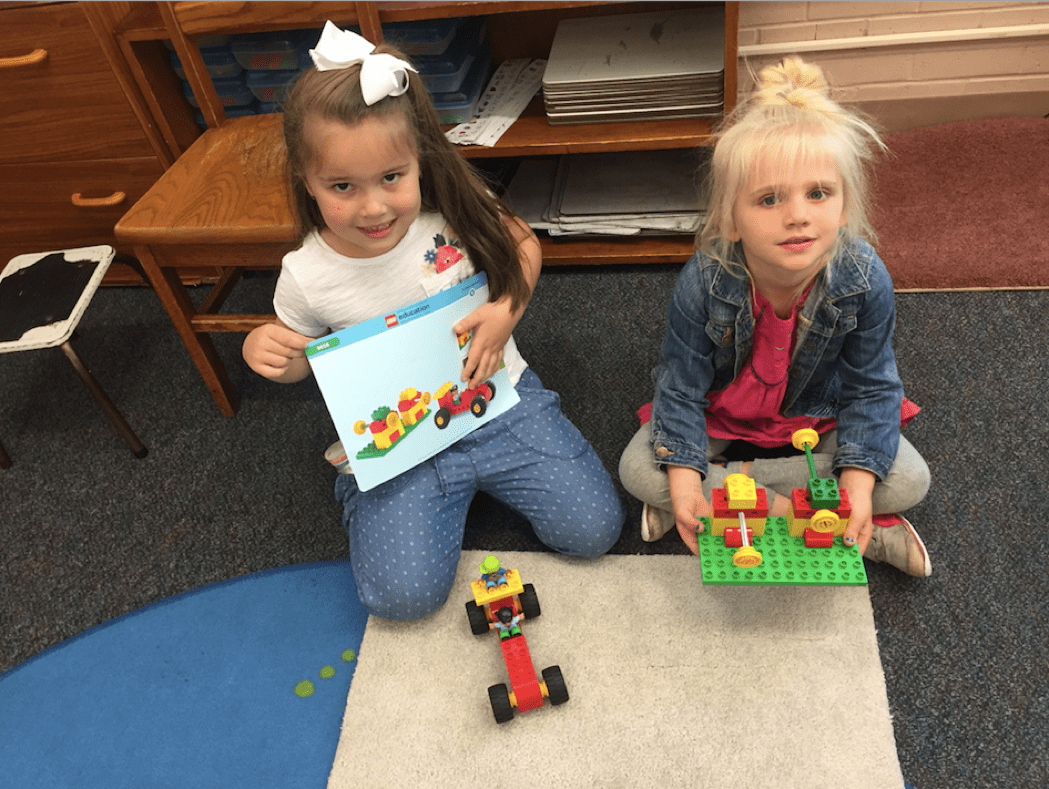 LEGO Education Products I Use:
Early Simple Machines for Pre-K
WeDo 2.0 for 5- and 6-year-olds as part of a summer enrichment class
Teaching with LEGO Education Early Simple Machines:
Each kit comes with cards that show a picture of a machine to build on the front with instructions on the back. I introduced the way the cards work and showed my students the materials. I set a goal for the activity, then paired them up into boy/girl teams and let them go.
My Students' Reactions:
Success! They worked together so nicely. Building the models sparked their imaginations and they asked to create backgrounds and settings. One group made a little park with flowers to put their seesaw in, and another drew an ocean background for their boat. They loved building the simple machines, but knowing they could add to it made it even more fun!
Teaching with LEGO Education WeDo 2.0:
I teach a summer enrichment class that combines robotics and writing for 5- and 6-year-olds. We work with LEGO Education WeDo 2.0 to build inventions that the students then write about. Each day I set a learning objective—for example, create something that shows balance. Then, the kids have to make a plan, build their object, give it a title, and show how it works by drawing or writing their story. I pair them up in different combinations daily to encourage cooperative learning.
My Students' Reactions:
They are inspired and SO excited to share what they've learned with their parents after class. They are not allowed to take the models home, but they can take their picture or story. It's a great way to support that home/school connection.
My Review:
LEGO Education kits are the perfect activity to let kids take off and explore. I was particularly impressed with the vocabulary I overheard as they worked—kids were talking about concepts like balance, weight, level.
I also see such amazing teamwork and collaboration taking place. My students are so engaged and have absolutely no behavior issues. In addition, working creatively is really helpful for my students who are shy or may be struggling with speech issues.

Chrissy Knutson, First Grade Teacher

North Idaho STEM Charter Academy, Rathdrum, ID
When Chrissy attended her first training for teaching with LEGO Education WeDo 2.0, she thought, "Whoa, first graders? There's no way this will work with my students." She started small, introducing Simple Machines as a center in their classroom rotation. "The first month, I spent a lot of time teaching the children how to use the materials properly. After about two weeks, they were off!" After Simple Machines, her students tackled storytelling with LEGO bricks and by the end of the year were coding and programming with WeDo 2.0. "I'm so impressed that my first graders can accomplish this kind of work," she said, "the LEGO Education curriculum applies to our content in so many ways, and they learn about collaborating."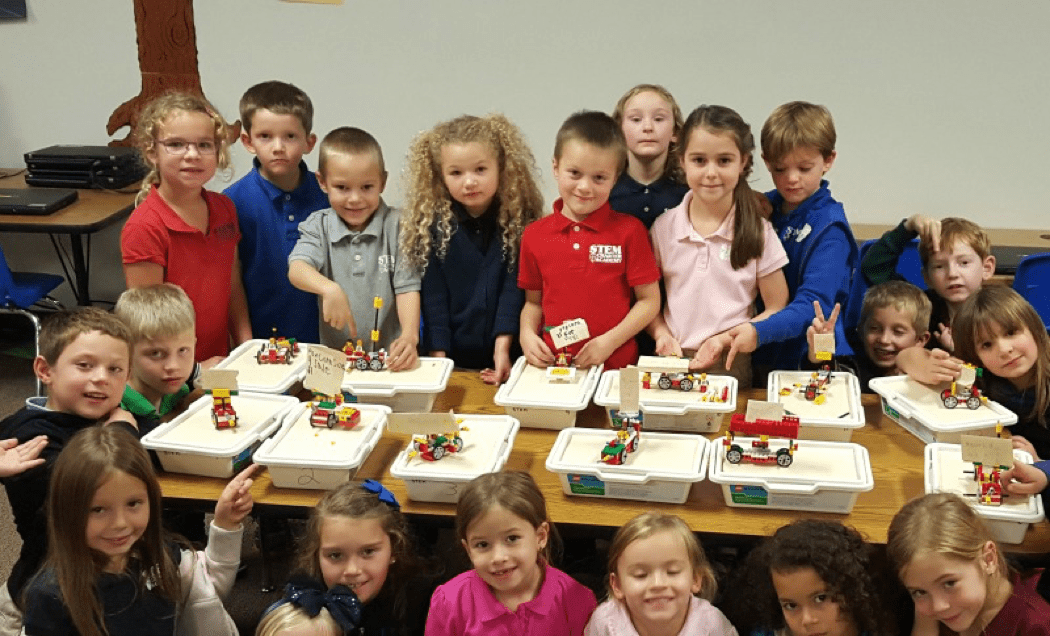 LEGO Education Products I Use:
Simple Machines for First Graders
Teaching with LEGO Education:
The best tool in the LEGO Education curriculum is the problem-solving page, in which students use guidelines and criteria to produce a solution to a problem. The teacher becomes more of a coach or facilitator as they figure out their own answer. No answer is wrong, and even if they fail they know that they can keep trying.
I have also incorporated the engineering design process. Students are required to:
Ask questions of each other.
 Use their imagination to plan and draw out their idea to solve the problem.
 Create their model, at which time they will find out if their plan included all the necessary criteria or constraints.
Implement improvements. The "improvement day" has become my students' favorite part of the process because they get to explain what worked and what did not work.
My Students' Reactions:
LEGO Education time is definitely my students' favorite part of any lesson. Working with LEGO Education has sparked my students' imaginations in ways that nothing else has. Students are extremely engaged and focused. In fact, sometimes groups run out of time because they have so many ideas they want to try, which is a great problem to have!!
My Review:
The LEGO Education Simple Machines kits are truly a cross-curricular activity. They would also be useful for a before or after-school program. I have even helped some students in 4-H with their LEGO Education Simple Machine projects.