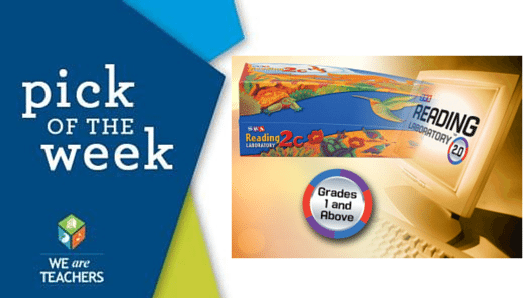 SRA Reading Lab has jumped out of the box—literally—and implemented a new, engaging, seriously fun online program that will get your students excited about reading.
Teacher Review: SRA Reading Laboratory™ 2.0
Why we love it: This new version of SRA Reading reaches kids where they are right now—as natives of a digital, hands-on world. The fun, interactive games and built-in social network really take the program to the next level and get students psyched about reading.
A deep focus on skills: You'll get help teaching reading comprehension, vocabulary, fluency and word analysis with SRA Reading Laboratory™ 2.0. The digital program isolates areas in which students show weaknesses and tackles those areas in individualized assignments. The reading selections are delivered to students with increasing complexity, encouraging personal growth to the next level.
Hidden fun for kids: Three to five "secrets" are embedded within each of the contemporary fiction and nonfiction reading comprehension texts. "Secrets" are animated words in the passage that shake, rotate, rise or spin. They are designed to capture students' interest by giving additional information about the word, to build background or to provide fun facts. Secrets can be in the form of video, animation, images, trivia or questions. Points are awarded for each secret a student finds. Students can then use their points to unlock mini-games to play, earn badges and compete with their peers.
Reading gets social: All games, points and badges are contained on the program's safe, engaging social network for students in the classroom. Kids can easily cheer one another on, engage in friendly competition, and share their work and accomplishments.
Report cards made easy: SRA Reading Laboratory™ 2.0 provides teachers with complete access to all classroom and individual student skill progress, and all classroom social network activity. Teachers also have the control of the program aspects available to their students, with the capacity to turn some features on or off, such as audio support for readings, peer reviews and community options.
Find it:To purchase the program for your class or school, or to start a free 30-day trial, visit McGraw-Hill's SRA Reading Laboratory™ 2.0 page.