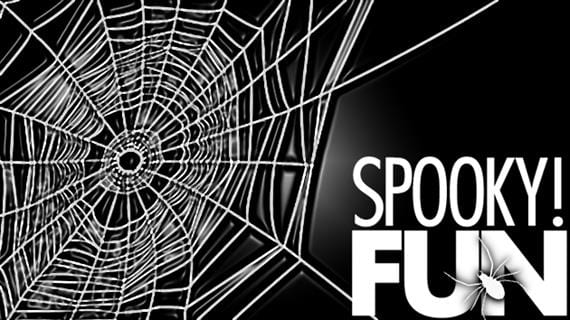 Spooky explorations and creations to implement at your classroom Halloween party! Students will not even know they are learning!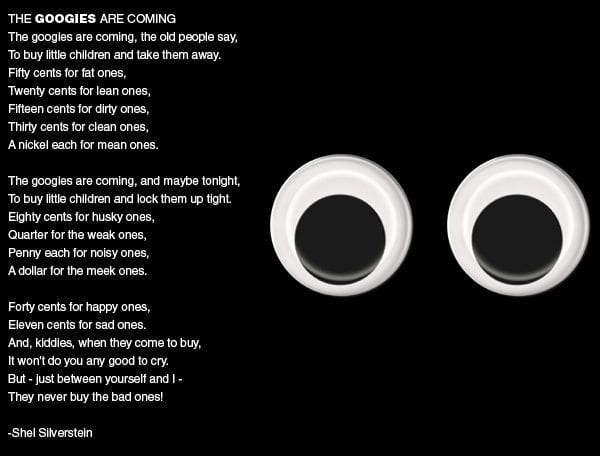 Yike Googies! – Math and Poetry
Practice your money skills and get creative with Shel Silverstein's "The Googies are Coming," from Where the Sidewalk Ends. What is a googie? Who knows?! Have kids write a definition for a googie. Then, have them add up the cost of children! Note: Tell kids googies want children to play with, so no one gets scared!
Questions to ask that go along with the poem:
1. Write the definition of a googie. What is it? Then, draw a picture of one.
2. How much does a googie have to pay for 3 fat, 2 noisy and 1 weak child?
3. How much is 1 meek, 5 clean, 3 mean and 1 husky child?
4. How much for 3 happy and 2 sad children?
5. What about 1 lean and 1 dirty child? How much?
6. What would a googie pay for 100 noisy children?
7. How much for 10 meek children?
8. How much does it cost for 5 mean children?
9. What would a googie have to pay for one of each child?
10. Pretend you are a googie. Choose at least 5 types of children to buy. Then, add up your total!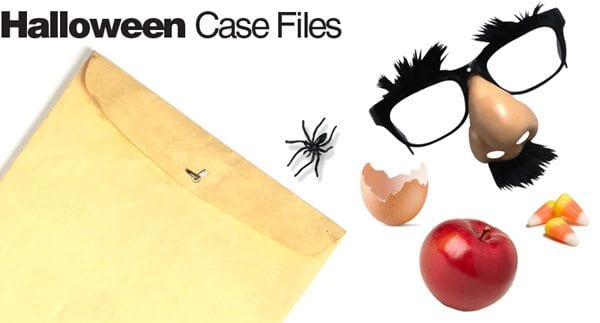 Halloween Case Files – Inference versus Observation
Can your students figure out what ______ and his / her friends did on Halloween, using their inference skills? Choose different items to put in manila envelopes or paper lunch bags. Kids examine the different items and come up with explanations for them.
Item ideas:
pumpkin seeds – carved a pumpkin
funny glasses – halloween disguise
face paint – disguise
cape – superhero
green nose with a wart – witch
vampire teeth – yikes!
apple – bobbing for apples
cracked egg shell – someone played a trick!
toilet paper – a trick or a mummy!
streamers – they were at a party!
red solo cup – punch 😉
empty cake mix box – halloween party cake!
muffin tin – cupcakes!
leaves – they were outside, jumped in a pile of leaves!
thermal underwear – it was cold outside!
candy wrappers – went trick or treating and ate all of their candy!
flashlight – they were out late at night
cob webs – they were in an old, dirty place (haunted house!?)
slime – monster slime?!
do not enter sign – uh-oh!
tombstone – they were at the cemetery!
note that says "be home by 8:00, love mom" – they had a curfew
watch that says 10:00 – they stayed out past their curfew!
fast food wrapper – dinner or late night snack?!
Add anything you'd like!
Based on the items, students guess how many kids went trick or treating and what they were dressed as. Then, they figure out what they did that night, maybe went to a party? Did they play any tricks? Get creative with different items.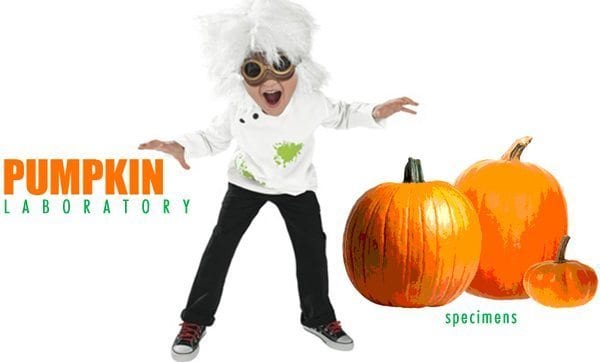 Pumpkin Laboratory – Science and Math Exploration
Students experiment on a unique specimen: pumpkins!
1. Count the number of ribs on your pumpkin
2. Estimate the circumference and then measure it
3. Record the height and width
4. Estimate the weight and weigh it
5. Based on your observations, how old do you think your pumpkin is?
6. Sink or float prediction – what happened?
Click here for a printable!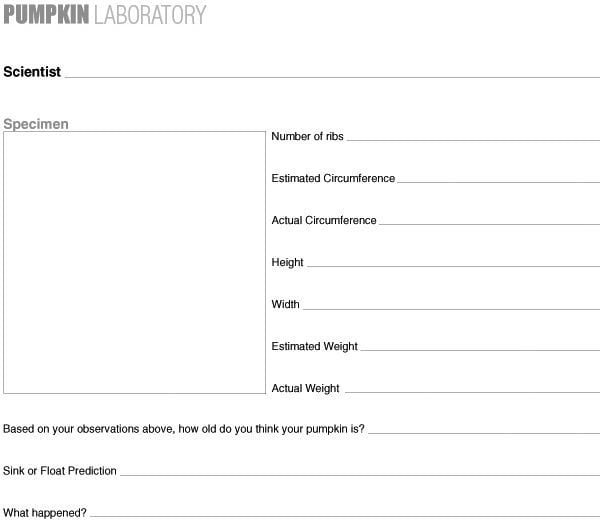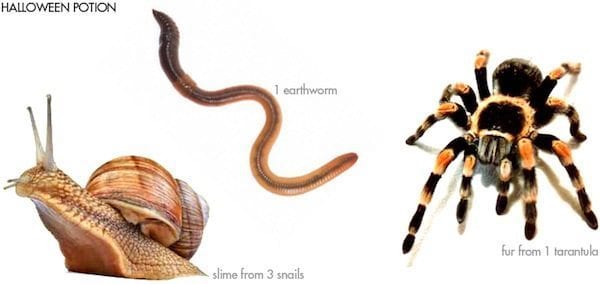 Gross Concoctions! – Creative / "How to" Writing and Measurement
Have students create their very own unique, one of a kind, imaginary magic potion! Students name their potion, draw the ingredients in each flask, and write the ingredients. They write the number of each item needed in the small square boxes and the items on each line. For example, 5 zombie nails, 8 oz. of pink slime, and 7 fireflies. After they fill out their potion recipe sheet, they write about what happens when they combine their ingredients. POOF! – their potion turned into…..
Click here for the printable!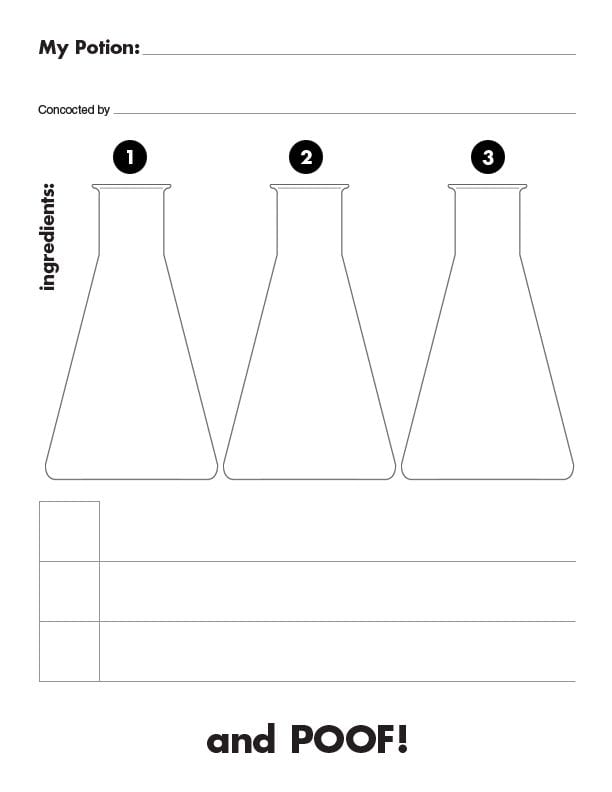 Candy Exploration Lab – Science and Math Investigation
Don't eat all of your Halloween candy! Instead, create a candy exploration lab!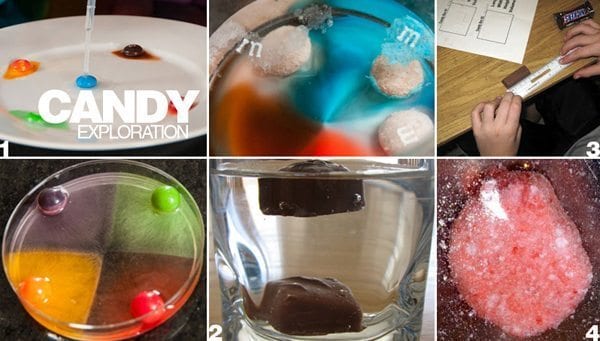 Featured Above:
1. Steve Spangler – Skittles Chromatography, Floating M's, Gobstopper Color Separation, and more candy chemistry!
2. Science Matters – Candybar Density – Do nuts make a difference?
3. Classroom Magic – Volume of funsize candybars, plus free printable for the activity!
4. What are we doing today Mom? – SweetTart Weathering and Erosion
For more candy exploration visit CandyExperiments.com and Science Gal
Erin Bittman is a second/third-grade student teacher in a multi-grade classroom at a themed Magnet School. She attends the University of Cincinnati. Check out her blog E is for Explore!