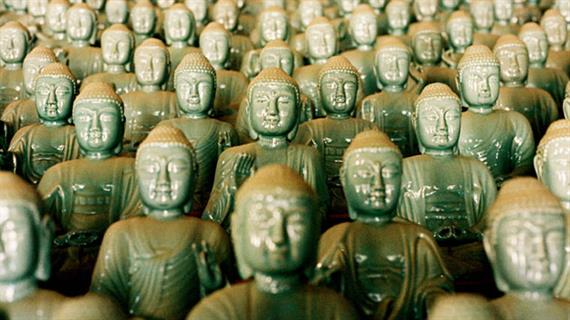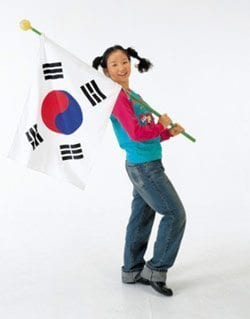 South Korea's
School Success
By Deva Dalporto
South Korea's schools couldn't be more different than Finland's, yet their results on the PISA exams are similarly sensational. In the latest results, South Korea ranked second in reading (just behind Shanghai, China who participated as a city), fourth in math and sixth in science.
Just like Finland, South Korea's schools were not world class until fairly recently. In the 1950's after the Korean War, 78% of Koreans were illiterate. In 1970 the per capita income in South Korea was $200. And just like in Finland, education was considered the best way to pull their county up out of their economic misery. South Korea overhauled their schools and committed to an equal-opportunity system promising to educate every child, just as the Finnish did. They set up a lottery system so that all kids, regardless of where they lived or how much money they had, got access to a great elementary education, again just like Finland. But that's where the similarities end.
Finnish students have little homework, short school days and tons of playtime; South Korean students study non-stop. In fact, they study more than kids in any other country in the world. In South Korea, education is very test-driven. There is a massive entrance exam to get into high school and college and the pressure to succeed on this test starts when kids are three or four-years-old. Many people may argue that South Korea's schools are too intense, that the pressures on the kids are way too high—and that may be true. But their students are some of the best in the world, so despite our possible objections to their approach, there are some things we can learn from them.
South Korea vs. United States 2009 PISA Results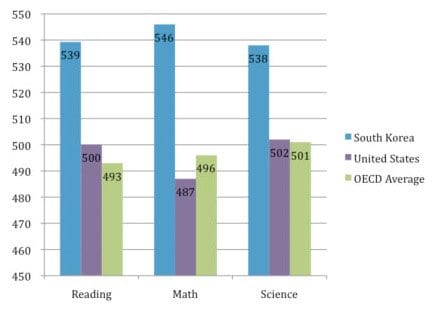 From NCEE.org
What Is South Korea Doing Right?
Culturally, South Koreans are very invested in education. They have a lot riding on it. Everything from their social status to their marriage prospects to their job is determined by where they went to college. And parents are judged based on what universities their kids get into too. So it goes without saying that parents and students are highly motivated when it comes to school.
South Korean parents spend more on education (15% of their gross national product) than any other nation. Some parents drop close to 25% of their income on education, tutoring and supplemental educational materials. And most parents send their kids to extra private school after their regular school day. "South Korean students go to school from nine a.m. to five p.m. and then they go to Hagwons (private schools for extra class) from five p.m. until ten at night," said Stacey Bremner, a South African teacher who taught in South Korea. "They only really start their school homework once they get back from private schooling or extra lessons." And to think kids in the US complain about how much schoolwork they have!
Teachers in South Korea are another major factor in the students' success. South Korean teachers go above and beyond. "Korean teachers don't just do what is expected of them," said Ms. Bremner. "They are extremely dedicated to their jobs. They work very hard and make a huge effort." And society rewards them for it. Teachers in South Korea enjoy high social status, are paid very well and have great job security. No wonder teaching is the top career choice for young Korean's these days. But it's not an easy gig to get. Only 5% of hopefuls are accepted into the elementary school teacher-training program. And once they get a teaching job, not many people give it up. Only 1% leaves the field every year.
The Korean Ministry of Education works hard to make sure all of their country's schools are tops as well. In 2008, they made several changes in an attempt to close the gap between kids in high-achieving urban schools and lower-achieving rural schools. They offered financial support to all middle school students, subsidized computers, offered meals and opened more schools in rural areas to make them more accessible.
South Korea is very savvy when it comes to leveraging technology to improve their schools. They topped PISA's digital literacy test in 2009, proving that when it comes to computers, their kids are on the ball. Every school in South Korea has high-speed internet. They also have digital textbooks to make learning materials more accessible, especially to lower income students. By 2015, they plan to go 100% digital and have all textbooks in all of their schools accessible from a computer, tablet or phone. The Ministry of Education has also recently created a Cyber Home Learning System, an online program designed to help kids with their after-school learning.
Unlike in Finland, South Korean schools have a lot of tests. And they are taken very seriously. Life in the country virtually grinds to a halt during the yearly college entrance exam. Offices open late, planes aren't allowed to fly over test sites and parents and grandparents pray while their kids sit for the exams. "There is a lot of pressure for the kids to do well on the big entrance exam at the end of high school," said Ms. Bremner. Their future depends on it.
What Can We Learn From South Korea?
South Korea is infamous for it's insanely intense schools. "Someone looking in from other countries seeing these amazing kids, doing amazing things and achieving great results would think, 'Wow, why can't our kids be like this?'" says Ms. Bremner. "The truth is though, these kids are under too much pressure." So while we may not want students in the US to feel the pressures Korean feel, there are some great things we as teachers can learn from this high-powered nation. Here are a few ideas:
Get parents involved. "Parents in South Korea are very involved in their children's schooling," said Ms. Bremner. "An involved parent means they know how their children are doing and if things are going in the right direction." Having a positive relationship with your students' parents is a win-win! So smile when you see your students' parents. Get to know their names. Update them on a regular basis on what the kids are learning to keep them engaged.
Use technology Classrooms in South Korea are packed with technology. According to Ms. Bremner, "Computers, internet, LCD screens and smart boards are a must in all classrooms. They really help with the teaching process and provide students with more knowledge as well!" Technology is a fabulous asset. It's great for differentiated learning and can help teachers tailor lessons to kids with different learning styles. Technology has also been shown to be a great tool in special educationhttps://www.weareteachers.com/hot-topics/special-reports/special-report-assistive-technology. Studies have shown that technology can help all kids learn faster and develop deeper basic academic skills. So if you have access to computers or tablets in your school, use them! If you don't, dream in color and try to get your administrators or PTA to help raise funds to purchase them. Computers are becoming more and more affordable these days. A fund-a-need is a great way to raise some money (and awareness!) for technology.
Do your best every day. Korean teachers go above and beyond every day. "They go the extra mile," said Ms. Bremner, "and this is what many of us need to learn to do. To do not only what is expected of us, but more." Every time you walk into your classroom commit to doing your ultimate best. Your students will love you for it and you'll find your job just that much more rewarding.
Always be willing to learn. "Korean teachers keep their ideas about teaching fresh and interesting," said Ms. Bremner. "They are always going on courses about education and teaching. If you keep things fresh then your teaching will stay interesting to students." So be a student of teaching! Learn new teaching techniques whenever you can. Don't just stick to the old script you've been teaching year after year. Be willing to try new, improved things in the classroom!
Inspire your students to do their best. Students in South Korea are highly motivated. You probably don't want to implement the same kind of high-pressure environment Korean students face to motivate them, but there are lots of positive ways to encourage them to do their best. Offer lots of praise for good work, send home positive notes to their parents and give out awards for academic excellence on a regular basis. And set high expectations. Your kids will want to live up to them!