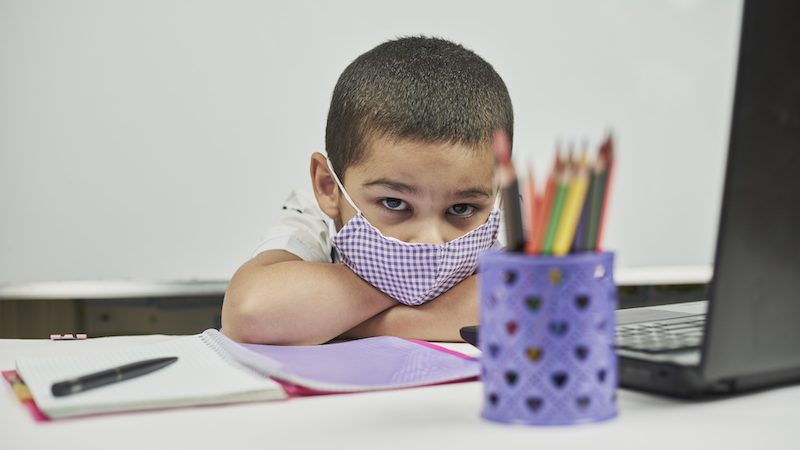 This is our third year of teaching in a pandemic, and things continue to change every day. For over a year now, schools have been using quarantines as a means of reducing exposure to COVID-19 to keep kids in classrooms. But district policies have been rapidly shifting and often differ depending on geographical area—and political agenda. A look at what's happening around the country:
Florida makes quarantine optional
Dr. Joseph Ladapo is Florida's new surgeon general, and just one day after assuming the role, he signed protocols to loosen school restrictions. The updated guidelines allow parents to decide whether their asymptomatic kids should stay in school or quarantine after being exposed to someone who has COVID-19.
According to the U.S. Centers for Disease Control and Prevention (CDC), people can be infectious for two whole days before they show any symptoms. For this reason, the CDC has recommended that unvaccinated students quarantine for 14 days if they are exposed or seven days if they test negative after a week in quarantine.
"Quarantining healthy students is incredibly damaging for their educational advancement," Republican Gov. Ron DeSantis said Wednesday at a news conference in Kissimmee. "It's also disruptive for families. We are going to be following a symptoms-based approach." In response, Andrew Spar, president of the Florida Education Association, said, "Limiting districts' options and blocking them from following CDC guidelines is not in the best interest of the health of our students, employees or families."
Has this been tried before?
After nearly two years of this, many are tired of the restrictions. Over the summer, an area of Canada took this approach. Dr. Deena Hinshaw, the Chief Medical Officer of Health in the province of Alberta, removed the mandate requiring close contacts of COVID-19 cases to quarantine. She also said that people with symptoms shouldn't be tested unless they need medical attention.
At the time, Dr. Hinshaw said, "The question is, at what point do we make a shift into living with COVID? I think everyone is aware that we're not going to eliminate COVID. And so, there are risks and benefits of different time points of making that shift."
In response, many expressed their shock and disbelief at this attitude. One outspoken critic was an infectious disease specialist at the University of Calgary. Dr. Craig Jenne warned, "(When) people that are infected are no longer required to quarantine and they are allowed to go back into the community, back to work or back to school, there is a risk they will pass that virus onto other unvaccinated people."
So, what happened?
Alberta quickly spiraled into a crisis. Dr. Hinshaw said that "she deeply regrets" that her comments made it seem like the pandemic was over and added, "Obviously, Alberta is in a significant crisis state right now. Delta has spread much more quickly and has had more severe outcomes than we anticipated…The expectations did not match the reality. (We) really had to shift and walk back about, 'OK, we're not ready yet, need to take more time.'"
What teachers think
Delta has been a game-changer. Just look at one elementary school in California. Masks were required indoors, kids were socially distanced, and desks were spaced six feet apart. Then, an unvaccinated teacher with mild symptoms (that she dismissed as allergies) took off her mask for storytime. By the time she tested positive for COVID two days later, she had infected half of her class. Those kids then passed it on to other classes, siblings, and parents. That's how fast the Delta variant can spread before anyone shows symptoms!
We polled our own community of teachers to get opinions from the front line. Are quarantines still necessary? Here are some of the comments:
"Definitely!" —Ellen P.
"Absolutely!" —Cassie S.
"If they test positive, yes. Otherwise, no." —Ashley S.
"They are doing that [only quarantining those who test positive] here in Texas and our Covid rates are low at our school." —Candace W.
"Yes. Ours are mandatory, 14 days." —Erin R.
"Quarantines need to eventually end. How much longer are we going to stick people indoors for ten days? Ridiculous. This virus is here to stay. Learn to live with it. Stop testing, stop quarantines, stop masks. All that garbage is doing way more harm than any virus." —Laura D.O.
"In Virginia ( in my county) for an exposure to Covid or a positive test, the student is made a virtual student while quarantining." —Bridget P.