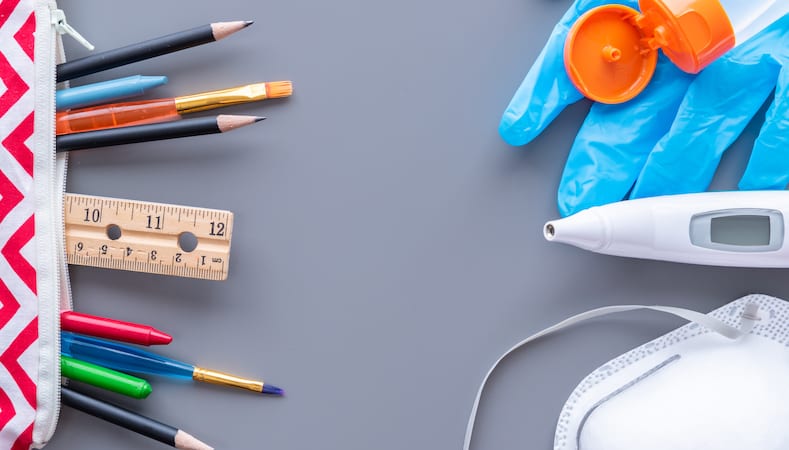 Classrooms are communal spaces where students share classroom supplies: everything from the cushions in the classroom library to the tissue box on their teacher's desk. Teachers love creating environments designed for sharing. But this year hasn't been a typical school year (and even now, in 2021, that's not likely to change). What was once shared is now individual. Here's what schools are doing (plus some tips and teacher hacks) so you can handle shared supplies—and keep your sanity—as we enter the new year.
Keep supplies separate with small bags or kits
So many of the supplies that our kids (especially our youngest learners) use are shared. From math manipulatives to toys for indoor recess, it's hard to imagine a classroom where students use individual supplies and keep them to themselves. So how does this work in a real classroom? Science teachers are creating individual lab kits with the materials students need to complete their work. Elementary teachers are bagging hands-on supplies so each student has their own set. The cushions in the classroom library are in storage, and students are reading at their desks. When this isn't possible, teachers are disinfecting sets in between use.
Label everything (and we mean everything)
Before COVID-19 when pencils, erasers, and other supplies were left on desks or the floor, it was "finders keepers." I even had a jar on my desk for the supplies I found in my classroom at the end of the day (you can never have too many pencils). This year we have to be much more careful. Schools are asking students to label their supplies. Anything communal has to be cleaned and disinfected in between each use. It's not realistic that we can clean pencils every day, so labeling everything is a must.

Add extra storage at students' desks
Once students get to their classrooms, they need a safe place to store their belongings and materials. Social distancing is challenging with cubbies and lockers that are close together. Tara Dusko, a third grade teacher in Ohio, added a milk crate for students' under desk storage and a box for inside desk drawers to her supply list. "A big change this year is students won't be able to share supplies. Make it easy for them to adjust by having specific places for them to put all of their belongings," she suggests.
Encourage individual packs of tissues and pencil sharpeners
When students work at their desks, they will likely need to sharpen their pencils or blow their noses. Teachers aren't using class tissue boxes or a classroom pencil sharpener. Instead, students need their own. Some teachers are hanging tissue boxes upside down over their classroom sinks so students can easily (and safely) grab a tissue, blow their nose, throw it away and wash their hands all in one place!
Replace water fountains with individual water bottles
Students get thirsty during class! Water fountains are high touch surfaces. This year, students need a labeled water bottle. Christina Brauner, a fourth grade teacher in Missouri, bought bicycle water bottle holders for less than a dollar each and attached them to desk legs with zip ties. Now she doesn't have to worry about students spilling their water all over their work or accidentally dropping their bottle on the floor. Genius!
Clean art supplies after each class
Many students don't have their own art supplies, especially for specialized classes like ceramics. Teachers and students have to clean them after each class. For dishwasher-safe supplies, toss them in a mesh bag and run them through a cycle to speed up the process. Here are more cleaning hacks from teachers who are short on time.
Remember to put Lysol Disinfecting Wipes on your school supply list, and for resources on keeping classrooms clean and kids healthy, check out Lysol's HERE for Healthy Schools.
Get FREE Lesson Plans and Activities
* Any reference to a specific product does not constitute or imply an endorsement by Lysol(R). This article may contain links to third party web sites. The linked sites are not under the control of Lysol and Lysol is not responsible for the content of any linked site or changes and updates to those sites. The linked sites are offered as a convenience and as such, you are responsible for viewing and abiding by the terms of use and privacy statements posted on those third party sites.