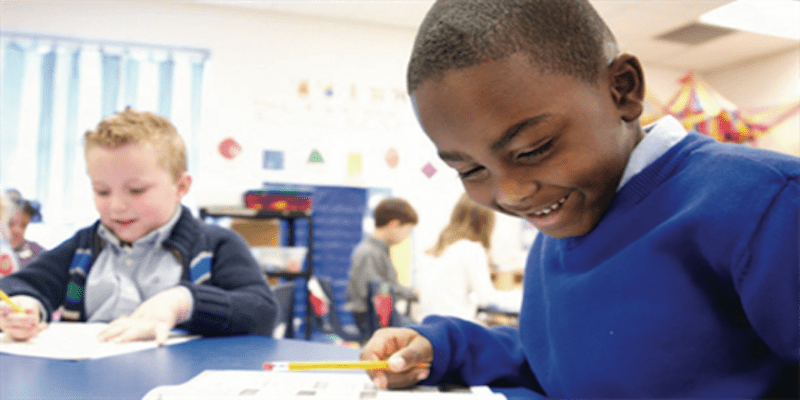 Brought to you by St. Jude Children's Research Hospital
More
Can students help others by solving fun math problems? Yes! The St. Jude Math-A-Thon® service project teaches students about social consciousness and demonstrates how young children can make a difference while learning math content expected at their grade level.

Meet a patient: Students can read biographies about the children they are helping while taking part in the Math-A-Thon service-learning project. The children who benefit from the Math-A-Thon are patients of St. Jude Children's Research Hospital. Students gather sponsors from their friends and family. Then for the Math-A-Thon, the kids complete a "Funbook" of math problems. Each problem they solve helps a child at St. Jude because Math-A-Thon participants collect donations from their sponsors based on all of the problems they solve.
Math-A-Thon Funbooks were developed by Scholastic to meet national Common Core standards. Books are customized for each grade level, kindergarten through eighth grade. Math worksheets become meaningful to students, and the Funbook allows teachers to distribute written assessments to see how well students understand the content. Rather than viewing the assessments as meaningless assignments, students are excited to complete the work to help the children of St. Jude.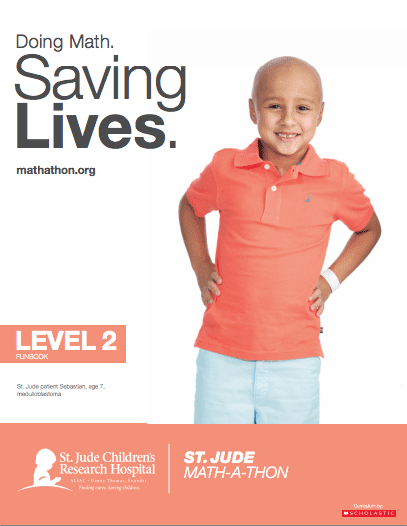 Funbooks are not like your usual math worksheets. In fact, they can even be accessed online. Math problems take on the form of riddles, crossword puzzles and games, showing students how math connects to real-world applications. You can see a sample Funbook here. It's full of puzzles and games that kids will love.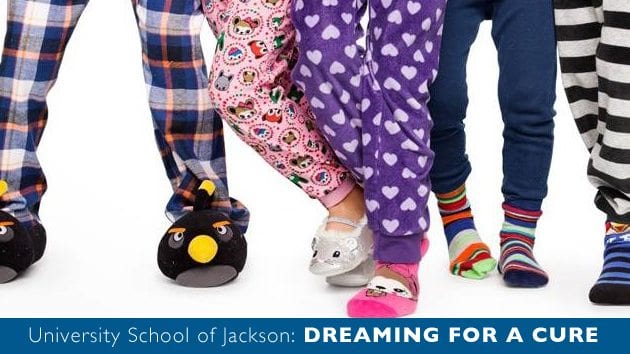 University School of Jackson in Jackson, Tennessee, used Math-A-Thon to employ a fun-filled theme: Dreaming for a Cure. Students in grades two through five wore pajamas to school, and their fundraising goal was $40,000. This year the school donated more than $78,000! USJ has been one of the top donating schools in the country.
The school also used technology to raise awareness for St. Jude. Students were encouraged to create their own fundraising page, supplied by St. Jude, to collect their donations. Individual students who raised over $1,000 were rewarded with a fun day at Sky Zone by their school guidance counselor. Their counselor, Laura Moore, was named the Math-A-Thon Coordinator of the Year by St. Jude. USJ turned the children's service-learning project into an exciting learning experience that promoted cooperative learning among grade levels. Older students helped younger students solve challenging math problems. The students discovered what good citizenship means and how collaboration can make an even bigger impact. You can see photographs and read the entire story about USJ here!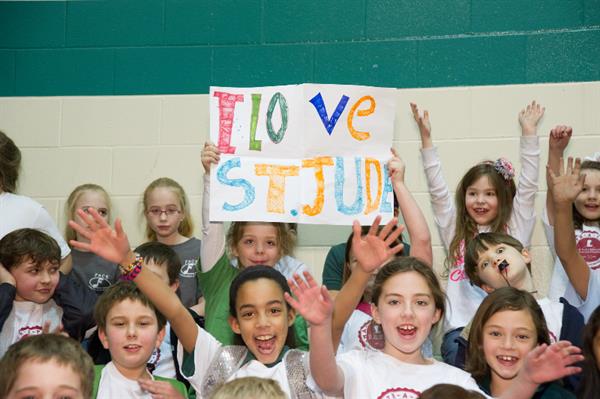 The Stanwich School in Greenwich, Connecticut, has been participating in Math-A-Thon for nine years. Students have raised more than $300,000 in that time. The first year they participated, they raised over $11,000. This year they raised $21,470! They are extremely proud of their accomplishments. Meaghan Mallin, Associate Head of School, said, "Our students have a wonderful time participating in the Math-A-Thon. Talk about a win-win situation: generating donations for such a wonderful charity, empowering our children with the knowledge they can make a difference, and getting our kids to do additional math problems."
The St. Jude Math-A-Thon demonstrates how giving is more rewarding than receiving. St. Jude freely shares the breakthroughs it makes, and every child saved means doctors and scientists worldwide can use that knowledge to save thousands more children. At St. Jude, families never receive a bill for treatment, travel, housing or food—because all a family should worry about is helping their child live. Funds raised by students in the St. Jude Math-A-Thon are vital to the mission of St. Jude: Finding Cures. Saving Children.


How did Math-A-Thon get started? It began as a grassroots program. In its first year, $94,000 was raised. Thousands of schools have participated since, contributing over $450 million to the children of St. Jude! Your students already have to do math every day. Why not have them make a difference while they are doing it?
When you get involved with Math-A-Thon, you will receive:
Coordinator event planning guide.
Event posters.
DVD about St. Jude to share with your students.
Sponsor form envelopes.
Student and school prize information.
Funbooks for all participants.
Sign up for the St. Jude Math-A-Thon to get started!
Erin Bittman is a designer turned teacher. Check out her blog, E Is for Explore!