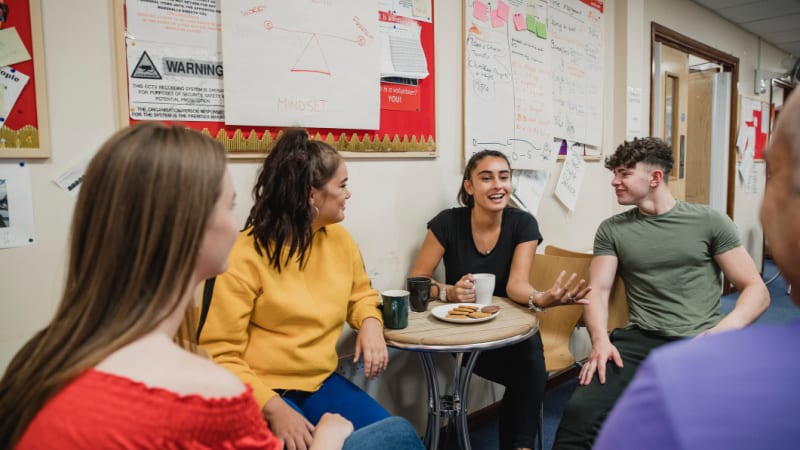 Brought to you by The Allstate Foundation
The Allstate Foundation champions SEL and service-learning programs to ensure youth reach their full potential and have the power to build the just, equitable and healthy world we all deserve. Learn more >>
The good news? More than 70 percent of teachers and parents support social and emotional skills as foundational to a student's success. The not-so-good news? Only 25 percent of teachers report schools implementing SEL in a systemic way. We've got a long way to go to make SEL an everyday reality in the American school curriculum.
We know from research that SEL skills like resilience, empathy, and teamwork give young people the tools to successfully engage in a rapidly changing world, at school, at home, and in the workplace. Service-learning situations where students learn educational standards through tackling real-life problems in their community can make a concrete connection for kids as well. In short, SEL gives young people the tools they need to engage with the world; and service learning gives them the opportunity to make that world a better place.
There's an important role SEL can play in school, but it's not there yet
Ninety-nine percent of parents, according to Ready to Engage: Perspectives of Teachers and Parents on Social and Emotional Learning and Service-Learning in America's Public Schools, a report by Civic with Hart Research Associates made possible by The Allstate Foundation, say they believe that developing good character and integrity and finding happiness are more important than finding a career or attending college. Among the 800 parents and 800 teachers of middle and high school students polled, the majority say they support schools developing students' social and emotional skills just as much as their academic ones. The SEL movement goes back quite a ways, so why aren't we further along at this point? Here are some of the reasons why SEL isn't happening as it should be in schools, and what can be done:
Why isn't SEL further along despite it being valued?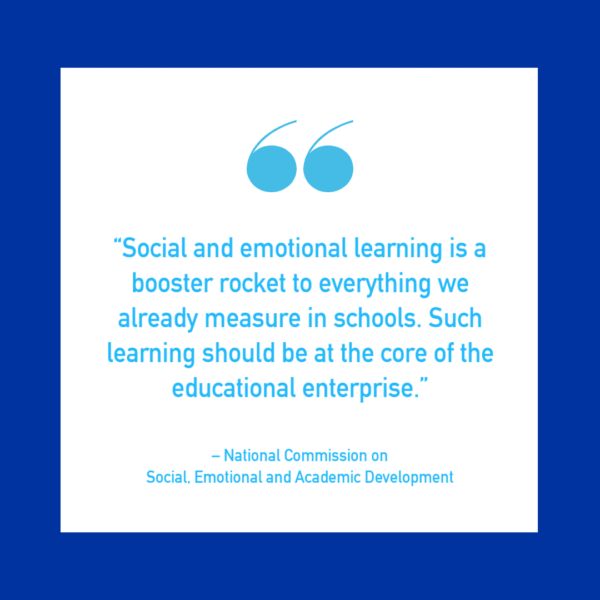 In 2019, the National Commission on Social, Emotional, and Academic Development at the Aspen Institute (National SEAD Commission), which convened cross-sector experts, produced the consensus report, From a Nation at Risk to a Nation at Hope. "Social and emotional learning is a booster rocket to everything we already measure in schools. Such learning should be at the core of the educational enterprise." But, SEL programs are hard to implement for lots of reasons. Schools lack SEL leadership, management, funding, and professional development. One leading issue is viewing SEL as a stand-alone program that isn't integrated into the school day. Teachers have so many requirements that adding SEL seems daunting, regardless of its importance. Currently, 75 percent of teachers wish there was more of a systemic and ongoing SEL program happening in their school. These teachers are open to finding a new way.
The benefits of service learning make it worth the effort
The research shows that teachers and parents believe schools can prepare students to be successful community members. Service learning can be a means to practice SEL skills more consistently. Schools empower and equip students to solve problems together when we give them service-learning opportunities to apply what they learn in school. In fact 86 percent of teachers said that they'd like to offer more service-learning opportunities.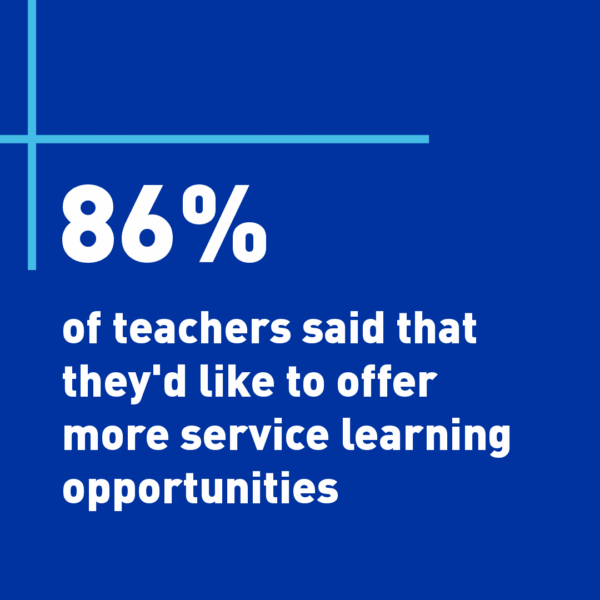 One teacher explained that "students gain a sense of agency and confidence in themselves when they can participate in doing something to benefit others." You won't get any pushback from parents on this front. A parent surveyed said that "SEL develops the whole person—not just the academic part of life."
Seeing an impact of SEL and service-learning
SEL and service learning have become even more important because of the pandemic. One high school teacher surveyed noted that "Service learning is the groundwork that begins to allow this country to heal." It's hard to see the impact of SEL and service-learning when schools don't have schoolwide, systemic programs. An occasional assembly, community service day, or guest speaker is better than nothing, but it's not enough.
We can't leave SEL and service learning to teachers to "just figure out"
Implementation of SEL or service learning tends to end up as a teacher's responsibility. Turns out 80 percent of teachers in urban schools reported no formalized service-learning program. This is difficult considering that teachers often have to choose between teaching standards or teaching students social and emotional skills. In addition, teachers don't always have access to training or funds for SEL and service-learning programs.
Here's how to make changes that put service learning and SEL at the forefront of education, according to this new research
Prioritize the whole child in school from emotional wellbeing through academic success.
Expand access to service-learning opportunities.
Develop more professional learning experiences for staff and SEL school leaders.
Support more integrated SEL and service learning backed by funding.
Experts share how schools are putting service learning and SEL first
Justina Schlund, CASEL's Senior Director of Content and Field Work, shares the following. "Our partner districts have woven SEL into every aspect of their work, from academic instruction and opportunities for youth voice and leadership to how staff at all levels engage with each other during meetings and interact with families and communities. They've aligned discipline policies and student support systems to SEL goals, and used data practices to reflect on how relationships and learning environments can support students' social and emotional strengths."
Maddy Wegner, National Youth Leadership Council, shares how one school incorporates service learning into class requirements. "When schools have service-learning driven curriculum, students are able to apply their academic skills to current community needs. For example, the students of Harry Hurst Middle School who fulfill their requirements through service-learning involvement are called Wetlands Watchers."
Some practical ways to integrate SEL throughout the school day include:
To learn more about SEL and service learning with your students, check out these resources.