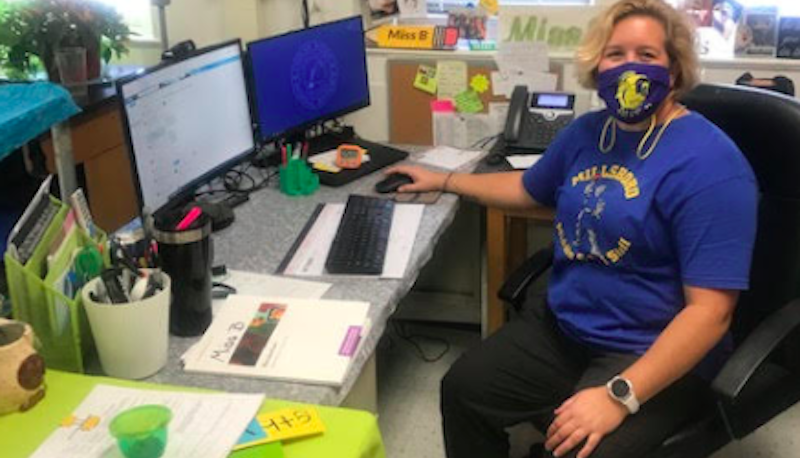 The challenge is cool, the funding is generous—and the first round of the Samsung Solve for Tomorrow Contest is easy-peasy. If you teach public school grades 6–12 and are interested in community involvement, check it out.
When middle school science teacher Sarah Betlejewski first entered the Samsung Solve for Tomorrow Contest, she had no idea what she was doing. Her students didn't have STEM experience, and their project idea was pretty basic. They needed a lot of direction, but she decided to go for it. The contest was a great opportunity for her class to tackle a real-world problem together. She never imagined that they would win. But they did!
Samsung Solve for Tomorrow gets kids excited about STEM.
This was only the beginning for Sarah and her class. She created a STEM after-school program, and kids are eager to sign up. They have started taking it upon themselves to learn new technology and skills to help the group. "They know way more than I do," Sarah said. "I truly act as a facilitator for the program now. I have seen students grow so much, both in skills and character, during our collaborative work." This is the seventh year that Sarah and her students will participate in the contest. 
Samsung PD gave her support for virtual teaching.
Sarah also didn't expect that her contest experience would prepare her for teaching virtually. This summer she went to Samsung Teacher Academy over Zoom, where she learned all kinds of online activities she uses with her students, like STEM challenges and digital scavenger hunts. She also learned about tools like Google Jamboards and Pear Deck that have helped her make virtual teaching more interactive and engaging for her students.
Sarah's stayed in touch with other teachers from the summer PD. They've been reaching out to one another and sharing what's working for them. "The experience gave me a better feeling of calm for this year," she said. "I know I am not alone in this new venture, and I know I have a connection to a large group of dedicated teachers who are always willing to help if I put a question out there."

If you are feeling nervous about taking on a contest like this with your students, don't worry. When you apply for the contest (all you have to do is submit a STEM idea that will solve a problem), you get 6 free hours of the same PD that Sarah found so helpful. Another reason virtual teaching has gone better than she thought is because she won the technology she needed to make it work.
Samsung technology makes virtual teaching easier.
Last year Sarah's class won $15,000 in technology and classroom materials. At the time, she didn't know how much of a difference these devices would make. Fast-forward to teaching in 2020, and Sarah is using Samsung Chromebooks during hybrid learning.
"We use them as a second teacher Zoom access point since most of our instructional laptops are in the back of the room. They allow us to access the Zoom chat to communicate with remote students. Without them, teachers wouldn't have access to the Zoom chat," Sarah explained.

Students are borrowing technology that she bought as part of her prize package. A student is using the class 3-D printer and has learned to design and print. Another student has an Arduino set, and she is learning how to build and program the computer. Because of Samsung, students are able to take on projects they are excited about and learn new things.
This year your class has a chance to win your share of $2 million in classroom technology from Samsung. You can use your winnings to purchase tools like Sarah did, which can make teaching virtually so much easier. Because of Sarah's experience with Samsung Solve for Tomorrow, she feels ready to tackle teaching in 2020. Here are some of her tips for how to make virtual teaching manageable.
Sarah's Virtual Teaching Tips
1. Collaborate with other teachers when you can. Divide and conquer to help keep the workload manageable and to help alleviate stress.
2. Do not think you have to do all the new programs that are out there. Pick one or two and learn how to effectively incorporate them into your instruction.
3. Self-care is as important as your lesson plan. You cannot be a good teacher if you are stressed and struggling to keep it together throughout the day. Take time for you!
Excited about Samsung Solve for Tomorrow? Click below to find out how you and your class can apply for this year's contest.