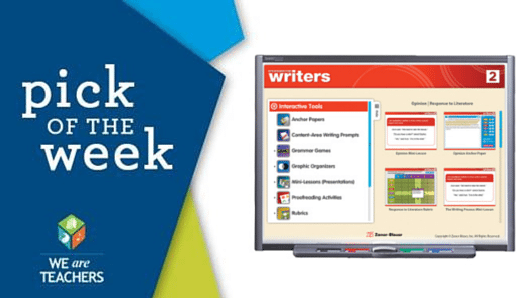 When you're teaching writing, sometimes only pencil and paper will do. Other times it makes sense for kids to practice their skills using all of the incredible tools of the 21st century, such as tablets, laptops and a trusted Internet connection. If you're looking to give your writers workshop a high-tech boost and have an interactive whiteboard, definitely check out the new digital resources available from Zaner-Bloser'sStrategies for Writers.
Strategies for Writers Digital Resources
Why we love it: Just like the printed Strategies for Writers materials, the new digital resources celebrate the magic and fun of writing class. These are the kinds of lessons and activities you would plan yourself—if only you had more time—in convenient, drop-and-go format. Students will hone their writing in a variety of grade-specific genres that fall under narrative, informative/explanatory, opinion and argument writing. There are hundreds of K–8 grade-level interactive whiteboard resources, including effective and engaging games, writing prompts, rubrics and more. Best of all? You can get full access to resources for your grade level for only $24.99.
Get your Saturdays back: You won't need to spend hours making hand-drawn anchor charts with all of the ready-to-go resources included, such as grade-level mentor texts you can project onto your interactive whiteboard and graphic organizers that allow kids to drag-and-drop words and ideas.
Writing on TV: The product pack also includes short, engaging videos for your grade level that introduce key concepts such as the steps of the writing process. These are great for jump-starting your writers workshop or getting students thinking about an important idea.
Bottom line: We dig Zaner-Bloser's digital resources because they're flexible, interactive and open-ended—a suite of tools that supports your teaching rather than prescribing it.
Plus, tell your principal: A study of more than 700 students over the course of one year revealed that students using the full Strategies for Writers curriculum made significantly higher gains in writing proficiency than control groups using other writing programs.
Find it: Zaner-Bloser
Connect with Zaner-Bloser on Facebook, Twitter, Pinterest and YouTube.