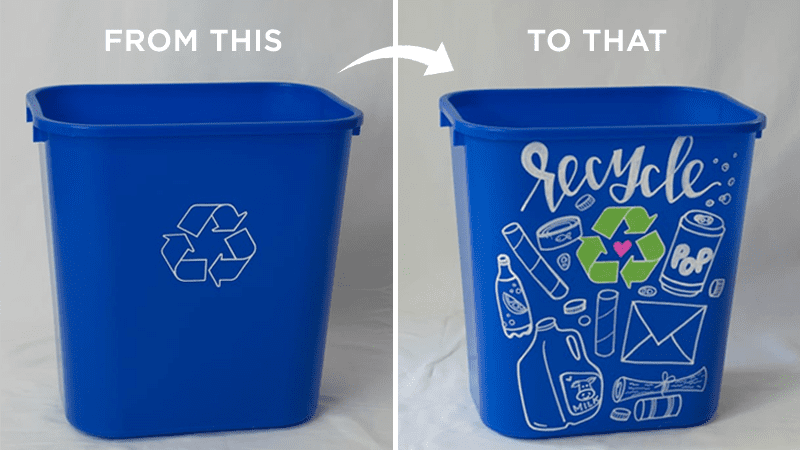 Brought to you by PepsiCo Recycle Rally
Recycle Rally is a free nationwide program that directly benefits K–12 schools and students by providing valuable incentives and resources to help make recycling easy, fun and rewarding.
Teachers are so creative and innovative. They seem to have endless ideas when it comes to decorating their classrooms and turning ordinary, everyday objects into extraordinary art pieces.
That's why we decided to challenge a few teachers with this recycling bin makeover. Our goal was to make the recycling bins fun and engaging as a way to encourage students to recycle more. We had four teachers take on this challenge, and we gave them two different bins to conquer. They really impressed us with their ideas, which ranged from simple paint jobs to creatively repurposing materials. We hope this recycling bin makeover challenge inspires you—and your students—to have fun with the recycling bin in your classroom!
Challenge 1: The Standard Recycling Bin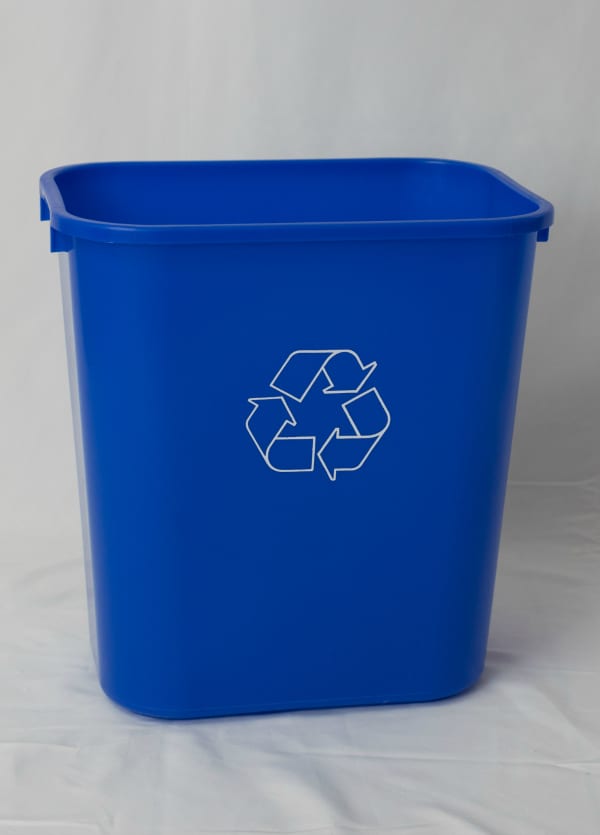 You know this bin. You probably even have one in your classroom. This is your typical blue recycling bin that kids know and recognize. Here are some ideas for giving it a new look. 
Create a piece of art with paint pens.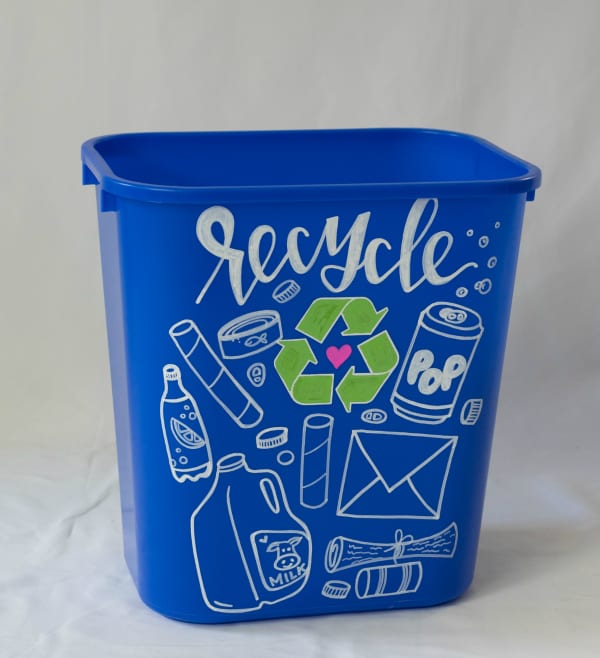 "I wanted to create simple illustrations demonstrating items that can be recycled. Since many of our students are visual learners, this makes it clear which items belong inside the bin. I hand-lettered the word "recycle" to distinguish that the bin is not for trash. I also used color markers to fill in the recycling symbol and heart symbol." —Chelsey Odgers
Repurpose bottles into flower art.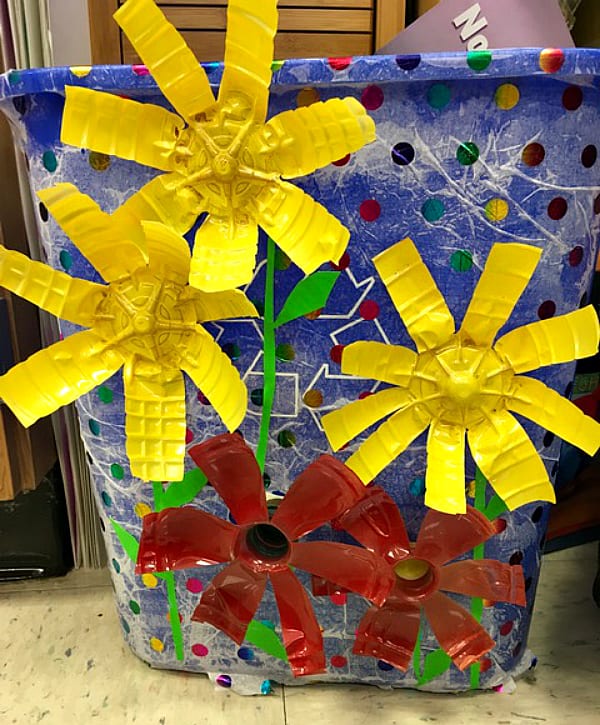 "I used Mod Podge to attach polka dot tissue paper to give the bin some added color and design. Then I went to the recycling bin to see what I could find to repurpose. I found plastic bottles and decided to make flowers with the tops and bottoms. Once I cut them apart, I spray-painted them and attached them with hot glue. The green stems are florescent masking tape." —Kecia Garcia
Create under-the-sea themed art.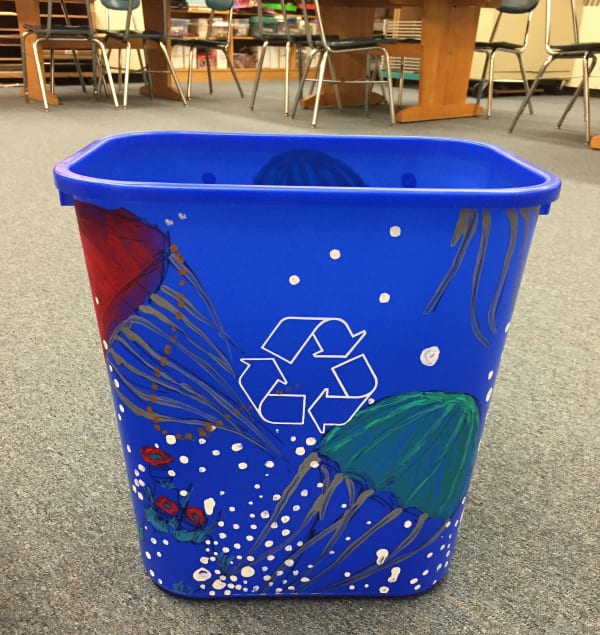 "This recycling bin got a new look by just using paint. You can use markers or paint pens to highlight details of the design. My students love the ocean, so these jellyfish are perfectly at home on the recycling bin." —Jake Sullivan
Turn bottle caps into a mosaic.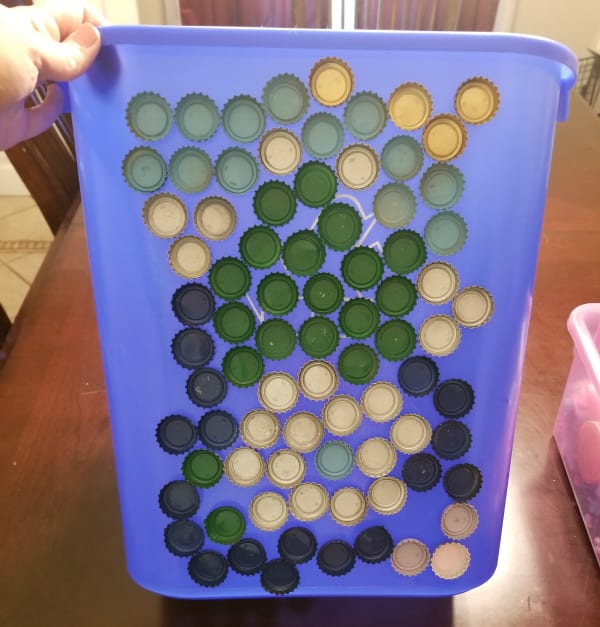 "My daughter actually gave me the idea to use bottle caps on the bin. She thought it would be a fun way to reuse a material that we already have access to. We tried to imagine what new shape we could create with the caps, and she came up with the idea to use colors of a sea turtle. We had some bottle caps, but then we asked a local business for more. We glued them to the bin, and I know my students are going to love it." —Cheryl Meany
Challenge 2: The Not-So-Standard Recycling Bin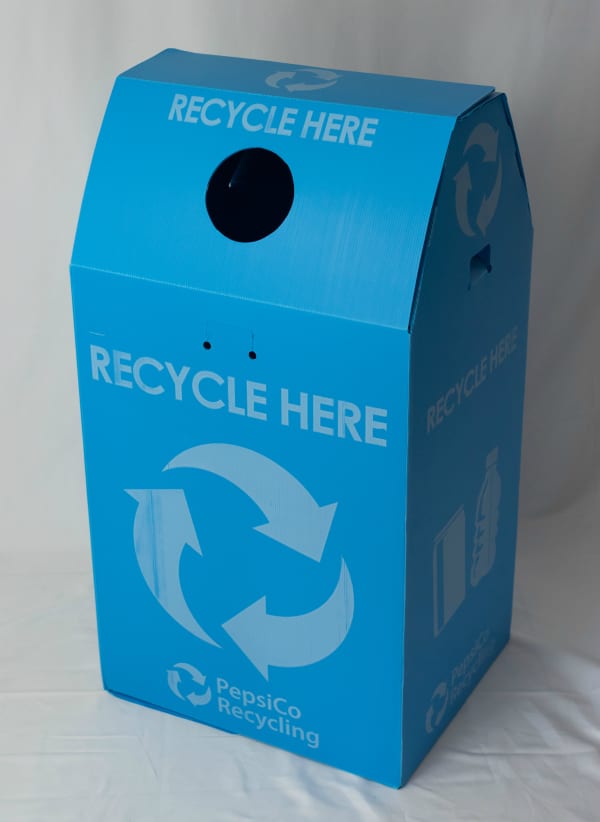 This is actually a corrugated cardboard bin from the PepsiCo Recycling Recycle Rally program. It has a pop-up cardboard design, and it's easy to move around. You could create something similar with a cardboard box. Here are some ideas for giving it a new look. 
Make a house from scraps.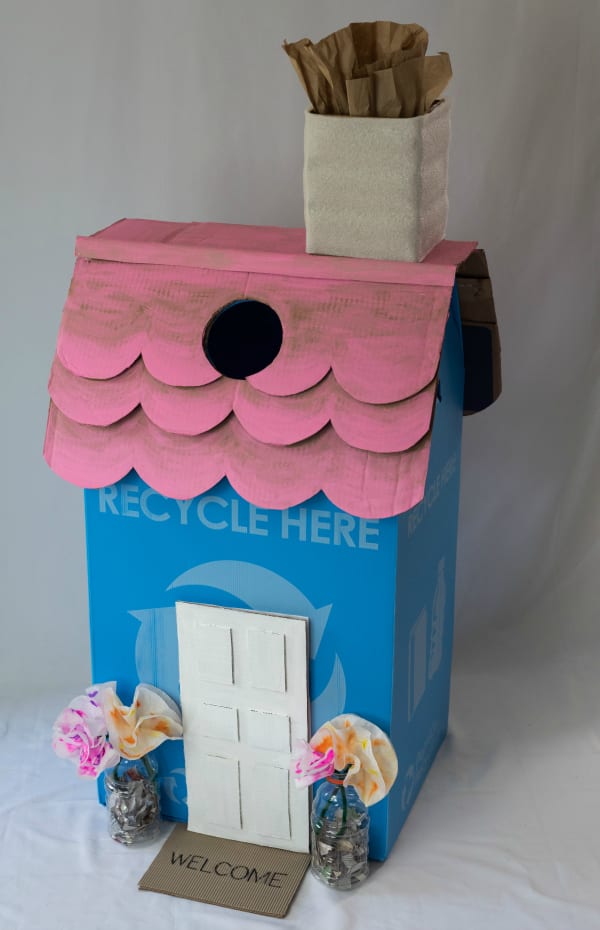 "I gathered up cardboard, Styrofoam, plastic bottles, coffee filters, and newspaper to repurpose to create this house. My house includes a roof, chimney, door, flower pots, and a welcome mat. Students can interact with the house by opening the door." —Chelsey Odgers
Cover it with newspaper.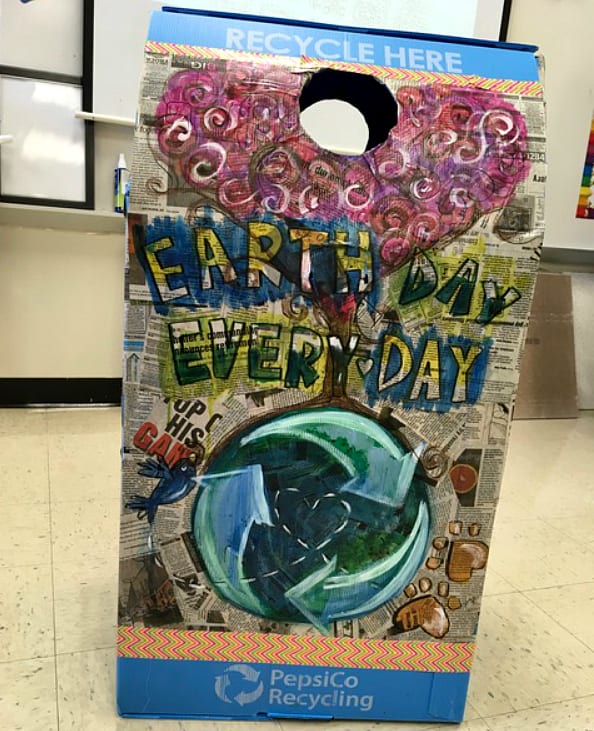 "I covered the entire bin with newspaper, using Mod Podge. This immediately gave the bin a fun, recycled look. Then I created a border with colorful masking tape, both on the top and bottom. After that, I painted an Earth with watercolors along with a heart path and some tiger paws, which is our school's mascot. Finally, I added the words "Earth Day Every Day" by creating a stencil and painting over them, exposing the cool texture of the newspaper." —Kecia Garcia
Add doodle art.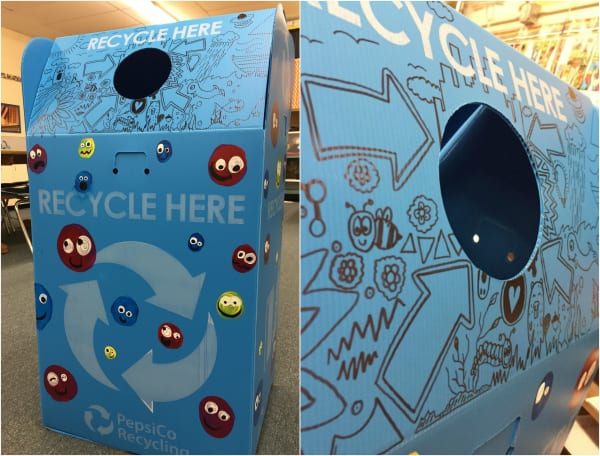 "You can do a lot through doodling. This recycling bin is so bright and colorful already, so I just added some smiley faces along the bottom. Then I added arrows and doodles to the top, using marker." —Jake Sullivan
Use paper and washi tape to create a new look.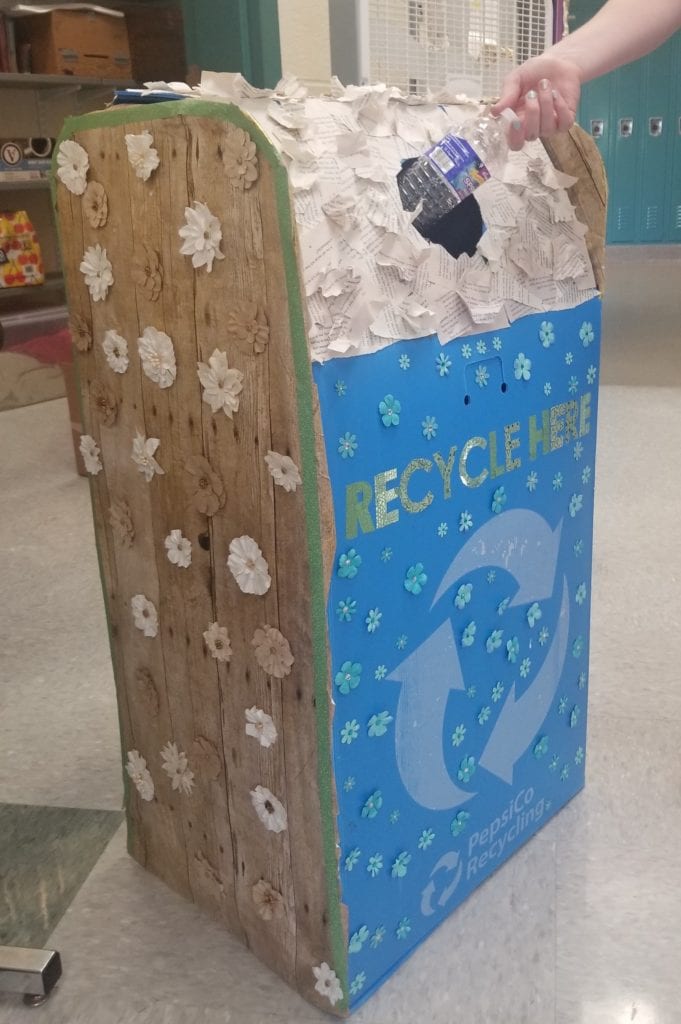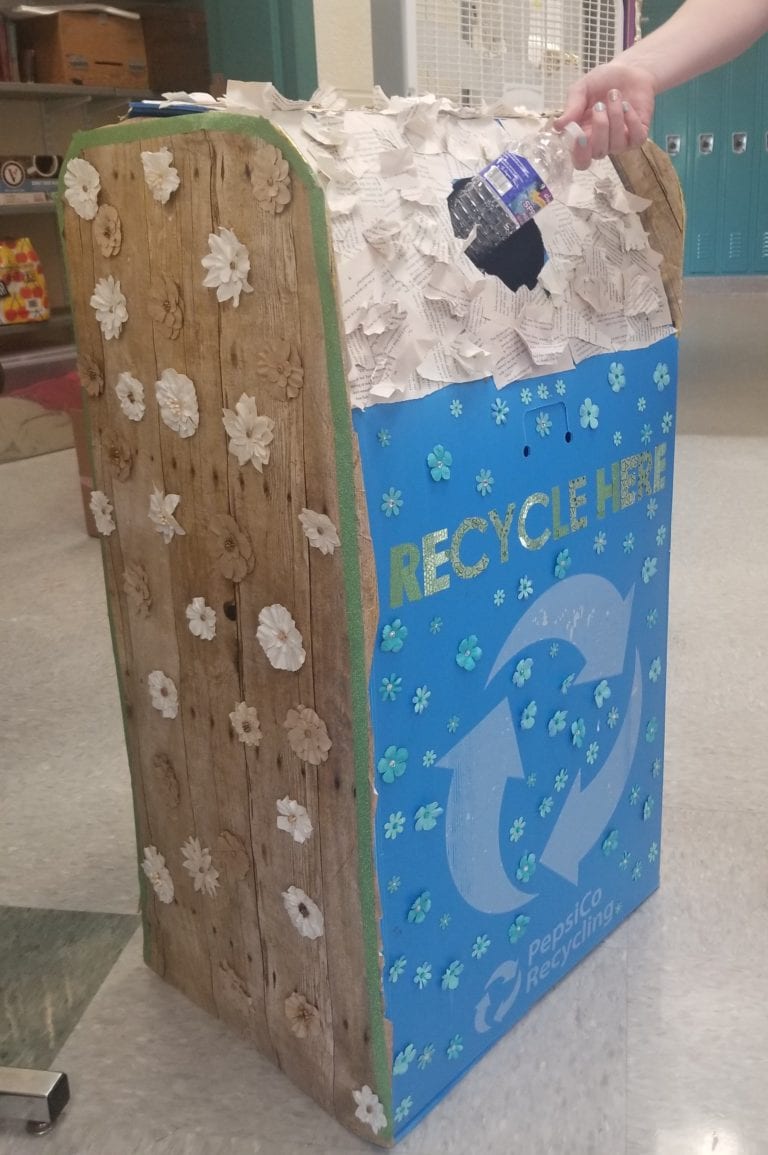 "I'm an English teacher, so I wanted to create a literature-inspired bin. We upcycled pages from an old book for the top, and we plan to add to it throughout the year. Then we used washi tape to add more dimension and color to the RECYCLE HERE sign, along with paper on the sides. Paper flowers gave us the finishing touches. My students loved getting involved and take pride in using the bin now. It was a great way to show the value of little changes and how everyone can help to make the world a little bit better." —Cheryl Meany
Get more creative ideas for integrating recycling into your classroom and curriculum at the Recycle Rally website.