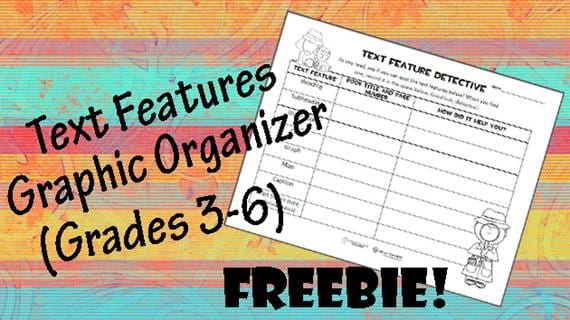 Most children go through a phase where they want to be a detective. Movies and books paint quite the picture of detectives going on the craziest of adventures and solving the trickiest of mysteries. Nobody needs to convince kids that detectives are just cool.
But text features? Yeah, kids need major persuading that text features are cool. How about this idea! Let students assume the role of something inherently cool (detectives) while working with something inherently "less cool" (text features)! As teachers, you've gotta harness the energy kids already have about something and channel it towards learning!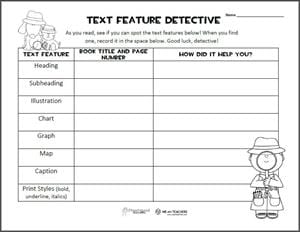 This week's free printable is a graphic organizer that helps kids record their encounters with and reactions towards text features they find in their reading. They'll be "hunting for" those hidden text features, and recording them in their "detective's log." (Use as many shameless references to detective work as you can while describing this activity to your class!) This page will be most appropriate for 3rd – 6th grade students.
Download the full-size printable: Text Feature Detective Graphic Organizer [PDF]
Squarehead Teachers has taught a variety of grades ranging from kindergarten to higher education in the United States and abroad. She enjoys SCUBA diving, bright colors and cookies. She likes to share teaching ideas and free teacher materials on her blog, Squarehead Teachers. You can also catch her on Facebook, Pinterest and Twitter @SquareheadTeach.