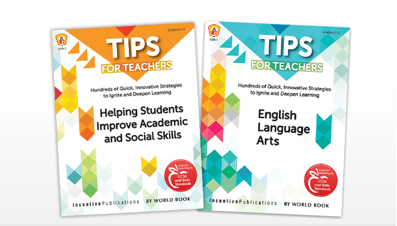 Brought to you by Pick Of The Week
Read about why we love the new Tips For Teachers Series by World Book in our Pick Of The Week.
More
As a child, I used to keep a few encyclopedia volumes on my nightstand for bedtime reading. (Don't pretend you didn't too—I've talked to a lot of teachers who share this little secret!) Our family had a full set of The World Book Encyclopedia and it was my best friend. The "M" volume was one of my favorites because it was the thickest. That's one of the reasons I was instantly drawn to a new series of teaching guides from World Book called Tips for Teachers. My encyclopedia was chock-full of useful information, and these two teaching resources are no different.
The two guides, Helping Students Improve Academic and Social Skills and English Language Arts, are each $16.99. Here are five reasons why I love this series:
1. They're full of useful planning sheets that you can put to use immediately.
These books have activities you can do with your kids tomorrow. Check out this graphic organizer that makes it easy for your students to quickly put together a well-organized writing piece. Not only does the chapter include the graphic organizer, it also includes 95 different writing and speaking prompts from four different categories that you can use with your students.
2. The Tips for Teachers series helps us teach kids how to actively learn.
This isn't just a book full of activities that you can do with your students. (We've all got shelves and Pinterest boards full of those!) It's more than that. Each delves into how and why you can teach kids most effectively, and then it gives you the tools to do just that. The first chapter in Helping Students Improve Academic and Social Skills gives an overview of memory and learning. Then the book follows up with a specific in-class exercise that can be used in any subject area to help students move the information that they learned during a specific class period into their long-term memory. ​
3. The series offers practical lesson ideas.
One of my favorite pages is one that walks students through evaluating websites. Gone are the days when kids could reach for sources and trust that they were accurate. While kids can still get accurate information from ever-reliable World Book, they are also getting their information from random websites that may or may not contain truthful information. This page takes kids through a step-by-step process that helps them evaluate the trustworthiness of a particular site.
​
4. The activities aren't just basic, rote worksheets.
Whether it's teaching kids how to use technology or using technology with kids, these books think outside of the traditional box. We love the chapter in the English Language Arts book on using podcasts with kids. More and more teachers are incorporating podcasting into their lesson plans, and this chapter tells you everything you need to know to create them for your kids, or better yet, have your kids create them for one another!
5. The content aligns with the Common Core.
It's hard to justify teaching anything that's not Common Core–aligned these days. Both books include an easy-to-use chart that lets you track which objectives you're meeting as you teach different lessons. Who doesn't love something that makes the paperwork you're required to do to track your teaching a little easier?
Want to learn more? Look for the Tips for Teachers Series and other great resources on World Book's website.
​Bonus! For a limited time, World Book is offering a 35% discount on the Tips for Teachers Series. No coupon is necessary.
---