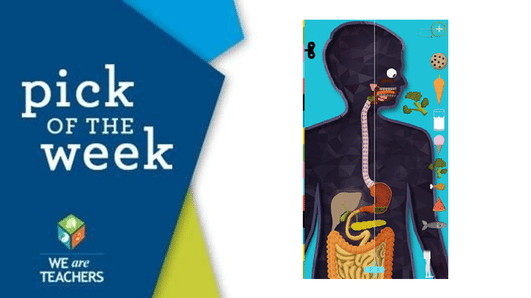 Have you ever wanted to be Miss Frizzle and take your class on a Magic School Bus exploration of the human body? This iPad human body app comes close.
The Human Body App by Tinybop
Why we love it: Remember those eerie plastic human-body models used in health class anatomy lessons? This iPad app finally achieves what they attempted to convey: how our bodies really work. Through interactive animation, students can explore how the skeletal, muscular, nervous, circulatory, respiratory and digestive systems work.
Conceptual cool: The app allows students to virtually stimulate and interface with the human body. They can shine flashlights into eyes to learn about sight, have bees sting the skin to explore sensation, put air into lungs to understand breathing, and feed the body to examine digestion (and even regurgitation after overeating—sure to be a hit.)
Uses the total tablet: The app utilizes many of the iPad's features for immersive effects, such as the camera to illustrate vision and the microphone to demonstrate hearing. Device orientation mimics the effect of gravity on the body.
Helpful handbook: The app is accompanied by an online handbook that is a great printable to guide students through the various aspects of the app and bodily systems. Teachers can also make great use of the provided discussion and study questions at the end of each bodily system section.
Rated G: If you would like to teach anatomy without venturing into the areas below the belt, you are in luck. The urogenital system is available as a completely optional in-app purchase from the parent/teacher dashboard.
Find it: iTunes
What is your favorite classroom app? Leave your suggestions in the comments and we just may feature it as a Pick of the Week!