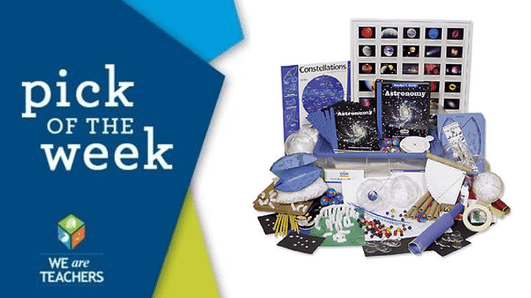 The Delta Science Modules Astronomy Kit, our editors' latest Pick of the Week, provides middle schoolers with the chance to venture into space … right from the classroom.
Delta Science Modules Middle School Astronomy Kit


Why we love it: The kit takes kids beyond the planet mobile through the use of SkyCaps—sophisticated three-dimensional models that reproduce constellation patterns, stellar distances and planetary sizes. Real images from the Hubble Telescope and space shuttle training programs are used as primary sources. Twelve distinct SkyCap models and corresponding celestial lessons are included.


Cool factor: Through hands-on learning, enigmatic and fascinating space is brought into middle school students' understanding. Kids will find the truth even more exciting than sci-fi!


3 ideas to try in the classroom:
​
Construct models of the Earth and sky with your class to explain just how the Earth's rotation causes sunrise and sunset each day.
Invite students to build their own instruments to navigate (theoretical) space travel.
Try a game of charades in which students act out the meanings of astrophysical concepts such as orbit, axis and gravity.

Best for: Middle school students, grades 6–8.

Find at: Delta Education.com

Do you have a recommendation for a WeAreTeachers Pick of the Week? Tell us in the comments and we may feature your rec!