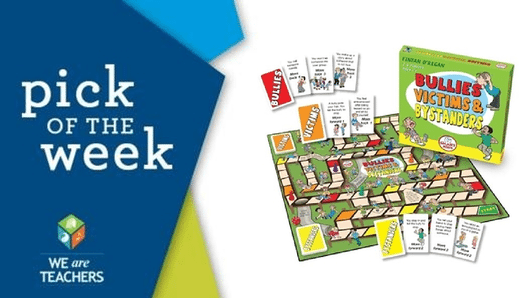 If you've ever dealt with bullying in your classroom or school, you know how destructive it can be and how important it is to teach compassion and understanding to your students. A new board game can help you with your anti-bullying efforts and encourage kindness and community in your classroom.
Bullies, Victims & Bystanders Game
Why we love it: This Chutes and Ladders–like game effectively and creatively illustrates both positive and negative social behaviors for students ages 7 through 10. Bullies, Victims & Bystanders defines what bullying is and portrays which actions are harmful and hurtful to others. It also shows students how to properly stand up for themselves when bullied, as well as the damage done by remaining a bystander rather than getting involved.
A way to mediate: Bullying incidents are often nuanced and complicated to resolve among students. You may find that inviting students involved in a bullying situation to play the game together fosters community and discussion and helps to heal the past.
Keeping emotions in check: Self-regulating emotional tools are taught to students throughout the game, in addition to guidelines for playing well with others. Some of the healthy suggestions include deep breathing when angered and learning how to properly internalize bullying.
Ideas to try in the classroom:
Use the 54 game cards to spark classroom discussions about bullying. Invite students to explain why they believe the positive and negative behaviors described on each card are worth their one to four points, and how they would feel in that situation.
Place the cards in a hat and have pairs of students role-play the bullying situation described. You can assign the students' roles or allow the students to collaborate and determine whether they will portray the bully or the person being bullied.
After students have played the board game by the traditional rules, have them journal or write an essay about an incident in which they experienced or observed bullying.
Deal alert: Quill is offering a special price of $24.99 for WeAreTeachers readers. Normal price is $31.99.
Buy it: Quill.com
Plus, find other discounted resources and supplies for your classroom at Quill's handy site for teachers.
What is the best advice you can give fellow teachers about dealing with bullying among students? Share in the comments!