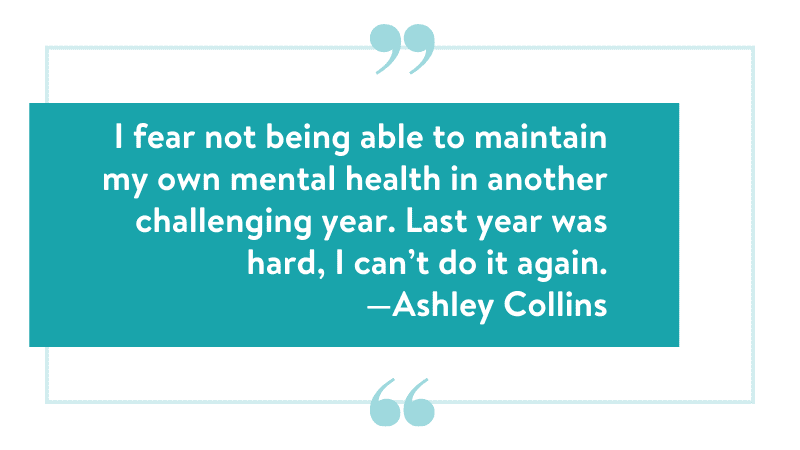 In March, toward the end of the 2019-2020 year, schools were forced to close due to the pandemic. We were hopeful that things would calm down over the summer, but then the 2020-2021 year started with schools closed in most areas. In the months that followed, we went through a roller coaster of openings and closures, masking and social distancing guidelines, and never-ending quarantines.
We endured it all while clinging to the hope that things would be brighter for the 2021-2022 school year. Yet, here we are, facing more uncertainty. Worst of all, we're not navigating the same choppy waters. Some states have mask mandates, while others have banned them. Some districts are closely following the delta variant, while others are ignoring it. We are now officially entering pandemic teaching year three for schools.
A veteran teacher shares his thoughts
This is veteran teacher Larry Ferlazzo's 18th year in the classroom. It's also his third year of teaching during a pandemic. In a recent article, he shared his greatest fears about the months that lay ahead. He based his concerns on what he's learned from media reports, conversations with fellow teachers across the country, and his own local experiences.
In a nutshell, Ferlazzo is worried about:
The mental health of students and the lack of resources to support them.
The physical and economic health of students. When will younger kids become eligible for the vaccine? Will their families face eviction?
A failure to provide high-quality remote learning options for students who need it.
Poor decision-making among district leaders who believe they are the "smartest people in the room."
Teachers struggling to find ways to connect and effectively teach students who all have devices in the classroom.
How the attack on teaching about systemic racism could result in teachers continuing to avoid the issue in their classrooms.
Outreach efforts to connect with students who disappeared from class rosters during the last school year.
We polled our own community of teachers to see how everyone is feeling right now entering pandemic teaching year three. Here are some of the concerns they voiced:
They fear the virus
"1. Kids getting sick. 2. Break-through illnesses (variants bypassing vaccine). 3. NOT shutting down due to political pressure, even if our numbers are back to where they were. 4. Demand of teachers to "do it all." —Kimberly Allard
"The fact that people won't get vaccinated, wear masks, that there is no way to social distance in a classroom of 25… the number of people who are ignoring how their decisions are affecting others." —Megan Benton
"Students getting sick. A return to virtual teaching if people continue to be selfish. I was really pretty fine with virtual teaching for a long time. I was happy to learn new technology! But by the end of the year, I was so done, I can't imagine how folks who weren't happy with it from the beginning survived." —JoJo Mahreeno
They fear for their own health
"Exhaustion." —Jean Vadeboncoeur
"Not enough recovery time when school starts." —Crystal Kennedich
"Not being able to maintain my own mental health in another challenging year. Last year was hard, I can't do it again." —Ashley Collins
"Getting Covid, having it attack my only kidney and ending up on dialysis." —Tracy Lynn
They fear school shutdowns and virtual learning
"Having to shut down again and kids continue to lose academic and social skills. We've been back a week and it's very clear that this past year and half has had a huge impact on academic and social skills. These kids should be 7th graders but are academically and socially 5th graders." —Jamie Lea Shepard Anglen.
"Zoom lessons with no enforcement of cameras on." —Karen Ausdenmoore Grumski
They fear for the education of their students
"1) Having to go back to concurrent. 2) Having another year with no real labs due to safety concerns. 😭 3) Needing to worry about teacher evaluations in the midst of all this." —Christina Gritton Kizelewicz
"In addition to personal health and safety, I pray to God we don't have to simultaneously teach kids in the room and kids on zoom. It was especially bad when we did go back to school full-time but there was a remote option, and kids would come and go from remote learning, sometimes just because they felt like it, not because they were full remote or because they had to quarantine." —Kendra Norman
They fear judgment
"I fear everyone's opinions…." —Nicia Cook
They fear for their family
"My little is on oxygen (3 months old). He'll start daycare and I start a new job teaching MH grades 3-5. My current biggest fear is bringing home ANY respiratory illness and the fact that it's a new grade level and new school and MH doesn't come with a curriculum." —Robin Gardner
"Missing out on time with my kids due to work and the possibility that any of us could get exposed and quarantined without pay." —Ruthie Baumann Vega
They fear mask mandates
"That we may have to mask all year 😥" —Barbara Ballard Flouton
And most of all, they fear …
"That this lunacy will never ever end." —Stephanie McJunkin
What are you dreading about the upcoming school year and pandemic teaching year three? Share your thoughts with our community.