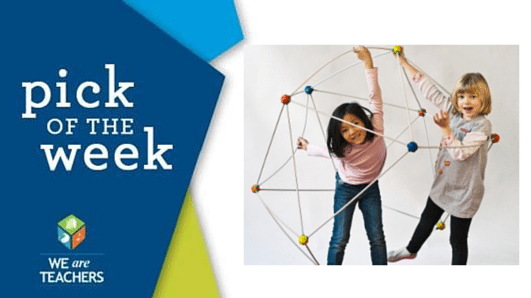 Tinker toys and Lincoln logs are classroom classics, sure. And who doesn't love a good session with the toothpicks and marshmallows? But our Pick of the Week will take your students' constructions, geometric learning and imaginations to new heights!
Why we love it:
This large-scale construction set allows for truly innovative building. Students can create structures that are over their heads literally, but creating them figuratively will assist their understanding of geometry and spatial sense. Unlike most erector kits, Ogobild's connecting pieces are flexible, rubbery balls. The balls allow students' three-dimensional creations to flex, roll-spin and even bounce without breaking apart. A simple sheet atop can also become a fort, tent or class reading nook that quickly dismantles for easy storage.
Team building:
Ogobild requires at least two students to work together to build, which puts into practice the core values of collaboration, cooperation and community that are essential to students' social emotional learning.
3 Ideas to Try
Measure and multiply: Have students break out their rulers and measure the length of the connector tubes. After creating a structure, invite the students to calculate the total length of tubes used.
Linear learning: Give each student Post-its or paper scraps with tape. After making an original structure, ask the students to identify and label the concepts of parallel, perpendicular and intersecting.
Simon says, "Symmetry!":  Provide two students with half of the Ogobild set and ask them to construct a figure using all pieces. Challenge two other students to re-create the structure.
Best for:
Pre-K through primary grades
Yield:
12 connector balls and 30 connector tubes per kit. All Ogobild attachments are interchangeable and can be combined with multiple sets.
Find it:
What is your favorite collaborative construction project for the classroom? Share in the comments!