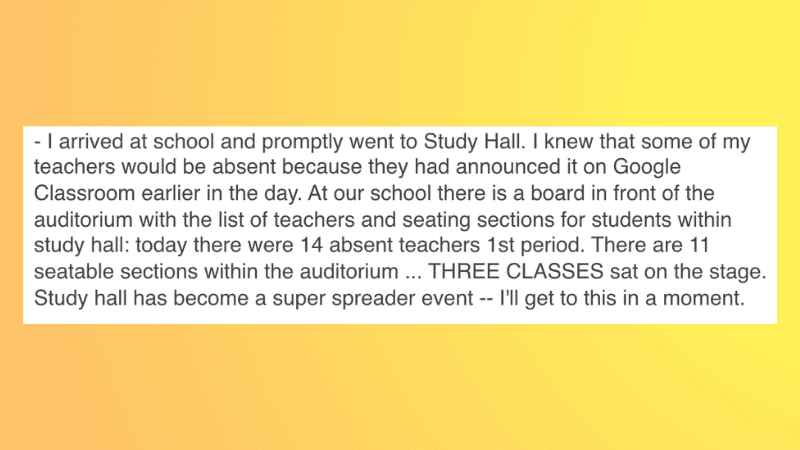 With Omicron tearing through our communities, staff absences and sub shortages at an all-time high, and morale at an all-time low, we know how hard teacher life is right now. Which is why a New York City student's viral Reddit thread resonated so deeply for us.
In the thread, the student describes a recent school day in which they spent most of their time in a crowded study hall (due to teacher absences) and the rest talking and worried about COVID-19 exposures and testing. New York City offers exposed students free tests, and the writer received five in a single day, meaning they were exposed at least five times due to infected classmates. But the reality is that exposure was likely far higher, considering other students were testing positive in front of the writer's face.
I Am a New York City Public High School Student. The Situation is Beyond Control. from nyc
The thread also calls out the discrepancy in "official" COVID numbers versus reality
This is a problem that other WeAreTeachers readers have reported as well—we see that half our class is absent, and yet the district dashboard only reports a handful of active cases in the school. In other states, there is no tracking of COVID-19 numbers in schools at all, despite Omicron's rapid outbreak.
Most teachers will tell you they don't want to go back to remote unless it's absolutely necessary
And yet, is this what school is supposed to look like? Sitting in a gym doing no schoolwork with little to no supervision? Teachers stretched to their absolute limits and trying to cover one another's absences? We know the challenges of remote learning well, but we also know that our students were learning something during those long months.
If we want to keep kids in school, we have some big problems to fix
And that's true even after the worst of Omicron passes (which most experts predict will be in mid-late January). We need to pay teachers more. We need to look at schedules that honor the work-life balance and mental health of teachers and students alike. And we need pretty much everything else on this list, too.
Despite the divisions in our country, can we agree that the day this NYC student describes is not how we want our schools to be? Because we're at a crisis point, and we're not sure how much more we can take.
For more articles like this, be sure to subscribe to our newsletters.