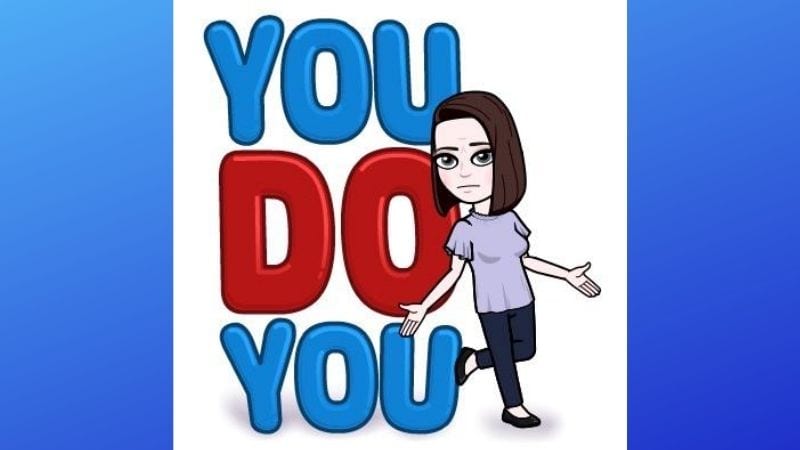 Maybe you're great at both technology and making things cute. If so, awesome! Carry on with your Pinteresting and feel free to post your cute Bitmoji classroom and avatar online so we can all admire it. Your students are lucky to have someone with both your creativity and your technological prowess! You are not the target audience of this post.
I'm talking to everybody else. Maybe, like me, you're older than most of the staff at your school. While your colleagues are doing TikTok challenges, you're trying to figure out how to insert a YouTube video into your Google Slides without crying. Maybe you're pressed for time right now, between looking after the people in your house and preparing to teach from home. Perhaps, even though you know how lucky you are to have a faculty who puts safety first and is allowing you to teach from home, you're struggling just the teensiest bit with your emotions and your stress level right now and you just can't do "cute" at the moment.
I'm with you. I am so, so grateful that I can teach from my house and that, with my husband working from home too, we'll be able to keep our two kids out of school until we feel it's safe to send them back. However, I'm struggling with the technological aspect of it all, as well as with the endless to-do list that comes with completely redesigning my curriculum for a new format with zero resources and extremely limited time.
I'm constantly juggling gratitude and guilt, and I never feel like I'm doing my job well enough.
So I'm not making a Bitmoji classroom. Is it even okay for me to say that out loud, let alone put it in writing? I don't know. I'm not designing a super cute online learning environment. I don't know how TikTok works. I'm not searching for cute backdrops or making my own green screen. Actually, I'm not even doing much with my physical teaching space other than making sure it's relatively laundry-free.
This is not to say I'm not working incredibly hard. I've just decided to invest my limited time elsewhere. For the past three weeks, I've been calling all 100 of my students (very few of whom have English-speaking parents) to introduce myself and make sure they have everything they need to get the year off to a good start. I'm putting together tons of resources. I'm trying to ensure that everything the kids will see is as simple and intuitive and user-friendly as it can possibly be. I've been reading books and articles and doing training modules on how to teach effectively online because I desperately want to do this well.
I'm allocating all my energy toward tools that will enhance learning, not bells and whistles.
I wish I could say I'm doing so unapologetically, but that would be a lie. You don't write defensive blog posts about decisions you're completely comfortable with. And truly, I'm not trying to imply that the teachers who DO have all the cute stuff are frivolous, or that they're focusing on "cute" over actual learning. The tech-savvy teachers I know are doing both, and I admire them for it.
But for some of us, for whom digital learning is not our milieu, all of this is hard. So, from one Luddite to (I hope) some others, it's okay. You don't have to learn all of it at once. Learn how to do the basic stuff now and get really good at it, and then just add a new program or app or platform every now and then, when you feel confident.
It doesn't have to be perfect or cute or trendy. As long as your online classroom has a teacher who is committed to their students' growth and learning, you are doing your job.
So if, like me, you feel guilty about your Bitmojiless online classroom, don't worry. Chances are the teacher across the hall has a great one. Your students won't feel deprived. They'd rather have a teacher who's kept some small reserve of sanity than one who's driven herself crazy curating every facet of their online experience. Take a deep breath and step away from the computer, if only for a few minutes. You don't have to know how to do it all at the very beginning. Although, I'll be honest, I'm a little jealous of the TikTok dances.
Do you say "yes" or "no" to the Bitmoji classroom trend? Come and share in our WeAreTeachers HELPLINE group on Facebook.
Plus, how the pressure of having a cute classroom can get in the way of learning.