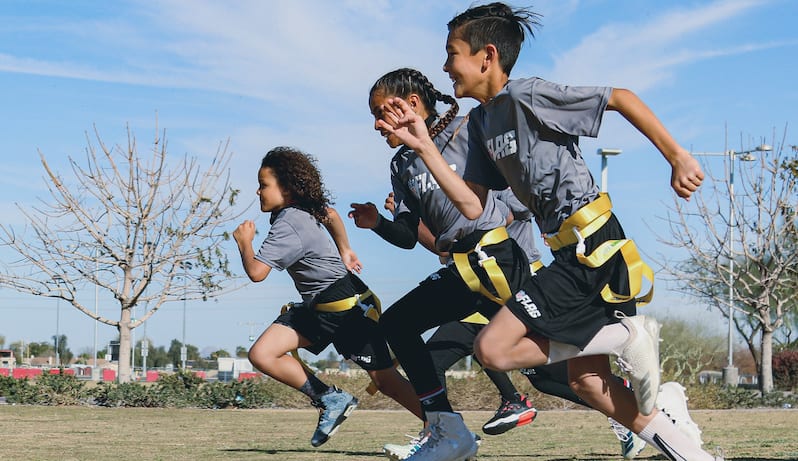 Fuel Up to Play 60 (FUTP 60) is a leading national in-school health and wellness program launched by the National Football League (NFL) and National Dairy Council (NDC). The primary focus is to help schools meet their wellness goals and encourage youth to consume nutrient-rich foods and get 60 minutes of physical activity each day. 
Did you know that a single workout can improve a student's ability to focus on a task for up to two hours? The science speaks for itself: our students are happier and healthier when movement is part of their school day. Whether it's a brain break or an organized team sport, there are so many positive effects on students—improved concentration, weight control, less participation in risky behaviors, just to name a few. We're always looking for fun, new, creative ways to bring movement and play to our schools. That's why we were excited to showcase applications for FREE NFL FLAG-In-Schools (FIS) Kits for schools! These kits are designed for P.E. class, recess, before and after-school programs, and more. Since 2014, over 24,000 FIS kits have helped 13 million students get active. While applications are currently closed, you can get more information and sign up for opportunities and future offers:
What You'll Find In Your NFL Flag-In-Schools Kit
10 age-appropriate footballs.
50 flag belts (2 sets of colors, 25 of each).
An NFL flag poster.
Participation certificates branded with the NFL Shield and all 32 NFL Club teams.
Access to the official and standards-based NFL FIS football curriculum developed by SHAPE America for elementary, middle, and high school, plus 101 Tip for Teaching Nutrition in P.E.
NFL FIS Rules of the Game, a dual language resource in both English and Spanish for students to take home and share with their families.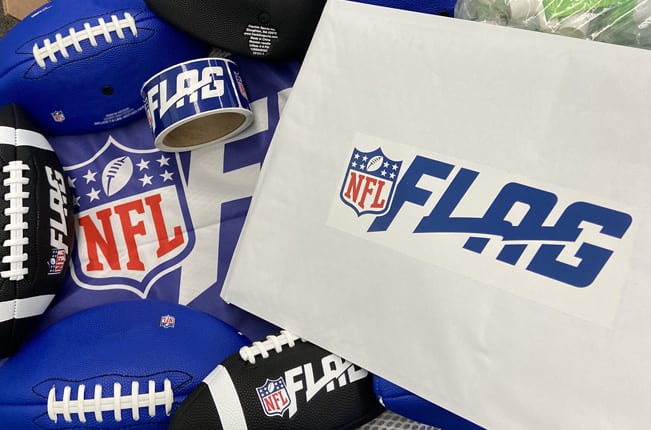 Ideas For How To Use Your Kit
Organize some FLAG games during recess or PE classes. After students have learned the rules and had some time to play games, run a round-robin or bracket tournament.
Host some games with parents vs. students, teachers vs. students, and teachers vs. parents to show how fun this sport can be!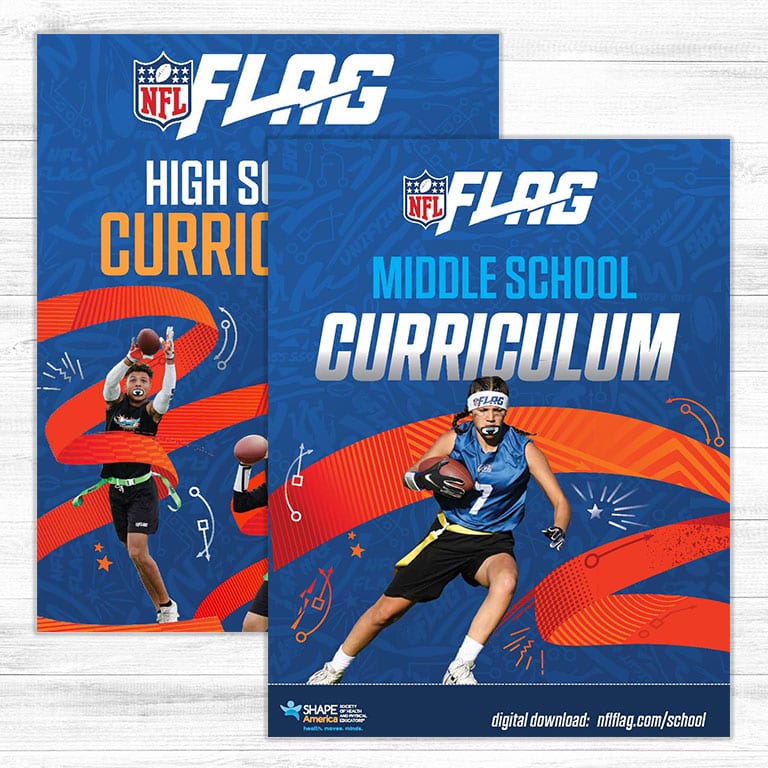 What Teachers Are Saying
Students gain confidence
"The way the program is set up, it encourages girls to be more confident on a sports field right beside the boys because football is typically that boy sport. You put girls out there, and flag football kind of evens the playing field. The girls do great, and I see the confidence level in my girls go through the roof in other sports. It's all girls that'll go out for other sports because they were really successful in flag football." P.E. Teacher, Coulwood STEM Academy in North Carolina
Students have fun and want to play
"Our kids are always asking us when we're going to play. Once we introduce it [Flag Football] that year, they're ready to go. and they come up to the gym for their recess time asking us if they can have the bag to take out. They love it. It's been really great for us." P.E. Teacher, East Salisbury Elementary in Maryland
To learn more, just click on the orange button below.